The Rotary Club of Wendover and Districts Let The Chilterns Sing seasonal Winter Wonderland Concert for all the family took place on Saturday 30th November from 3pm to 5pm at St Marys Church, Wendover.
Among the performers were the Military Wives Choir Halton, The Aylesbury Concert Band, John Colet Samba Band and the debut appearance of the Let The Children Sing Choir, young voices from Halton and Wendover.
The main beneficiaries will be
PACE
and
School-Aid,
Rotarys nominated charities for the year.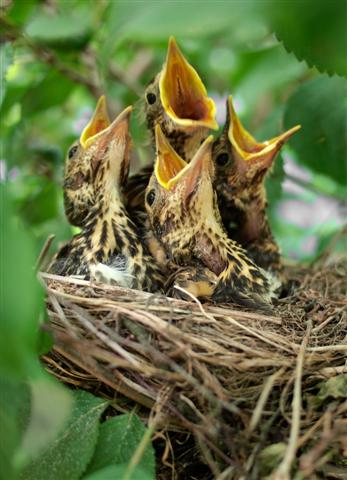 'Birdie'
The image of these hungry thrushes was taken by Stan McCartin.
Copies of the photograph are being sold with the proceeds going to PACE. Prices start at 10 for an unmounted A4 print.
A CD of all the pictures on the slide show above plus many others taken by Stan at the concert, is available for sale at 10 per copy
If you would like to purchase either the 'Birdie' print or the CD then contact us using the Contact Us button at the top of the page and put 'Concert CD or Pictures' in the subject box of the form that comes up, complete the details asked for. As a mark of our gratitude for a fantastic performance there will be no charge for members of the bands and choirs who performed at the concert or Wendover Rotary Club Members.