For several years Beckenham Rotary has supported the Poppy Appeal in Beckenham. This is probably the largest event the club is involved in each year.
Activity goes on from late October to late November and involves many members. In the days before Remembrance Sunday, thousands of poppies are delivered which are used to fill up display trays and these, together with collection tins, wreathes, badges and bracelets, are distributed to schools, churches, railway stations, pubs, supermarkets and shops. The next stage involves placing people in High Streets and railway stations to attract passers-by and commuters. The final task is to retreive all the trays and collecting tins previously distributed and to count and bank the money donated.
In 2016 over £33,000 (2015 - £29,000) was collected from the various locations in Beckenham.
The launch of the 2016 appeal by Peter Duncan, with Dinah Scudder who donated the new banner.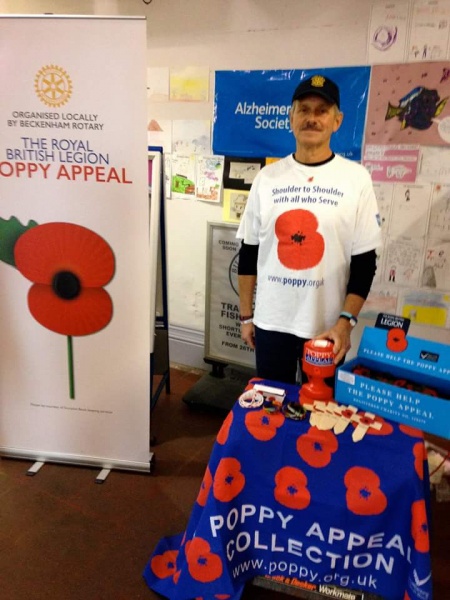 Peter Braithwaite collecting at Shortlands station ... an early morning, November 2016
__________________________________________________________