Thurso Rotary Speekmakers 2019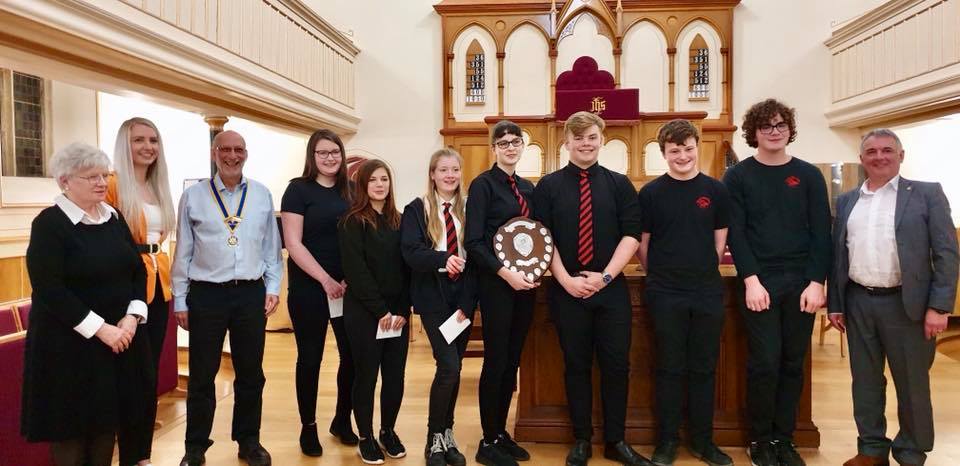 Thurso Rotary Club Speechmaking 2015
Thurso Rotary Club's Speechmaking 2015 saw eight students from third and fourth years at compete for the Rotary Shield. After eight accomplished performances in the glare of an audience of teachers, parents and Rotarians 14 year old Frances Grant came out on top.
The large group picture above shows the competitors, judges and Rotary Past President Sandy Cumming. In the picture, front left to right, we have judge Anna Swanson, winner Frances Grant, past Rotary President Sandy Cumming, runner-up Esmerelda Jardine, judge Anne Dunnett, and judge John Hook. Back row, left to right, we have contestants Connor Williams, Yasmin Campbell, Saul Stevens, Andrew Mackay, Ross McLean and William Campbell.
The small group photo below is of the winner receiving the trophy and Esmeralda Jardine the runner up in competition.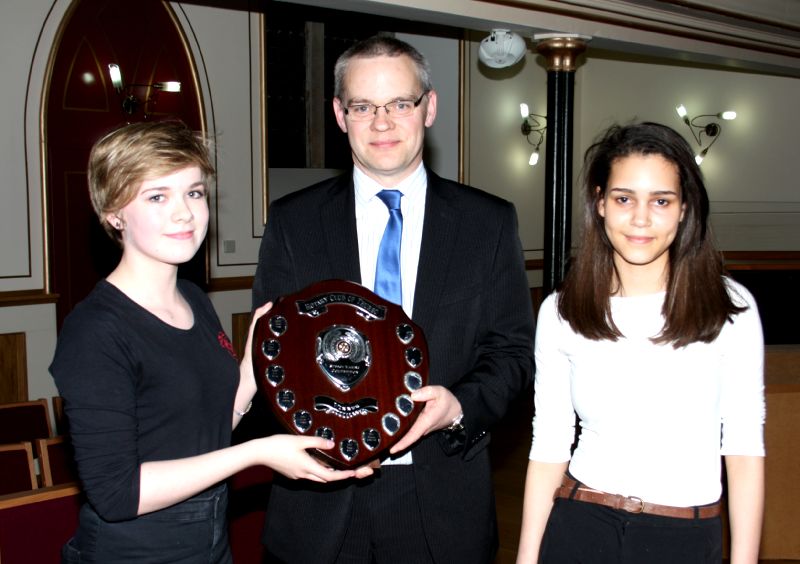 Thurso Rotary Speechmaking Competition 2014
Thurso Rotary Club's annual Speechmaking Competition for pupils from Thurso High School took place in Thurso West Church on Wednesday 19th March. Seven students spoke eloquently on a variety of topics giving the three judges a difficult task in selecting a winner. After much deliberation Rhianna Urquhart, with her topic 'Poetry', was placed in first place and received the Rotary Shield from President Sandy Cumming.
Picture below shows Thurso High School English Department Joint Acting Head, Cathy Shanks, with Rhianna.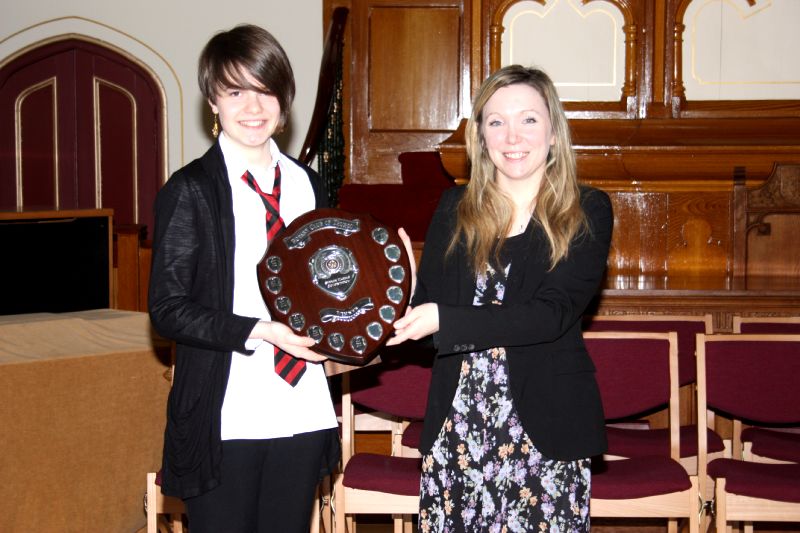 The competitors were Yasmin Campbell (Homosexuality), Meegan Anderson (Curriculum for Excellence), Andrew Mackay (Tesla), Rhianna Urquhart (Poetry), James Doherty (Space Exploration), Saul Stevens (Technology) and Eilish Noble (School Uniform). They are shown in the group photograph in this order with President Sandy Cumming.