The Christmas tree outside the Congress Theatre always looks a little different to others around the town, that it because it is a special tree, a "Tree of Light" covered in a host of white lights and dressed with white ribbons in memory of loved ones.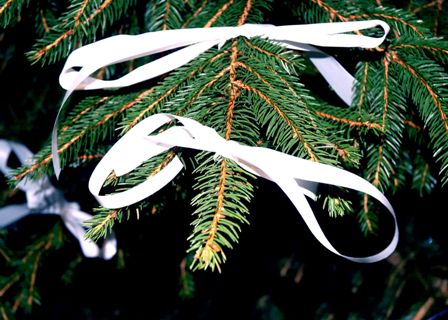 We are delighted to be back at the Congress Theatre again for our dedication service at 4.00pm on Sunday 4th December. Our special tree, situated outside the theatre, gives an opportunity to remember someone special at Christmas. There will be readings, songs, and music, and you will have the opportunity to tie a ribbon to the tree yourselves.
Rotary would like to say a special thank you to our sponsors past and present. Their generosity in 2021 enabled the Rotary Clubs to donate a total of £6,000 among the following: Beachy Head Chaplancy, Care for Carers, Homes for the Homeless, Eastbourne Lifeboats and The Salvation Army. Eastbourne at it's best!
Cheques were presented at Brewers Birch Road coffee shop, one of our amazing sponsors.
Rotarian Melanie Adams said, "I would like to say a special thank you to our sponsors and supporters whose generosity has enabled the Rotary Clubs to make these donations to such worthwhile charities working in our local community".