The Christmas tree outside the Congress Theatre always looks a little different to others around the town, that it because it is a special tree, a "Tree of Light" covered in a host of white lights and dressed with white ribbons in memory of loved ones.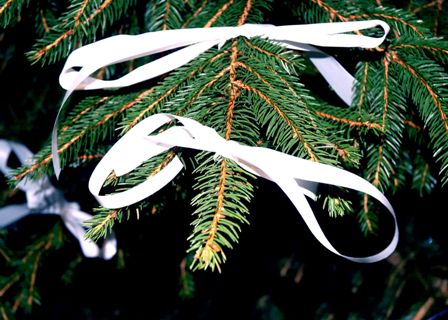 In what has been a most difficult year for us all we are pleased to be able to bring our special Christmas Tree to our Community. However, due to Covid 19 we are unable to hold our Tree of Light Dedication ceremony in the usual way as we cannot encourage groups of people to meet. We have, therefore, recorded the service, including the tying of the ribbons to share with all our supporters.
Rotary would like to say a special thank you to our sponsors past and present. Their generosity in 2020 enabled the Rotary Clubs to donate a total of £8,100 among the following: Beachy Head Chaplancy, Children with Cancer, CRUSE Bereavement Care, Defiant Sports, Homes for Homeless, The Salvation Army,Matthew 25 Mission and Eastbourne Lifeboats.
Rotarian Melanie Adams said, "I would like to say a special thank you to our sponsors and supporters whose generosity has enabled the Rotary Clubs to make these donations to such worthwhile charities working in our local community".To view this year's recorded service please click on the arrow in the video below:
To view this year's recorded service please click on the arrow in the video below: