International Charity Projects
A major activity is to team up with the Helderberg Sunrise Rotary Club of Stellenbosch with the aim of reducing the high levels of English language illiteracy in primary schools in the Cape Province of South Africa due to poor funding.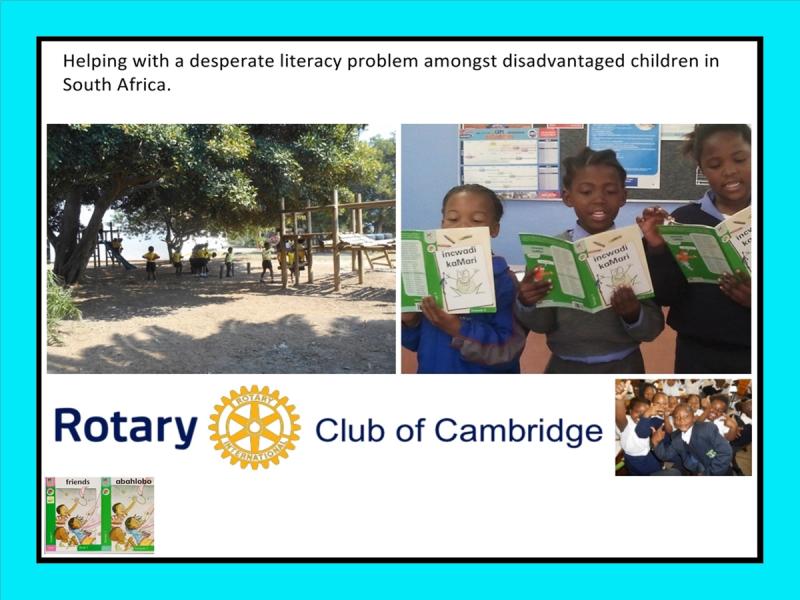 MORE ABOUT THIS PROJECT
As well as the support from our club to this project we have had very helpful financial assistance from our twin club in Italy, the Rotary Club of Siena. There is a desperate literacy problem amongst the disadvantaged children in South Africa. It is thought that as many as 60% can neither read nor write when they leave school. The basic problem is that from primary level most teaching is done in English but the children are only verbally fluent in native tongues for which there are very few reading books. They therefore do not develop reading skills and have absolutely no writing skills. The native languages are pastoral and not commercial thus the children have little or no knowledge of numeracy, science and mathematics.
This means that they are unable to pursue careers that will enable them to improve their prospects. There is around 40% youth unemployment in the Western Cape area. There is poverty, organised and petty crime, alcohol and drug abuse and AIDS. The endemic problems of Africa - social unrest and corruption - are compounded by the legacy of Apartheid.
Schooling is not free. Even the poorest parents scrape together the cost of school fees in the hope that their children will fare better than they have. Unfortunately a great many do not.
We have been alerted to this problem by two of our club members, Bob Fenn and Jean Millar who spread their time between their homes in Cambridge and in the Western Cape area of South Africa. Jean is a member of the Rotary Club of Helderberg Sunrise near Cape Town. Since 2009 this Club has been supporting a programme developed by an NGO called 'Literacy for All'. This is based on a series of reading books in native languages and English with identical content this enables the children to learn to read in two languages. The books have been developed by a husband and wife team and Universities in South Africa. They are printed in South Africa and the NGO holds the copyright. They are known as 'Kagiso Readers'.
This system has been introduced into a few schools in the Western Cape with considerable success. Evaluation Reports show that children have adopted the books with huge enthusiasm and progress has been astonishing.
We have decided that our first project will be to support the Helderberg Club in the introduction of the system to the Good Hope Seminary Primary School in Vredehoek, Cape Town. This is a school of about 500(?) pupils from poor backgrounds. It will cost about £3,500 to provide reading books for the pupils, teacher guides and teacher training over a three year period. Each year the NGO and the Rotary Club will evaluate the progression of the children and report back to us. The Western Cape Education Department will also be monitoring the scheme and if it is as successful as in other schools will further expand the use of the programme.
Rotarian Edward Coe
Other activities
As well as the major project described above, we give grants to local teenagers to assist them on overseas community projects they wish to become involved with. One such grant was to help one person take part in a community project in India organised by the Anglia Girl Guides movement. Her report can be read by clicking this link.