Crucial Crew 2014

Another 525 enthusiastic 9-10 year old youngsters from 20 local schools gained valuable experiences through Crucial Crew at this year's event. This brings the total to well over 8,000 since the activity was introduced by the Rotary Club of Sudbury 15 years ago.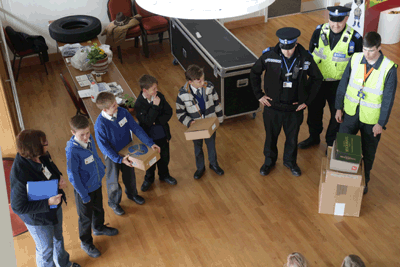 During a morning or afternoon session, groups of 7 or 8 youngsters were taken through the ten 'scenarios' by group leaders.
Thomas Gainsborough School once again allowed ten Year 10 drama pupils to join us in two "shifts", working alongside the strong contingent of Police Community Support Officers in two of the scenarios, acting as shop-lifters, anti-social youths and drugs users. Depending on how the groups of 6 to 8 children responded to each situation allowed the police to discuss and explain correct responses and behaviour.


Suffolk Fire Service again brought along their mock-up of a child's bedroom and used it to great effect to point out areas of potentially high fire risk, before simulating a fire with theatrical smoke and rescue by a fireman wearing full breathing apparatus. Needless to say, this again proved to be one of the most popular scenario with the children. UK Power Networks returned with a very effective interactive display that showed the dangers associated with electricity and the likely consequences to the unwary. 

Local St. John Ambulance volunteers demonstrated the correct response to a domestic accident and each youngster was taught how to move someone to the 'recovery position'.
The youngsters were again given the opportunity to make a 999 call to a switchboard staffed by a couple of helpers and our own "Crucial Quiz" tested knowledge of home safety - an activity that promoted keen competition to score the greatest number of points and win a Crucial Crew pen for each team member.

The Suffolk Road Safety team provided an interactive activity so that we could highlight some of the dangers experienced on our streets and the dangers associated with water were explored, with the youngsters able to try on various bouyancy aids and have the use of life-saving equipment demonstrated under supervision by a fellow Rotarian, who proved to be an excellent teacher.

A new activity this year was provided by Sudbury Transition Group and illustrated aspects of the importance of recycling and our environment - a scenario that blended well with our role as an eco-Rotary Club.

Each pupil again has access to material that supports continued learning at home and in the classroom via the Sudbury Crucial Crew website.

To be successful, the project requires a terrific commitment from Rotarians, friends and anyone who can be encouraged to help - in all, over 65 people assisted with at least one session. Our thanks go to all those who helped so willingly and in so many ways.

Thank you to our sponsors, who this year included :
Sudbury Town Council

Sudbury Municipal Trust
Suffolk County Council Locality Budget

We were also delighted to receive donations from :

Uplands Middle School

Bentley CEVCP School
Hintlesham & Chattisham CEVCP School
Bildeston Primary School

Copdock Primary School