GIFT Bursery Report - Vanessa Faloe
Thu 17th April 2014
Report By GIFT Bursay Vanessa Faloe
A report for the Reg Gilbert Fund by Vanessa Faloye. Nicaragua 2013.
An introduction to San Marcos 2:
San Marcos 2 is a small community of about 80 homes in the mountainous Pueblo Viejo region of Nicaragua. The village currently inhabits around 700 residents, around a 1 mile radius, which lies just outside the city of Matagalpa. Most of the families are related and are often very large. Many of the men in the village work in agriculture. Some of these men only work half of the year in winter, when there is work available due to the adequate climate required for crops to grow, whilst the harsh summer weather deems any mass agricultural production tough. For this reason, many of the young and older men (usually fathers and husbands by this time) leave to go and work illegally in Costa Rica during the summer in order to be able to send money home, especially in the years of disappointing harvest. The vast majority of women remain at home to take care of the children and family home, clearly demarcating traditional gender roles. The community people of San Marcos are extremely humble and generous in their way of living with a strong Christian belief. Politically speaking, a division is apparent where half the community is strongly socialist (pro-government) and the other democratic (anti-government). lt should also be noted that San Marcos 2 is on the verge of having electricity and running water routed to many homes for the first time which spells a significant change in the daily lives of many families. ln terms of education, many of the community children attend one of the two local schools which teach up to the sixth grade, after this time some older children travel long distance, outside San Marcos 2, to attend classes once a week every Saturday. Levels of literacy vary according to generations, with lower levels of literacy prevailing in older generations and literacy levels improving with the new and younger generations. Amongst the children and young people, there are seemingly low levels of anti-social behaviour although not altogether non-existent. Overall there is a very strong sense of family amongst the community households which, in turn, creates a very admirable community spirit in San Marcos 2.
(See Appendix 1.A and Appendix 1.B)
An lntroduction to Raleiqh ICS:
For ten weeks, I became a part of this community, San Marcos 2, and a part of a team with Raleigh lCS. Our team, identified as Charlie 5, was made up of 15 of us; including two team leaders (see
Appendix 2.A and Appendix 2.8).
| | |
| --- | --- |
| | |
We were a mixed bunch, with half of us from Britain and the other half from Central America i.e. the Brits and the Latinos. This was something which I had initially found attractive about the nature of our project, in that, it encouraged cross-cultural cohesion and integration which actually worked really well. Any feared issues concerning the language barrier between English and Spanish quickly blended into a mix of cultural backgrounds that almost inevitably created the rich and diverse dynamic of our team. Furthermore, combined with the cooperation of San Marcos 2, it became a very genuine way of utilising local-, national-, and international-level resources in the work we were doing. The overarching objective of our project was sustainable development, with a particular focus on environmental sustainability, thus giving our project title 'natural resource management'. Within San Marcos 2, we worked with the specialised management of water, wood, and waste. Broadly speaking, this worked towards reducing the negative and long-term impact of human subsistence on the environment in ways which would also be more harmonised, more productive, and of course more sustainable for the people themselves in their everyday lives. This importance of the work we did out there is underlined by the fact that San Marcos is extremely dependent on the land and what it can provide (especially in terms of agricultural farming), and that Nicaragua is one of the world's most vulnerable and exposed countries to climate change. Technically speaking, we had a number of targets to achieve including the construction of; part of the community access road, L0 tippy taps, 10 water filters, 1"0 dykes, 5 eco-latrines, and 3 eco-ovens. These targets were agreed by Raleigh international and our local partner organisation called Anides. The manual labour was tough especially in high temperatures and the sometimes extreme weather, but the community were usually on hand to help us however they could (see Appendix 2.C;2.D;2.E; and 2.F).
But not only was our team there as a labouring workforce, we were also there to provide training for the use and maintenance of the implemented eco-infrastructures - which we had learnt from the evaluated results of the previous Raleigh team was by far one of the most important elements in the whole developmental process. The last aspect of our work was the social development of the community. Like this, we tackled a range of highly relevant social issues such as gender equality, personal health and hygiene, domestic violence, sexual rights etc. For each and every social issue tackled, we held action days and workshops throughout the community; including the two local schools, in order to reach all corners of the community i.e. male, female, young, elderly, near and far etc (see Appendix 2.G and Appendix 2.H).
| | |
| --- | --- |
| | |
This vital aspect of our project brief, without doubt, was the most sustainable of the developmental work we were doing out in the community because we were aiming to change, for the better, the hearts and minds of the people which we hoped would be passed on thereafter from generation to generation, thus shaping positive change and ultimately creating a more equal society in Nicaragua. ln this way, our work in the community, whether tangible or intangible, could not be underestimated.
First impressions of mv homestay:
Having already had the opportunity to experience the precious and enduring value of the intimate relationships and enriching insight into a different culture that a homestay can offer, this was certainly the most exciting aspect of the trip for me. We had been told on numerous occasions during our previous training phase that our homestay would become so much more than merely a place to lie one's head at the end of the long hard day: that our new families would welcome us into their homes with such warmth and affection; that we would be spoilt with more care and indulgence than we had seen since childhood; and that inevitably we would become one big extended family transcendent of international borders and forever within our hearts. With this great sense of anticipation, myself and my in-country living partner Sophie, also from the UK, moved into our Nicaraguan family's home which could be described as a very small and modest 'shack' made of panelled wood and corrugated metal for the roof, sitting snugly on one of the highest hills around (see Appendix 3.A ond Appendix 3.8.)
| | |
| --- | --- |
| | |
Our family was made up of two mothers, one 17 years of age and the other 36 years old, who were sisters-in-law married to two brothers who had already left for Costa Rica to find work. This was quite unusual to have two women living alone in a house without the assumed male presence to 'protect them' so to speak, however there was not much choice in circumstances such as these and at the very least they were next door neighbours with their mother-in-law. So we were blessed with two mothers, Dona Magdalena and Dona Marixa (see Appendix 3.C).
Dona Magdalena, the young mother, had a 18-month old girl, Cecile, who was spookily born on the exact same day as her cousin Pedrito who was the youngest child of Dona Marixa. Dona Marixa also had a 1.2 year old daughter named Jocelyn, a 16 year old son named Giovanni, and an 18 year old daughter named Arelys. This came to be our family for ten weeks (see Appendix 3,D and Appendix 3.E).
| | |
| --- | --- |
| | |
The very first thing that crossed my mind when I stepped into the family home was: 'where would there be room for us to sleep?' I was very worried that there was not physically enough space for all of us and that Sophie and I would inadvertently but quite literally be kicking someone out of their beds. I remember asking many times if they were sure that they were comfortable with the new arrangements, to which I received very shy reassurance that all was well and room would be made. There were four small rooms to the house, two bedrooms, a kitchen, and a living room; all very humble dwellings. We had been given the best beds in the house, much to my initial discontent. We precariously put up our mosquito nets and called our new resting place, home. We were immediately served with food and drink and the conversation trickled out slowly. After feeling more settled and free to roam our new home, we later discovered that all 7 of our Nicaraguan family were squeezed into the other bedroom, sharing between them two beds and a hammock - something l'll never quite figure out how they managed to do and without even the slightest complaint (see Appendix 3.F).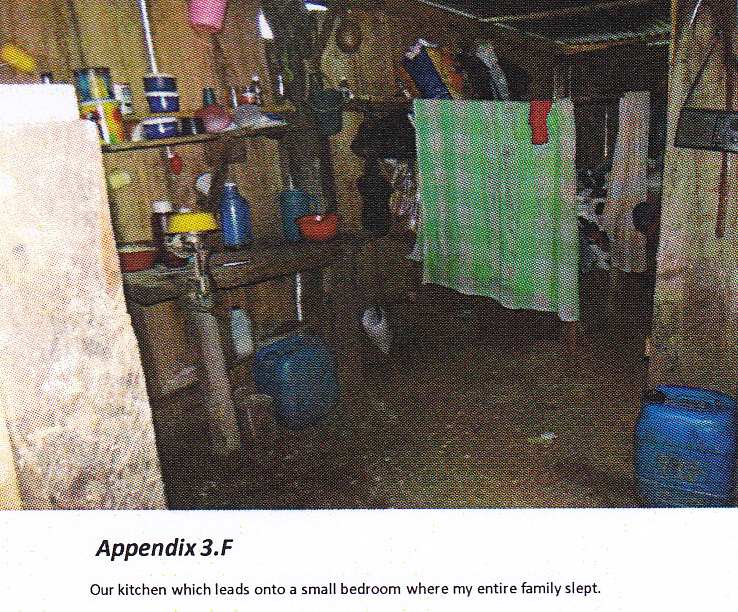 This warm and welcoming reception was my first impression which quickly developed into the unyielding kindness that I experienced throughout my time with 'mi familia nicaraguense'.
Everyday life of homestay (Family (home):
There is no doubt that life in the family home became very much one of routine. Our Charlie 5 worked seven days a week (Sunday was our day of weekly planning and administration) and so we never had 'a weekend