REPORT on 2017 Concert
This year's Open Air Concert was held
on Saturday 1st July 2017 in the gardens
of Ingatestone Hall.
A big pat on the back to everyone; all the members, all the sponsors,
all the volunteer helpers and to the most important - those who attended
for making for helping make this year's SUMMER EVENING JAZZ at Ingatestone
Hall such a great success. 
The weather was perfect, the tunes were jovial and jolly and everyone
seemed rather reluctant to call it a night, given the evening sundown, 
was so pleasant - a welcome amount for all the hard work everyone has 
put in to this event. 
About 470 people attended the event. As in previous years the highlight
 was the Umbrella Parade, with the bands leading the 'Second Liners' 
around the groundstwirling their parasols to shield them from the 
evening sun! Prizes were awarded for the best decorated in 3 age 
groups and also for the best two decorated faces.
 
Thanks go to the Bands, the Sponsors, our Suppliers, A.T.C. [Hutton],
 to those who gave raffle prizes and to all club members for their support. 

And a big thank you to the Petre Family for their continued generosity
in allowing us all the privilege of using the setting that is 
Ingatestone Hall.

Approximately £6,000 was made for our chosen charities 
- but everyone enjoyed the night
- go to our Event's webpage for details

----------------------------------------------------------------------------------------------


REPORT on 2016 Concert
This popular open air fund-raising concert was held this year on Saturday 2nd July 2016.
.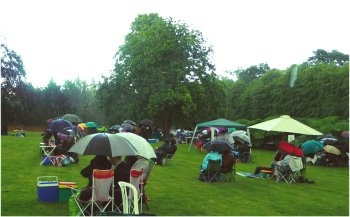 On account of the dismal weather leading up to the event and the prospect of thunderstorms on the night, the attendance was well down this year.
After seeing out a heavy downpour just before the start at 6:15, with just another shower, the evening went off well. Everyone enjoyed the music; many umbrellas were decorated and faces painted before the highlight of the "Umbrella Parade". Our judges Elaine Jeater and Diane Welton selected 3 best umbrellas in age groups and the best 2 painted faces.

The Rotary Club are grateful to all those stalwarts who, damp & cold, saw out most of the concert, which finished slightly earlier due to the cold and damp night .
Approximately £4,000 was made for our chosen charities - albeit less than we'd hoped for.
Thanks go to the Bands, the Sponsors, our Suppliers, ATC [Hutton], those who gave raffle prizes and to all club members for their support and to Lord Petre for welcoming us to his gardens.

The event is in aid of Farleigh Hospice and Saint Francis Hospice, Essex St. John Ambulance & other Rotary charities. Always an evening of Classic New Orleans Jazz by The Frog Island Jazz Band and The Salty Town Six New Orleans Jazz Band.

Brentwood Gazette - June 29th 2016
"Umbrellas making a splash at jazz festival" - prophetic news coverage!!

Brentwood Gazette - July 5th 2016
Concert is wet,wet, wet - but all that jazz stops music fans from getting the blues

Full details of the event, our sponsors and the decorated umbrella parade can be found on the website -http://www.summereveningjazz.co.uk/
- - - - - - - - - - - - - - - - - - - - - - - - - - - - - - - - - - - - - - - - - - - - - - - - - - - - - - - - - - -
With acknowledgments for the photos to Zoe Fullalove[ 2015 concert]
- - - - - - - - - - - - - - - - - - - - - - - - - - - - - - - - - - - - - - - - - - - - - - -