Press Cuttings
Jun 2023
Swimalong 2023
This article appeared in the June edition of Life in Beckenham.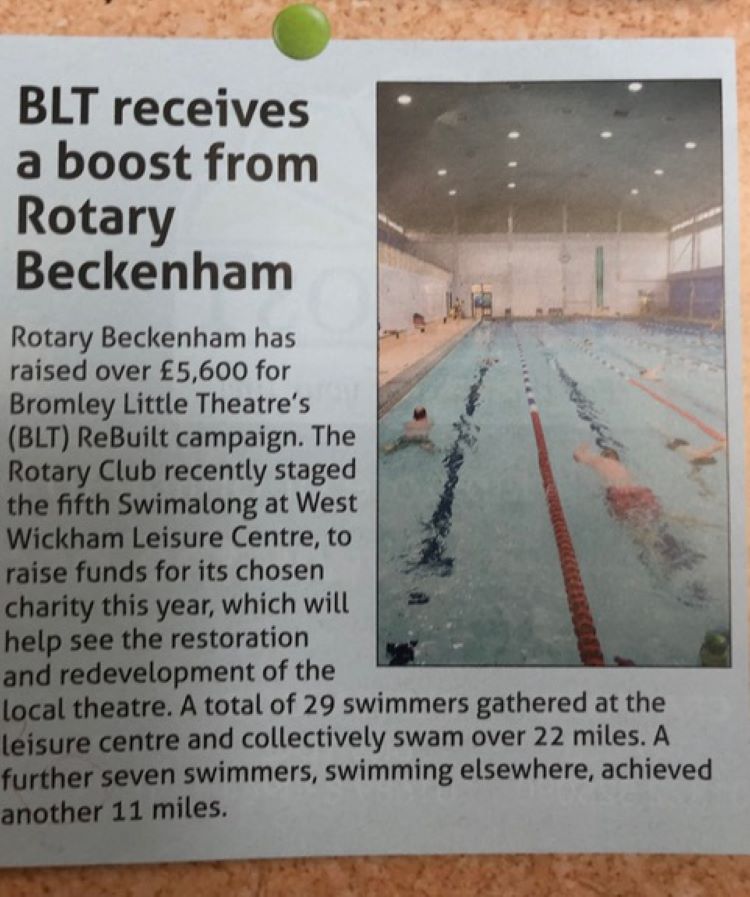 Apl 2023
Swimalong 2023
For the article that appeared in Rotary District 1120 Magazine, May issue,
please click HERE
____________________________
May 2022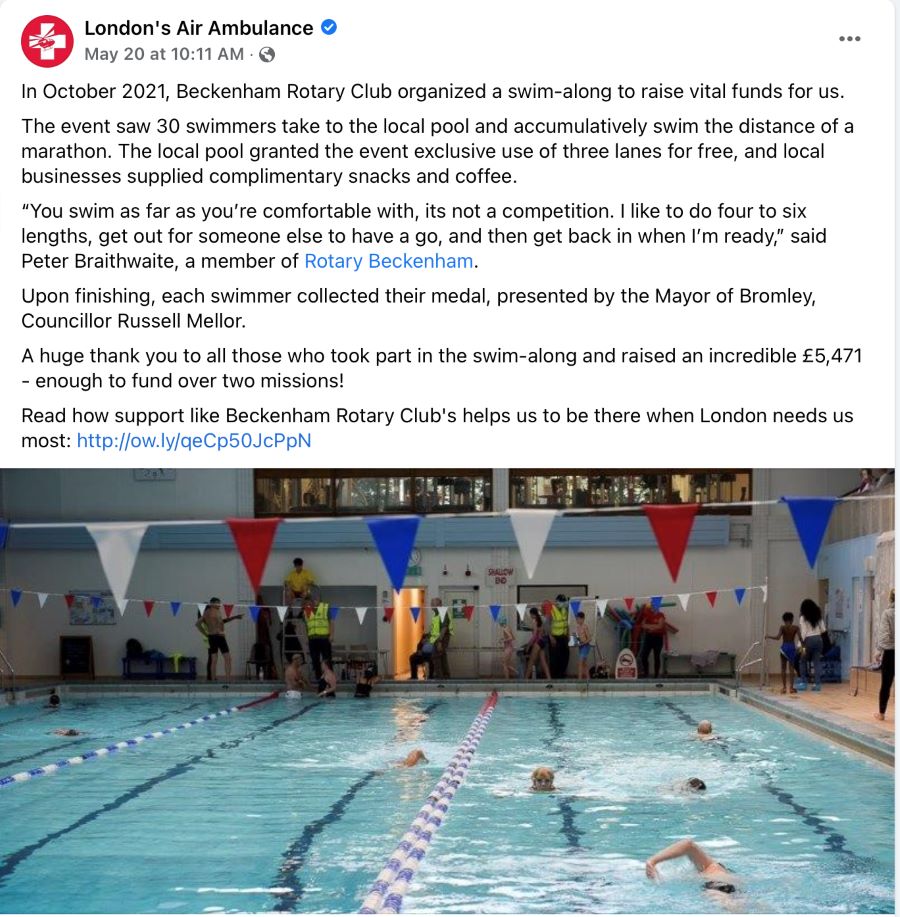 ________________________________
Feb 2021
Shortlands Life - Clare Andrews writes
Rotary Club of Beckenham Laptop Appeal:
The Rotary Club of Beckenham is providing refurbished or new laptops to local primary and infant school for children who don't have access to IT to use at home during lockdown. To date they have provided 31 laptops to 8 local schools but the demand for more laptops is enormous.
The laptops are wiped, missing parts replaced and are uploaded with Windows 10 Education.
If any families have any spare laptops that they are able to donate (running Windows 8 or above), please get in touch with Peter Braithwaite of Rotary Beckenham on 020 8460 4152 or peter.braithwaite45@gmail.com. Peter is actually my neighbour and does so much for Rotary.
_________________________________
Feb 2021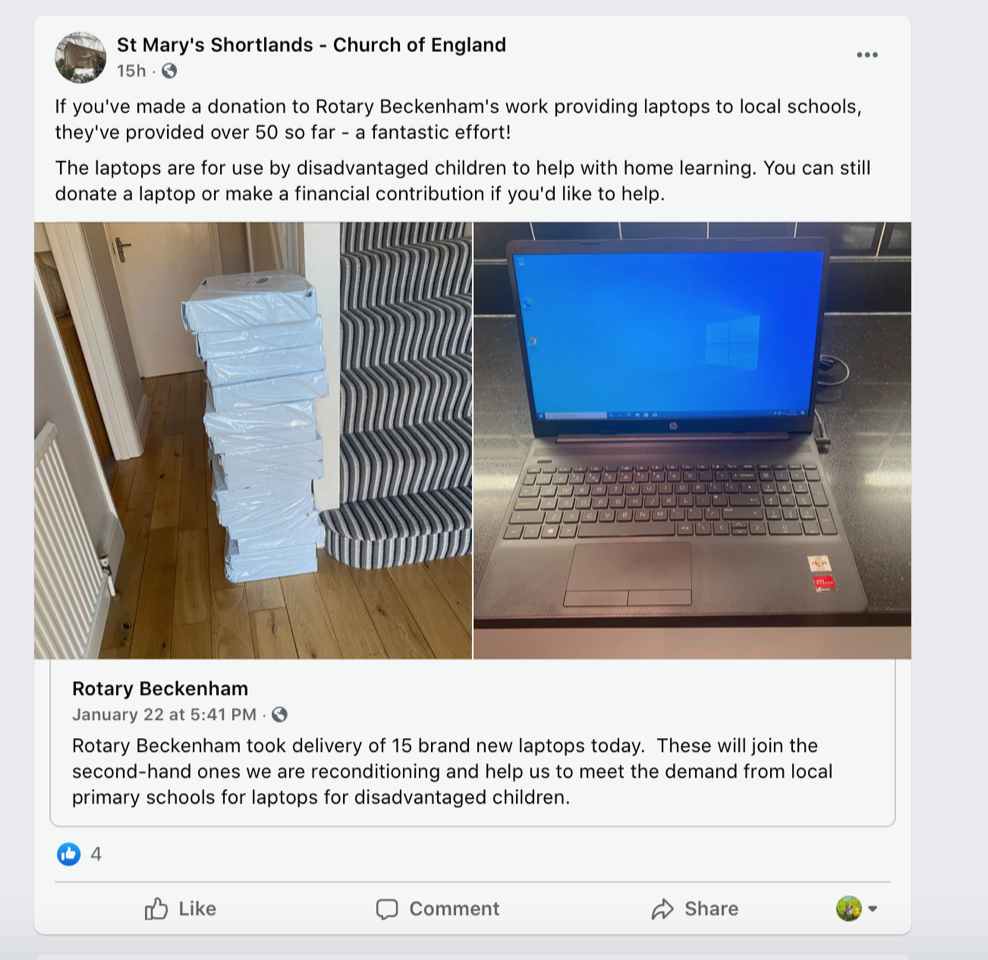 __________________________
Jan 2021
Click HERE for a link to the RIBI write up on the Laptops for Schools project
https://www.rotarygbi.org/rotarians-provide-laptops-to-kent-schoolchildren/
___________________________
Oct 2020
Shortlands Residents Association - Autumn Newsletter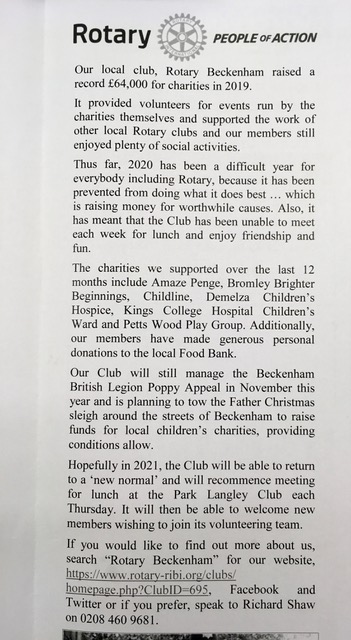 ______________________________
Jul 2020
News in Beckenham featured this article in the July/August 2019 edition.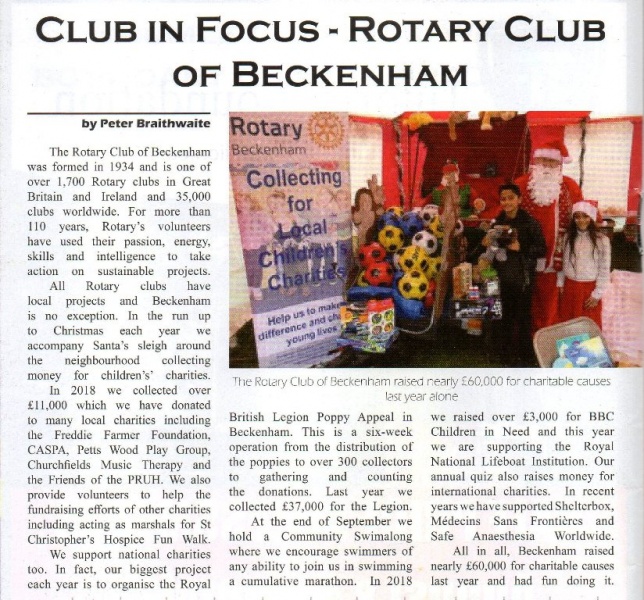 ____________________________________-
Sep 2018
Rotary South East News October issue featured this articles about Swimalong 2018, held on Sept 30th.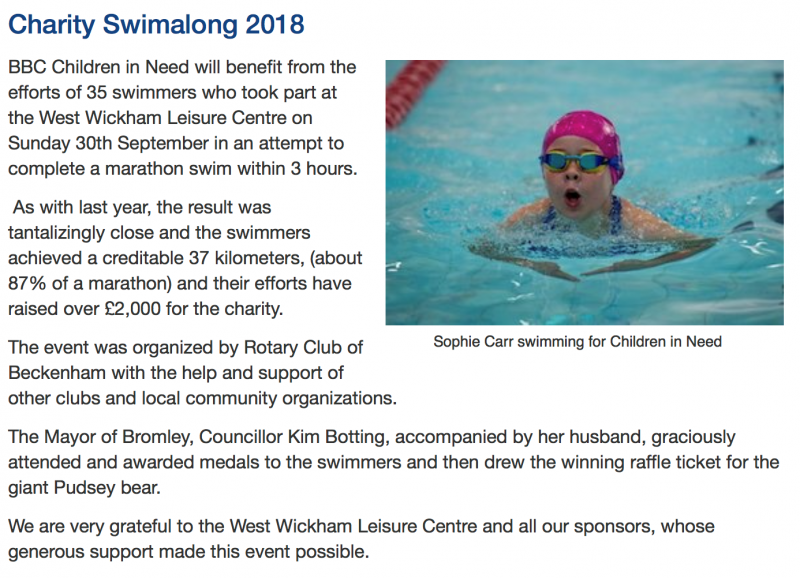 Bromley Borough News 17th October issue featured this article about Swimalong 2018 held on Sept 30th.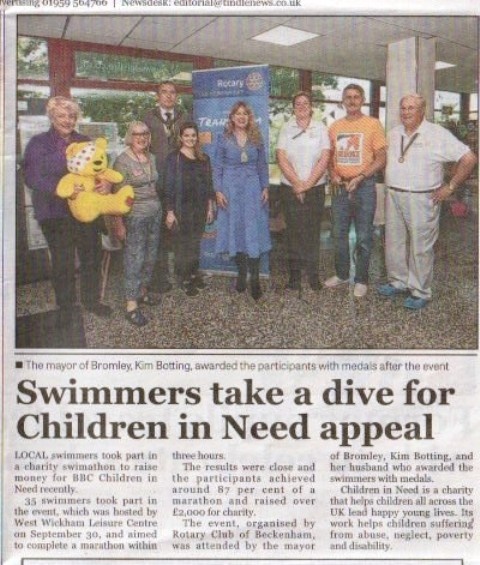 The June/July issue of Rotary GB&I magazine "Rotary" featured this article about the Swimalong held in October 2017.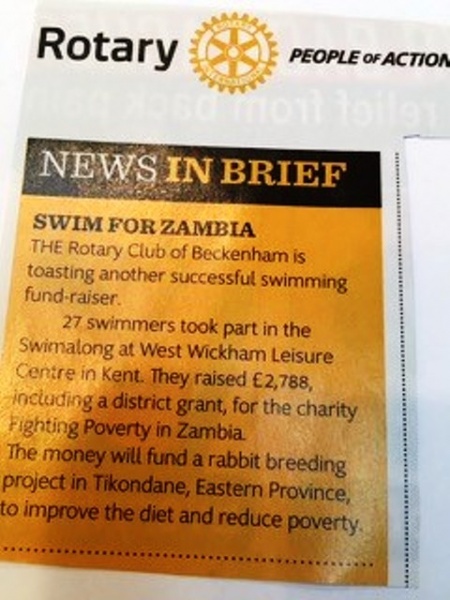 ______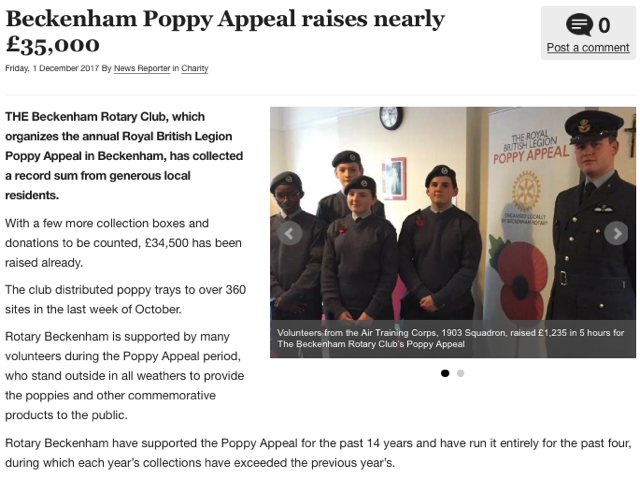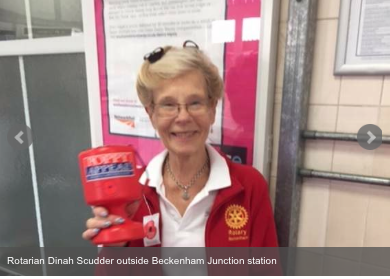 __________________________________________________
Bromley Borough News 19 October 2017
A similar article appeared in News in Beckenham on 18th October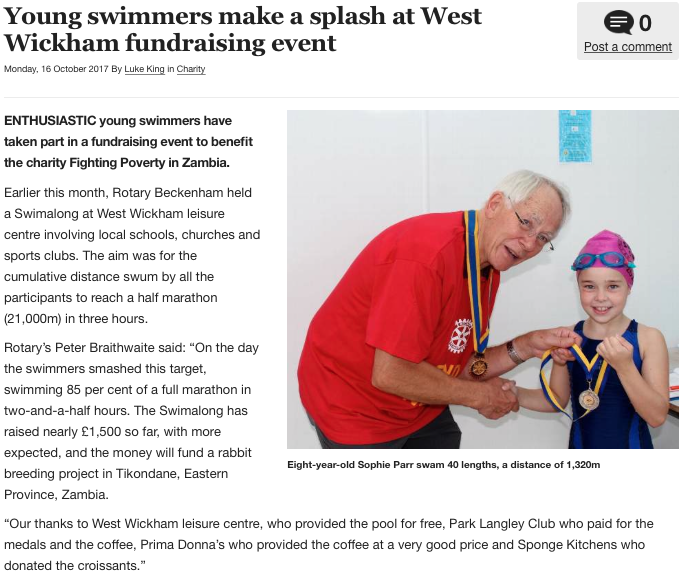 Newsshopper 12 July 2017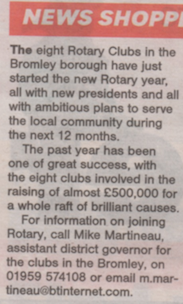 Bromley Borough News 26 January 2017
Bromley Rotarians celebrate Burns Night and raise thousands for End Polio Now campaign
By Luke King in Local People
Guests were and traditional Scottish songs as well as bagpipe music

LOCAL Rotarians have raised thousands of pounds for their group's End Polio Now campaign by holding a Burns Night celebration.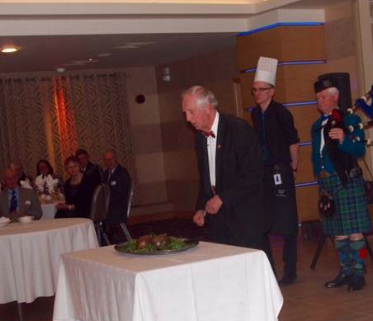 Rotarians from Beckenham, Bromley, Bickley, West Wickham, Addiscombe, Shirley, Chislehurst, Croydon and Langley Park enjoyed a three-course meal including haggis at The Warren in Hayes on Tuesday evening.
Guests, including the district governor of the Rotary South East region, Peter West, were entertained with lighthearted speeches and traditional Scottish songs and poems by Robert Burns. There was also bagpipe music and a raffle.
The event had a serious purpose in that funds raised go to Rotary's End Polio Now campaign, launched in 1985 with the aim of ridding the world of Polio.
The evening raised £1,450 - a sum increased to £4,350 by the Bill Gates Foundation.
Streetlife 25 April 2016
This is not strictly a press cutting but shows how local people have commented on our posts to this social media site.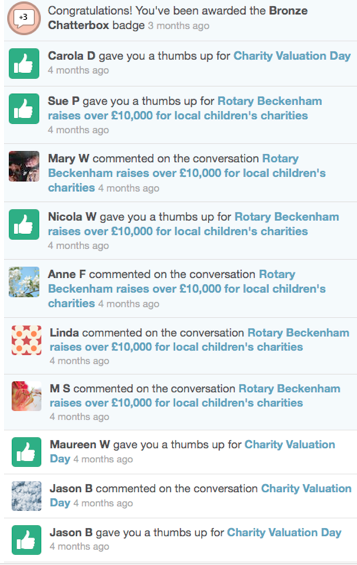 News Shopper 17 June 2015
Members of Rotary Beckenham were present all day on 6 June collecting donations at an "extravaganza" in aid of Help for Heroes organised by the staff at Shortlands station. Over £3,300 was raised on the day with more to come.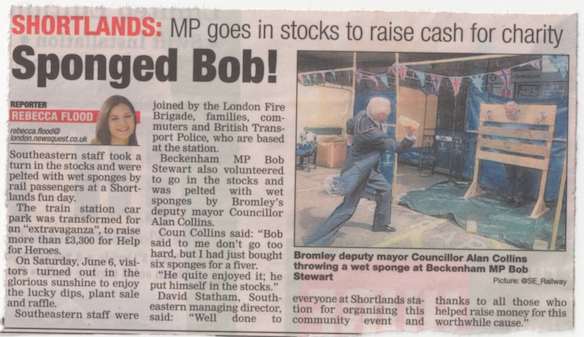 Rotary South East magazine December 2014


Bromley Borough News 8 January 2015
Rotarians raise 9k for local charities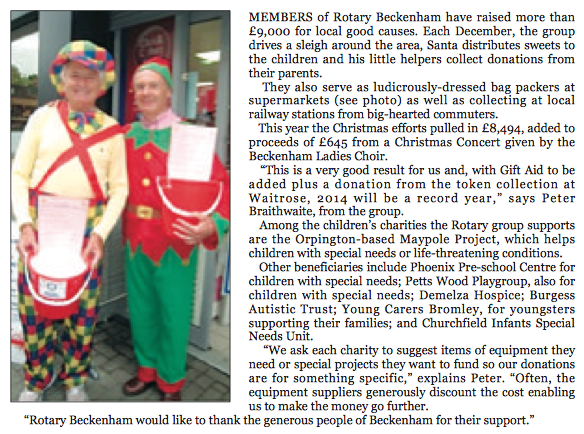 News Shopper 24 September 2014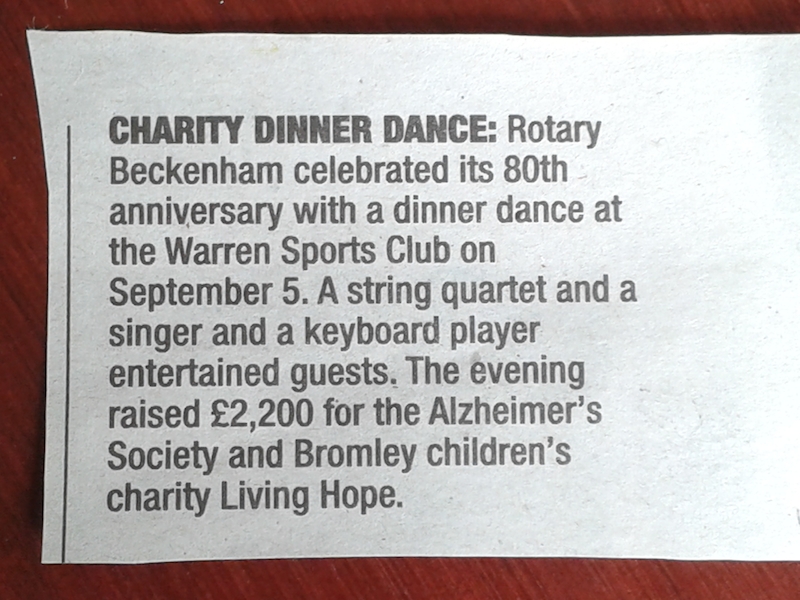 Bromley Times 7 August 2014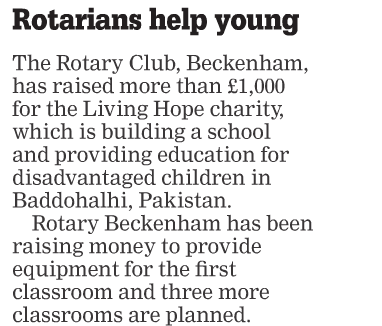 Rotary South East magazine - June 2014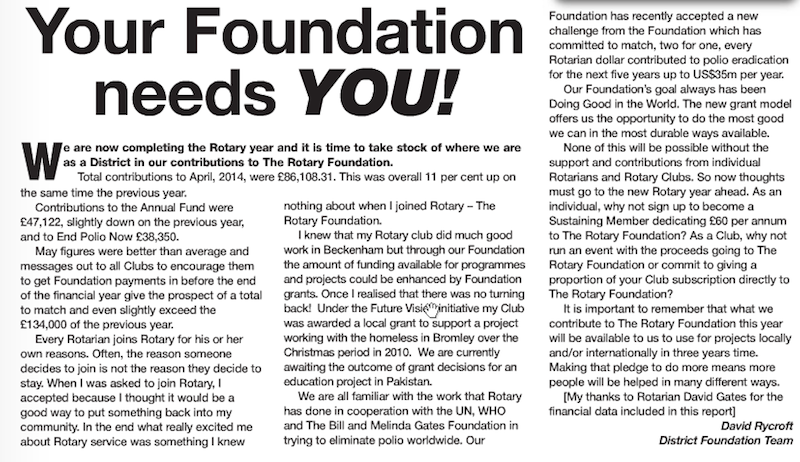 News Shopper 14th May 2014
"Rotary Cash"
"President elect David Hynes presented a cheque for 2,772 to Beckenham Rotary's (sic) End Polio Now campaign.The money was raised by Peter Braithwaite, a member of Beckenham Rotary who took part in a skating marathon in Copenhagen. He completed 26 miles in 2 hours, 13 minutes."
Rotary South East September 2013