Report - The event was a great success and appeox. 100 walkers took part. The weather was perfect for the day and the hurle at the finish was enjoyed by all that got involved (see photos above)


<< SCROLL PICTURE Left to Right for Photos >>

<>

Please put this date in your diary - A challanging walk ( approx. 18 miles ) around the boundry of Bodmin.
DETAILS OF START - MEETING PLACE & TIME - See Poster below....
A family event - walk as far as you can - no charge for entry - raise sponsorship for your own charity.
A short history of 'Beating'
In the mists of time, family groups would have spread out from their initial settlement, clearing the wild wood as they went with fire and flint axe, and cultivating the virgin soil. Eventually they would have run up against the neighbouring community, coming the other way. The need for a recognised territorial boundary was thus born.
Natural features such as rock outcrops, streams and solitary trees were often used as boundary markers. To avoid boundary disputes, it was important that the location of the boundary line was understood. Before the coming of the Ordnance Survey, with its precise maps in the nineteenth century, the position of town and parish boundaries were passed on by word of mouth. Often this was not enough, and recourse was had to the process of the 'Beating of the Bounds'.
< See links below for all information >
2015Bounds_Poster.pdf 150309Bounds_Rules_2015_pdf 150320BTB_Programme.pdf
<>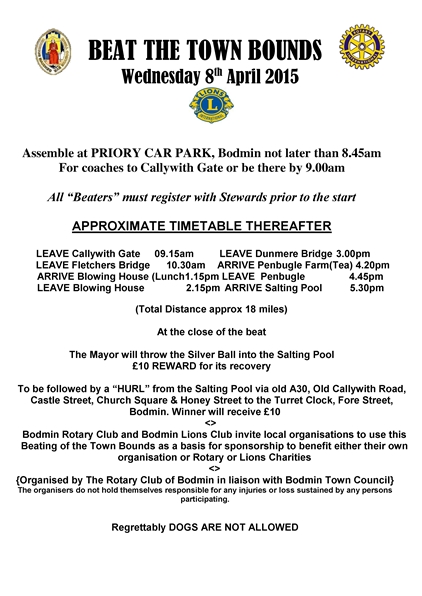 <>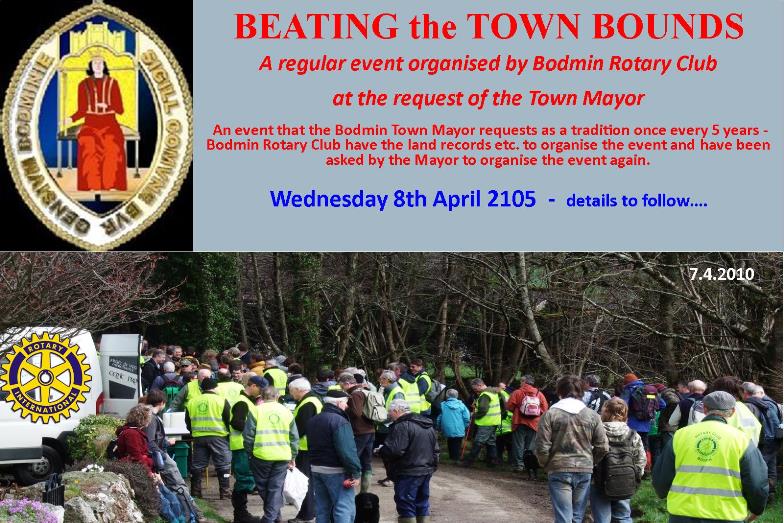 <>
MORE INFORMATION - LAST 'BEAT' 2010 - Select....
Information from Rtn. Pete Williams Committee Chairman - bodminrotary@gmail.com
Organiser & Co-ordinator - Rtn. Brian Crowle
<>