1066 Choir Competition
Fri 22nd May 2015
Annual Primary School Choir Competition to be held at the White Rock Theatre Hastings.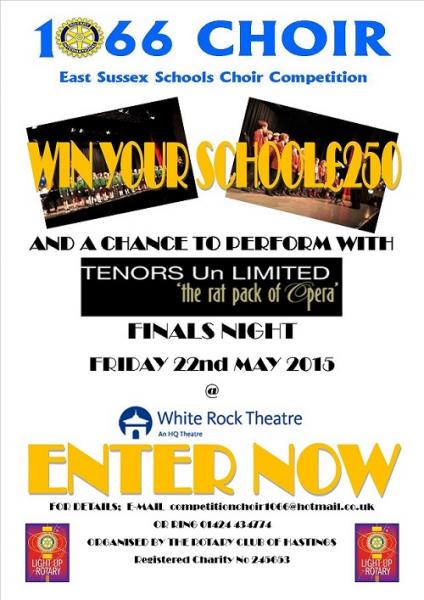 1066 Primary Schools Choir Competition
22nd May 2015, White Rock Theatre Hastings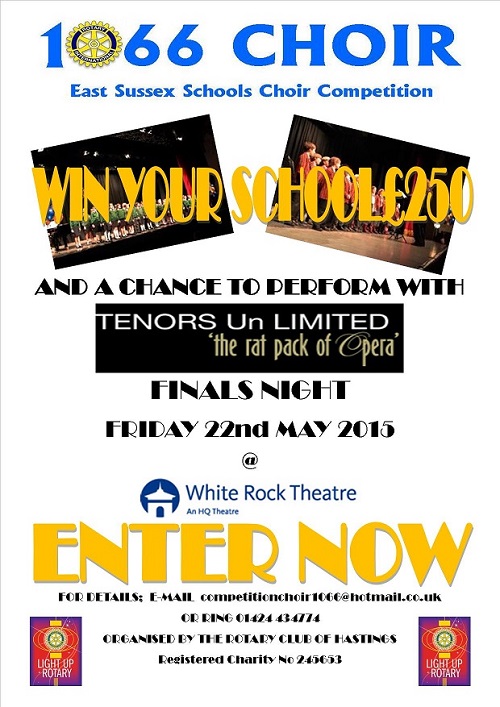 East Sussex Schools Choir Competition 2015.
Following the success of the inaugural competition in 2011 and encouraged by the increase in entries in 2012 and 2013, planning is well under way for the 2015 competition.
I am looking forward to an even higher entry this year as word of the competition spreads.
The finals will be held on Friday May 22nd 2015 and the venue will again be the White Rock Theatre, Hastings and proceedings will commence at 6.30pm.
Following the success of their visit to the finals last year our patrons, Tenors Un Limited, will, professional commitments allowing, be presenting a short program prior to the awarding of the prizes. As an added inducement they will again be offering the winning and runner up choir the opportunity to sing with them at one of their professional engagements.
In addition the winning choir will receive a cheque for 250.00, the winners shield and the chance to go into a recording studio to produce a CD. The runner up choir will receive a cheque for 100.00 and the runner up shield.
All children entered in the finals will receive a certificate commemorating the event.
I sincerely hope that you will consider giving your pupils the chance to enter this wonderful competition.
Please click on the following for:
A few comments from past entrants.
I look forward to receiving your entry and can promise you a great evenings entertainment.
Should you require any further information or clarification please do not hesitate to contact me by email at Competitionchoir1066@hotmail.co.uk
David Hooper - Competition Director