ZACHARY'S SENSORY GARDEN
A project of Sudbury Rotary Club's Environment Team
Zachary is a local four year old boy, who has recently been diagnosed with a very rare form of West's Syndrome called Lennox-Gastaut Syndrome, which affects his brain and for which there is no cure. He requires hands-on 24-hour care, which is provided by his parents and grandparents.

While in respite care, the family noticed that Zachary seemed to enjoy the calmness and colours, sounds and smells of the garden and they decided to try to create a sensory garden for him at home. His mother contacted a number of local businesses to seek help and also approached the Rotary Club. Rotarian Don Watson and wife Caroline accepted the challenge on our behalf and agreed to see what could be done. Between them, the family, Don, and Caroline have recruited all sorts of help and have been overwhelmed by the good-will and generosity shown by so many people and local businesses.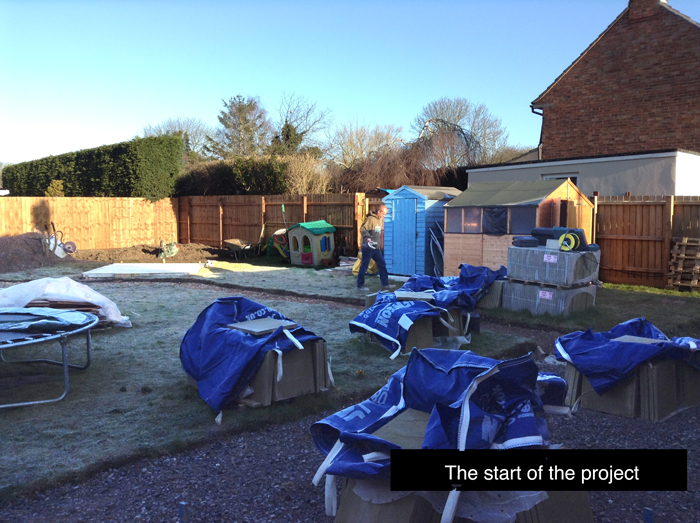 Builder's merchants Ridgeons Ltd and Jewsons Ltd kindly donated materials including: wooden fencing boards, posts & rails; wooden sleepers; aggregate; cement; paving slabs, etc.

Builder Dick Sumner agreed to oversee the ground work free of charge, Miniwaste Skip Hire of Gt. Waldingfield have given the free use of a skip, now on site,

Through a mention on FaceBook, Simon Lawrence (who was completely unknown to the family) arrived with a colleague Gavin, and with the help of Paul and Grant (Zachary's father and grandfather), have erected all the fencing,

Angela Brown, a Waitrose Partner, enlisted the help of her local branch of the St Vincent de Paul Society; through this connection Tony, a carpenter, volunteered to repair the summerhouse in the garden free of charge while the society itself will donate a water feature,


Roy Engle, Training Centre Supervisor at Delphi Diesel Systems Ltd. and his team of nine apprentices spent two weeks in early March transforming the site by undertaking the ground work phase of the project, constructed flagstone paths and raised beds, erected a pergola, dug borders, started a vegetable patch and planted trees and shrubs,


Caroline presented the family with a cheque for £100 from her local choir, The Music Makers and enlisted the services of David Bullard, a local building & agricultural contractor and a qualified operator of JCBs and other machines; he is using his tipper truck to deliver machines and materials and will donate at least one working day to the project,


Geoffrey Turner of Turners Tool Hire Ltd agreed to lend a micro digger and machines free of charge including one week's loan of an electric cement mixer, which is now on site,

WellChild HelpingHands visited the garden and has replaced the old grass with a large area of Astroturf and a newly-turfed lawn. David Bullard assisted by driving the micro-digger,

The project is now progressing quickly and is expected to be completed during June. This page will be updated regularly to show developments.

Sudbury Rotary Club would like to thank all concerned for their fantastic support.