BAND CONCERT - Report & Photos
Sat 24th October 2015
Annual Band Concert with St. Austell Town Band
CONCERT 24th October 2015

REPORT 26th Oct 2015

The Concert was a great success with an excellent performance by St. Austell Town Band and the VoiceWorks Choir. Entertainment was also provided by the guest appearance of Simom Badge as band conductor (Simon's, day job, being a musician & conductor with the Royal Marine Band at Plymouth) his wit and skills were very entertaining. Also making a surprise guest appearance was Bromley Hurn a very accomplished solo singer who sang 'Theme from SkyFall' and 'I Dreamed a Dream' with the band. This was a truly enjoyable and amazing performance by a beautiful young artist who moves from Truro College to Exeter University next year.
Scroll the pictures above L to R
Guest Conductor - Simon Badge
Guest Soloist - Bromley Hurn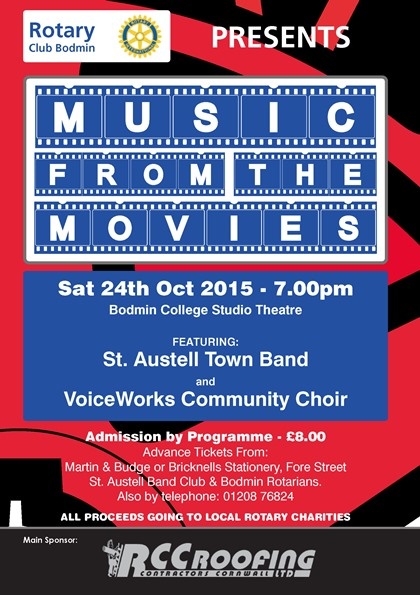 This is our 10th Annual concert, very popular for so many years in the Public rooms, which was an ideal venue for such events. Having been forced to switch venue the College Studio Theatre, which has provided well over the past 3 years, the popularity has continued. We hope that this years combination of Band & Choir will be enjoyable.
All profits made will go towards Rotary Local Charities & Youth projects
< We look forward to your support again this year >
<>
St Austell Town Band - Scroll down for the Programme of Music

The St Austell Sax-Horn Band was formed in 1838 under the patronage of J.S. Graves Swale. In the early 1900s the band was reformed as the St Austell Territorial Band and in 1912 the band changed its name to the St Austell Town Band before competing in the first West of England Bandsman's Festival (Bugle Contest).

In 2005 the band qualified to for the National Finals at the Royal Albert Hall and, drawing number one, premiered John Pickard's 'Eden'. Another success of recent years was the West of England Bandsmen's Festival in 2008 when the band was awarded the Royal Trophy and special awards for Best Bass Section, Best Soprano Player, and Best Cornet Player. In 2011 they became the Cornish Entertainment Champions and in February 2012 they came 4th in the prestigious Yeovil Entertainment contest under the direction of one of the brass band world most colourful and flamboyant conductors, Richard Evans.

In June 2013 the St Austell Town Band once again won the West of England Bandsmens Festival and were awarded the Royal Trophy by Colonel Edward Bolitho on its 100th anniversary, members of the band were also invited to meet HRH Prince of Wales in recognition of their success. Along with winning the Royal Trophy, Principal Cornetist Hannah Hawken won awards for the Best Player in the Championship Section and Best Cornet Player in the contest and Sam Johns won the award for the Best Soprano Cornet of the contest.

The St Austell Town Band remain one of the South West's finest and most versatile brass bands, With a variety of differing musical styles on offer and with their ability to produce shows that are far beyond many people's imaginations of what a brass band can offer makes them one of the most sought after brass bands for in the South West.

VoiceWorks Community Choir

VoiceWorks Community Choir was formed by Kay Peacey in 2008 following a unique choir-leader training course funded by Feast and CYMAZ. With roots in Fowey and Wadebridge, this non auditioned choir welcomes singers, and non singers(!) from right across the middle of the county, and now rehearses in Bodmin at the Community College.

The ethos of the choir is to enjoy themselves through singing with others, and to perform at community events, sharing their enthusiasm and energy. Arrangements are courtesy of Vicky Abbott, Sophie Halling, and Kay Peacey, with a focus on songs by contemporary artists.

Favoured singing spots include garden centres, quaysides, a steam train and a squash court, so it makes a change for them to be singing somewhere with marvellous acoustics and a captive audience.

wm21/08/15
< Programme of Music >

P R O G R A M M E

ST. AUSTELL TOWN BAND - Music from the Movies

Gonna Fly Now (Theme from Rocky) Composed By Bill Conti arranged by Ian Robinson

633 Squadron Composed By Ron Goodwin arranged by Frank Bryce

I Will Always Love You (Theme from The Bodyguard) Composed by Dolly Parton arranged by Darrol Barry Soloist Hannah Hawken

Theme from Lawrence of Arabia Composed by Maurice Jarre arranged by Bill Buzza

Community Choir….

Romance (From the Gadfly) Composed by Shostakovich arranged by Derek Broadbent

Selection from Robin Hood Composed by Michael Kamen arranged by Klass van der Woude

Somewhere Out There (Theme from An American Tail) Composed by James Horner arranged by Darrol Barry

Jurassic Park Composed by John Williams arranged by Alan Catherall


INTERVAL - Drinks - Ice Creams - Heads or Tails


Sparkling Diamonds (From Moulin Rouge) Composed by Jule Styne & Leo Robin arranged by Sandy Smith

Harry Potter& The Philosopher's Stone Composed by John Williams arranged by Frank Bernaerts

Somewhere Over the Rainbow Composed by Harold Arien arranged by Goff Richards
Soloist Tom Howard

Theme from Limelight Composed by Charles Chaplin arranged by Smith

Community Choir….

Let It Go (Theme from Frozen) Composed by Kirsten Anderson-Lopez & Robert Lopez arranged by Philip Harper

I Dreamed A Dream (From Les Miserables) Composed by Claude-Michel Schonberg arranged by Darrol Barry

Fanfare & Flying Theme (From E.T.- The Extra Terrestrial) Composed by John Williams arranged by Steve Sykes

<>