Communities Overseas
.
Not only does The Rotary Club of Elgin support Communities at Home, but the club very much supports projects and work Overseas
Rotarians from Clubs in the North of Scotland support many projects overseas. Our clubs work directly with Rotary clubs and communities around the world to provide sustainable clean water and sanitation systems, fight hunger and disease, improve literacy and education, enhancing maternal and child health, and help to grow local economies.
When natural disasters, such as earthquakes, typhoons or floods occur around the world, Rotarians are usually among the first people to take action. We organise collections and raise money for the various charities that are best equipped to provide relief for those in need. Through our support for survival kits such as ShelterBox, AquaBox and Disaster Aid we help to provide the basic essentials required in an emergency situation
Following the devastating earthquake that hit Nepal the Club had collection points set up in and around Elgin. £15,000 was been raised from the collections and some £5,000 of that monies have already been despatched for Shelter Box for Shelter Kits
Working witih other Clubs in Rotary, Elgin over the years has supported:
Sand Dams in Malawi
First Steps Himalaya
Renal Dialysis Machines in India
Some of the other charities we support are:
Shoeboxes - in which we great some great support from local schools
Shelterboxes - Some £30,000 has been donated in the past 6 years including the Philipines, Pakistan, Japan, Haiti and Nepal
Working in Nepal
In the past 10 years 8,000 people in 6 communities in desperately poor Nepal have seen their lives transformed through water, sanitation and health and hygiene programmes led by Elgin and supported by 45 clubs in District 1010.
Nepalgunj in 2004, Laximpur in 2007, Nepane and Simle in 2010 and Bhaja and Kades in 2014 have all benefited through our partnership with NEWAH (Nepal Water for Health Group) and the support of District and Rotary Internationa grants. All have been visited by Rotarians from District 1010.
2 new projects for 2,000 poeple were ready to start at Morang and Udayapu near the Indian Border - this was until the Earthquake hit in April 2015.
2018 sees another trip to Nepal planned and more information can be found here, refer to News Page for details of the trip made February / March 2018
Progress report from Nepal can be found here here
Mayaga Water Project, Tanzania
The Mayega Water Project is part of, and in support of, a range of activities already being undertaken by the charity Busega Scotland (Web-site: http://busegascotland.co.uk ) in Mayega, Tanzania. Busega Scotland is based in Morayshire, Scotland and has for some time had strong links with various Moray organisations, including the Rotary Club of Elgin.
The Rotary Club of Elgin have committed to supporting Busega Scotland in this Project, which chimes very well with the Rotary Mission: "to enable Rotarians to advance world understanding, goodwill and peace through the improvement of health, the support of education, and the alleviation of poverty." Moreover, the Project meets genuine needs for Mayega, a village community currently barely able to care for its own people. The Project aims to provide and maintain water and sanitation facilities for Mayega. Busega Scotland, with the support of Elgin Rotary, will be playing a full part in the funding, planning, design, and putting in place a range of measures to bring much needed facilities to the village, from water supplies, through sanitation systems to health education. We aim to approach the work in an incremental fashion, starting with a few fairly straightforward but essential improvements to the village facilities and using the experience gained to bring, in time, benefits to the whole community.
Mayega is an area of overwhelming poverty, with many broken families who have been abandoned by the fathers, widespread HIV and AIDS and morbidity and mortality from infections and chronic illness. The population attempts to cultivate the sandy over-worked land, there is little money for health care, and consistently adequate nutrition. Not all the children of Mayega attend school and as a group have little prospect of improving their lot.
Until recently, the village has had no piped water. Moreover, the local primary school has eight hundred and fifty pupils and, again until recently, no water supply or electricity and dilapidated dry toilets. Poor education and sanitation leaves the whole community extremely vulnerable, and there is much to do if their living standards and health are to be improved.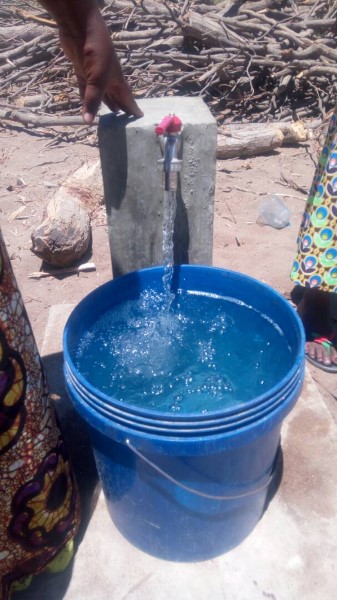 REFER Related Pages for updates on our Project.
In recognition of the continuing support given by Elgin Rotary Club, Busega Scotland recently presented a certificate of appreciation, from Busega District Council, to the club.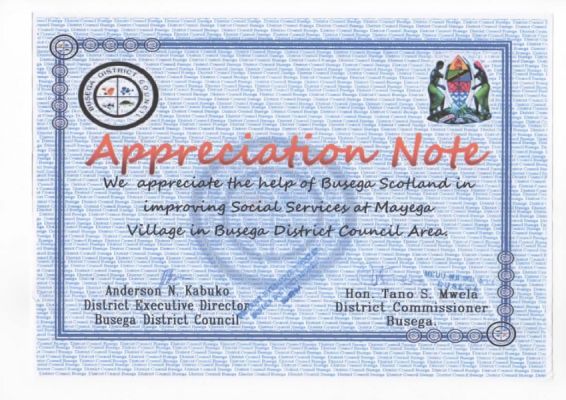 Activities 2019/20

Rotary Elgin and Chef Pushp Vaid of Rotary Westhill held an Indian Banquet at Elgin Golf Club on 31st January, 103 people attended the feast and £1,580 for Mayega Water Project.

400 Shoeboxes have been filled and await collection and distribution - this is on hold due to COVID-19 Pandemic.