Rotary Elgin supports many overseas projects. We work directly with Rotary Clubs and communities around the world to provide sustainable clean water and sanitation systems, fight hunger and disease, improve literacy and education, enhance maternal and child health and help to grow local economies.
When natural disasters, such as earthquakes, typhoons or floods occur around the world, Rotarians are usually among the first people to take action. We organise collections and donate money for the various charities that are best equipped to provide relief directly to those in need. Through our support for survival kits such as ShelterBox and AquaBox we help to provide the basic essentials required in an emergency situation.
Currently Rotary Elgin is involved in two water and sanitation projects, one in Mayega, Tanzania and a second one in the Kavre District of Nepal.
MAYEGA
The Mayega Water and Sanitation Project aims to provide piped water, sanitation facilities and WASH education and training across Mayega Village, Tanzania benefitting some 2,500 villagers. The project has so far achieved a reliable piped water supply for Mayega and water is now available at 10 water distribution points (DPs) spread across the sub-villages and at the Primary School, Dispensary and Children's Home.
The objective of this next phase of the project is to make best use of the new water supply and create:
Improved personal hygiene behaviour, domestic and environmental sanitation
Improved access to a plentiful and quality water supply and santitation facilities
Enhanced community capacity to manage, operate and maintain water supply and sanitation facilities and other infrastructure in a sustainable way
Strengthened organisational capacity to implement water, sanitation and hygiene projects in an integrated manner
This will be achieved by:
Constructing male and female toilets at Mayega Primary School (950 pupils) with disabled facilities and a sanitation room for girls. (picture below - left)
Installing further DPs across the village to improve local access to water.
Constructing a 'family toilet' in each sub-village to demonstrate the use of appropriate, cost-effective and Tanzanian Government approved technology with villagers trained in construction skills and techniques (picture below - right)
Providing health and sanitation education and training to maximise the benefits of water supply and facilities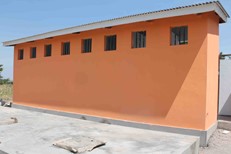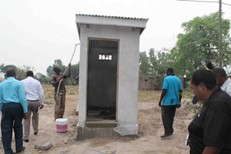 NEPAL
The planned Nepal project at Siureni Bhanjyangkhark is located at Bethanchowk Rural Municipality, Ward No 6 of Kavre District, south east from Kathmandu. From Kathmandhu it takes a 3 hour drive to reach the community through a black top road up to Panauti, the nearest road-head and market for the community, followed by a 10km earthern road.
The majority of the community people are disadvantaged Janajati and the project will follow participatory approaches that help both men and women of the community to become major stakeholders of the project. Accordingly they will be involved in planning, implementation, operation, monitoring, evaluation and maintenance phases of the project. The project is a collaboration of the Rural Municipality (local government), Water & Sanitation Users Committee (community people - see picture below) and NEWAH. The cash cost will also be shared by the rural municipality and community people for implementation of private or yard connection tap stands.
Key findings in a base line survey included:
Women and girls spend 2-3 hours a day collecting water
All the population in the targeted community are collecting water from unreliable, unsafe and unprotected water sources like streams and springs
The entire community are not practicing any water treatment at home before drinking
Hand washing with soap and water at critical times seemed poor
The exiting toilets are in use but they are not clean due to lack of water
The environmental and domestic sanitation of the community seems poor