On Tuesday, 9th June 2015, Paul Whitney, President of the Rotary Club of Horwich visited Derian House to present a cheque for £2,800 to their fundraising manager, Sophie Saunders.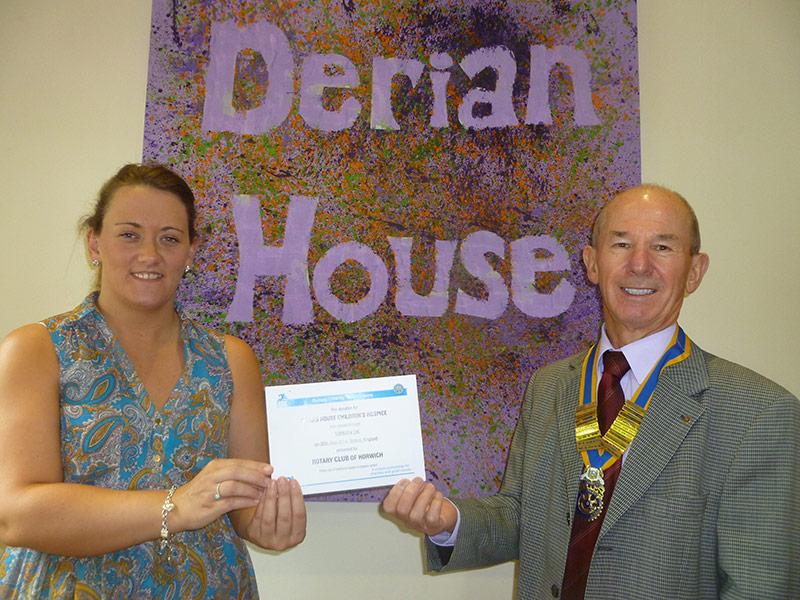 Derian House is a Children's Hospice based in the heart of Lancashire, we offer specialist care to over 250 children who suffer with a life limiting illness from across county and up into South Cumbria. The hospice costs in the region of £8500 each day just to keep its doors open, that approx. £3.5 million each year.

The money was raised from the Club's involvement in the 2014 Ironman Event in Bolton and is one a series of presentations to be made by Bolton Rotary Clubs in coming weeks.

Ironman reserve places in the event for athletes who wish to raise funds for charities and good causes as Rotary charity entries. To take one of these places athletes first register with Rotary Charity Fundraisers and pledge to raise a specific amount for charity.

Once active they receive a package of fundraising materials and kit as they raise the amount they have pledged.
Meanwhile the Rotary clubs in the Bolton area provide marshals and stewards for the event itself as their contribution.