Citizen of the Year Award
Dr Richard Westcott is our Citizen of the Year for 2019 and Benjamin Owens is South Molton Lions Young Citizen of the Year.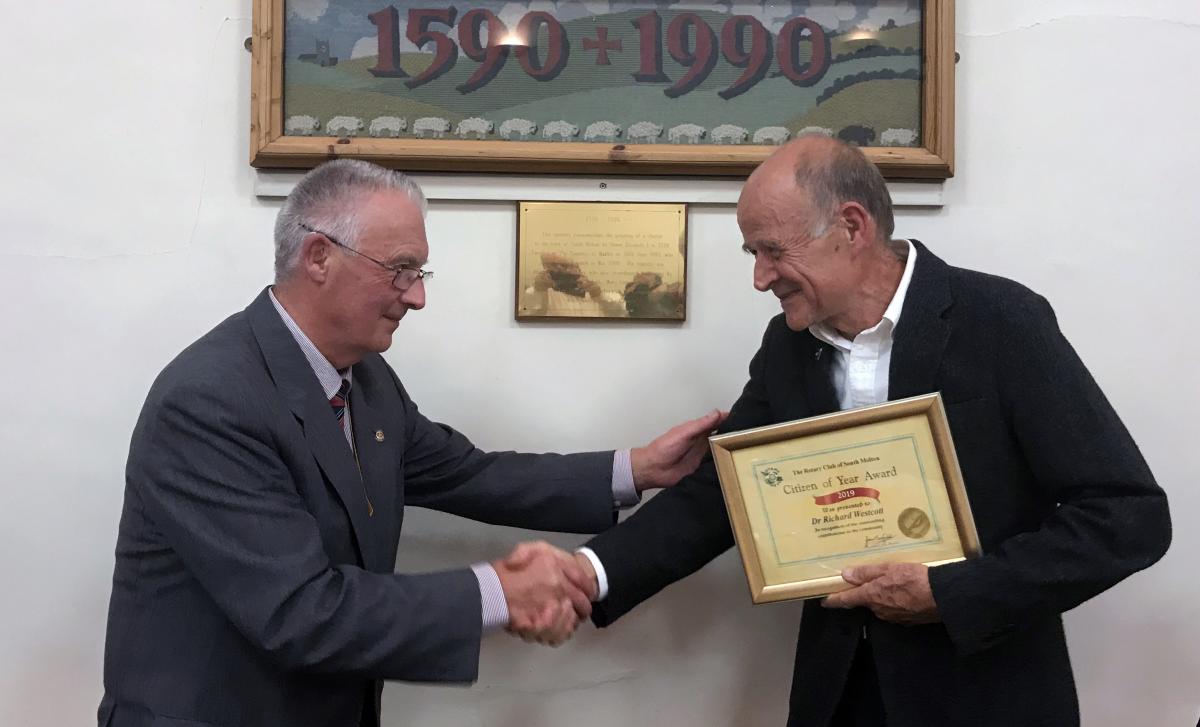 Richard Westcott has been an active and supportive citizen of our market town since he moved here in the mid 1970s, and this being where his four children grew up. Richard is proud to identify South Molton as the place they came from, where he serves, plays and worked. It is where, he is happy, to say, he feels he belongs.
Richard enjoyed a fulfilled professional lifetime working as a South Molton GP, which included supporting the building of the new Community Hospital in the 1980's culminating in the official welcoming of the Health Secretary Edwina Currie to its opening, the building of a new surgery and working with James Ravilious producing a series of now famous photographs of a country/market town GP. He has also been a regular columnist in the North Devon Journal for many years, on medical matters.
Richard has served as a School Governor at Primary and Secondary schools in South Molton (including a period as Chair)
In his spare time Richard loves music and was a long time member, performer in, and Chair of South Molton Choral and Operatic Society.
Not just music, but also running. Richard has been a long time, and of the original Members of, South Moltlon Struggles.
Richard is proud to have been a founder member and Chair of South Molton Community Garden. This project has helped many people in the Town in many interesting ways.
Richard is a founder member of South Molton Arts Destination Project, actively involved in ambitious plans for future projects. He believes that this project has great potential to make our town an even more special place.
For many years he has been Trustee and Chair, of the Saunders Trust, Good Samaritans. This local charity has achieved much in supporting people and organisations in need of a quick and bureaucracy free cash injection!
Richard, every keen to assist with new ventures, is a founder member, Trustee and now Chair of South Molton Community Conections, which makes an important contribution to South Molton's well-being and was set up with Rotarians Jack Stanley and Lyn Winter and now also includes Rotarians Barrie Lewis-Ranwell and Adam Crispin.
Richard is also a published and national award winning poet. He felt privileged to be chosen and trained as a Poet in Residence by the University of Plymouth Literature Works Project to present poetry to people with dementia, working at local Memory Cafes. This appointment has also helped raise the profile of South Molton. Richard is also a founder member of the South Molton Dementia Alliance, working with Rotarians Lyn Winter and Adam Crispin to Research and plan services to support people with dementia and their caress.
He also helped us with the installation of the Tovertafel Project, known by many as the Magic table.
Richard is currently working as co-producer on a third Old Time Music Hall, planned for the Assembly Rooms early next year, previous performances having raised large amounts for the North Devon Hospice, which Richard has personally supported from its earliest days.
As if all this wasn't enough, Richard is also an active member and supporter of the South Molton Meddlers, including the Litteratzi, and is a contributor to live music performances, both in their own site and in the Parish Church.
Richard was nominated for this award, not just for all he achieves in and for South Molton, but also for his kindly way of supporting others to achieve. He is always ready with a kindly Conversation and brings out the best in people by emphasising and recognising the good things they do too. South Molton would be much poorer without his amazing contributions to our local communities.
Last but not least, Richard can now say since our 50th Anniversary 'do', he is proud to be an Official Friend of South Molton Rotary Club! A very fitting citizen to be our Citizen of the Year in 2019!