Your Rotary Club is looking after your health
Your Rotary Club - Your health
Erskine Rotary Club is committed to undertaking community health projects with various partner organisations.
On Saturday 13th June 2015 Erskine Rotary Club held a very successful, free, 'Know Your Blood Pressure' day in partnership with The Stroke Association. Six of Erskine & District Rotary Club members volunteered two hours of their time to help local people to understand their blood pressure reading and to provide material from the Stroke Association to explain the risks associated with a stroke and how to prevent one.
At Bishopton Fete last month, the club gave away free Emergency Bottles (designed to sit in your fridge and provide information to the ambulance service if called) at their stall.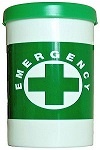 Other current health related projects initiated by the club are the 'Stop and Rest' benches installed around the Inchinnan, Bishopton, Erskine and Langbank areas, to allow those recovering from illness to choose a walking route in their area where they can guarantee there will be places to rest. The benches in a number of areas are currently under refurbishment by Project OSKARS 'Men's Sheds' Group in Paisley, paid for by Erskine & District Rotary Club.
The Rotary Club of Erskine and District is open to adults in the Inchinnan, Bishopton, Erskine and Langbank areas. Contact us for more information on our Website or Facebook page.