Harvesting Rainwater in Kenya
This is a project to bring clean water and hygiene to people living near Nakuru in Kenya.
The Problem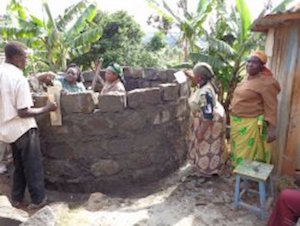 Building a water tank in Kenya
High concentrations of fluorine contaminate the available groundwater in The Great Rift Valley. In addition, periods of drought in the region and the prohibitive well drilling costs required for drilling to great depths to reach safe water, all contribute to 41% of the population lacking access to adequate safe water supply.
The Solution
Our project is to provide 10,000 litre rainwater harvesting tanks; to be filled twice annually during rainy seasons. Each tank holding safe water for up to 20 adults.
Helping People Help Themselves
The Rotary Club of Sittingbourne Invicta together with the Rotary Clubs of Sittingbourne & Milton and Hoorn (Netherlands) worked in support of the Rotary club of Nakuru (Kenya) and 32 local Rotary Community Corps (RCCs) - self-help groups totalling 6700 members.
The 6T's
As well as the need for clean drinking water and improved hygiene, de-forestation is another problem in the region. The 6T project, therefore, aimed to help each community on a much broader scale with:
Tanks - each containing 10,000 litres of water
Toilets - one for each tank
Trees - 100 trees planted for each tank
Table Banking - a saving scheme or micro-financing for water tanks and small business start-ups e.g. food crops and animals
Training - e.g. hygiene & teaching
Transformation - from poverty to prosperity
Costs
Each tank costs about £700 to construct with beneficiaries in Kenya paying about 50% of the cost of a tank.
Table banking is a simple savings and loan system run by the RCCs. This finances both tanks and small business projects allowing loans to be repaid.
A Recommended Rotary Project
The 6T Project was started in 2002 by the Rotary club of Nakuru, Kenya. Early backing was received from Rotary clubs in Canada and the USA.

In 2004 the Rotary Club of Hoorn took over as lead sponsor, and in 2012 both Rotary clubs in Sittingbourne decided to become supporters.
Invicta member Martin Shirley visited Kenya in November 2012 and inspected recently completed tanks.
Project Outcome
The Rotary Club of Sittingbourne Invicta will have directly sponsored 16 tanks , but with the benefit of our Rotary District and Rotary Foundation support and matching grants, it brings our total contribution to 33 tanks. It is understood that the building of these tanks will commence April 2017.
In summary this was one of the largest projects in our club's history; giving 660 people in Kenya safe water to drink.