Playing Our Part In Eradicating Polio
Global Effort To Eradicate Polio
The fight to end polio is led by the Global Polio Eradication Initiative, which includes Rotary International, UNICEF, the U.S. Centers for Disease Control and Prevention, the Bill & Melinda Gates Foundation and governments of the world, with the support of many others around the globe.
Rotary At Work Since 1985
Rotary International, with 34,000 clubs in 200 countries and geographical areas around the world, made polio eradication its top priority in 1985.
To date, Rotary has contributed more than US$1.7 billion, and its members have logged countless volunteer hours to help immunise more than two billion children in 122 countries.
The number of new polio cases, a disease that once paralysed more than 1,000 children every day, has dropped more than 99 percent since the 1980s.
Latest News
There are now only two polio endemic countries; Afghanistan & Pakistan. There is now only one remaining type of wild polio virus i.e. type 1.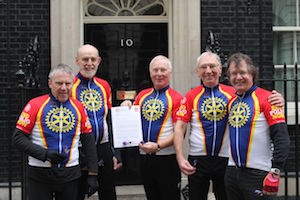 Taking our message to the Prime Minister
Invicta's Fight To Eradicate Polio
We take an active role in being an advocate for the eradication of polio. We have;
delivered a letter to 10 Downing Street urging government's continued support for polio eradication
appeared annually on local Sfm Radio on or around World Polio Day
used social media regularly in support of the End Polio Now campaign
In July 2013, club members helped Rotary's End Polio Now campaign by cycling 165-miles around Kent and raised £10,800 to help conquer this crippling disease - Rotarians cycling so children may walk.
On 23 Feb 2016, president Steve Wood Walked the O2 Dome in aid of End Polio now. president Chris Porter also undertook the same challenge in 2018.
Our club also provides annual payments to The Rotary Foundation polio fund to continue the battle to eradicate this dreadful disease from the world.
End Polio Now
Rotary's campaign to eradicate polio from the world is known as End Polio Now. More information can be found on the End Polio Now webpage.