The Celebration of 90 Years of the Charter of our Club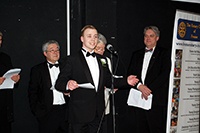 On Friday the 5th February Frome Rotary Club celebrated their 90th charter birthday in style. They had in house entertainment by The Charters" with Rotary members Ward Jones, Wayne Kelly, Humphrey Barnes, Dot Cretney, Hilary Daniels and Andrew Lee who gave a very humerous performance written by Rotarian Alan Sandall about the origins and work of the club from when they were set up in 1926 to date.

Humphrey Barnes was the Master of Ceremonies and introduced the programme.
Our expected three French couples representing our twin Rotary Club de Bayeux were reduced to two. However,Jean Francois and Delphine Soete,former Bayeux Rotarians came as private guests. The official guests also included the District Governor Bob Acland and his wife Sue, Ken & Cath Fricker Presidents of Frome Selwood Rotary Club, Keith & Jane McLeod President Frome Lions Club, Chris and Jill Rose Probus, Yvonne Colvill President Frome Inner Wheel, and Dominique and Elisbeth Desdouits President of Bayeux Rotary Club.
Amongst our fellow guests were Assistant District Governors, Past President Ray Barnes, Kim Pitts, Eunice Hillman and son Thomas from Marlborough. Past President Hilary Daniels, the son of a founder member,proposed the Loyal Toast. District Governor Bob Acland proposed the toast to the Club, saying some kind words about the outstanding record of service to the community throughout Club'sexistence and its ability to keep up with the times and attract new members. President Patrick replied in suitable terms and then proposed the toast to our Visitors and Guests.Yvonne Covill President of Inner Wheel gave an agreeable reply and an amusing Final Toast was given by Past President Ken Miller, our oldest member.
A Member of the Woodlanders came on stage with an accordion and after saying he had no idea what the Club had done in its lifetime but he greatly respected it
He then led us in some singing of a handful of well known mostly wartime songs Finally, it was time for us to prepare to go out in the cold very windy night during a brief gap in the rain A delighted well fed and enter- tained people took their time to mix up and meet more friends and say their farewells. It was past midnight.
If you wish to relive some of the evenings activities please access the following two videos provided by Rtn Ernie McKenna.