Previous activities
Some of the events or visits we have made over the recent years.... Our Bala Challenge funds helped Wales Air Ambulance with a £500 donation on 6th November 2017.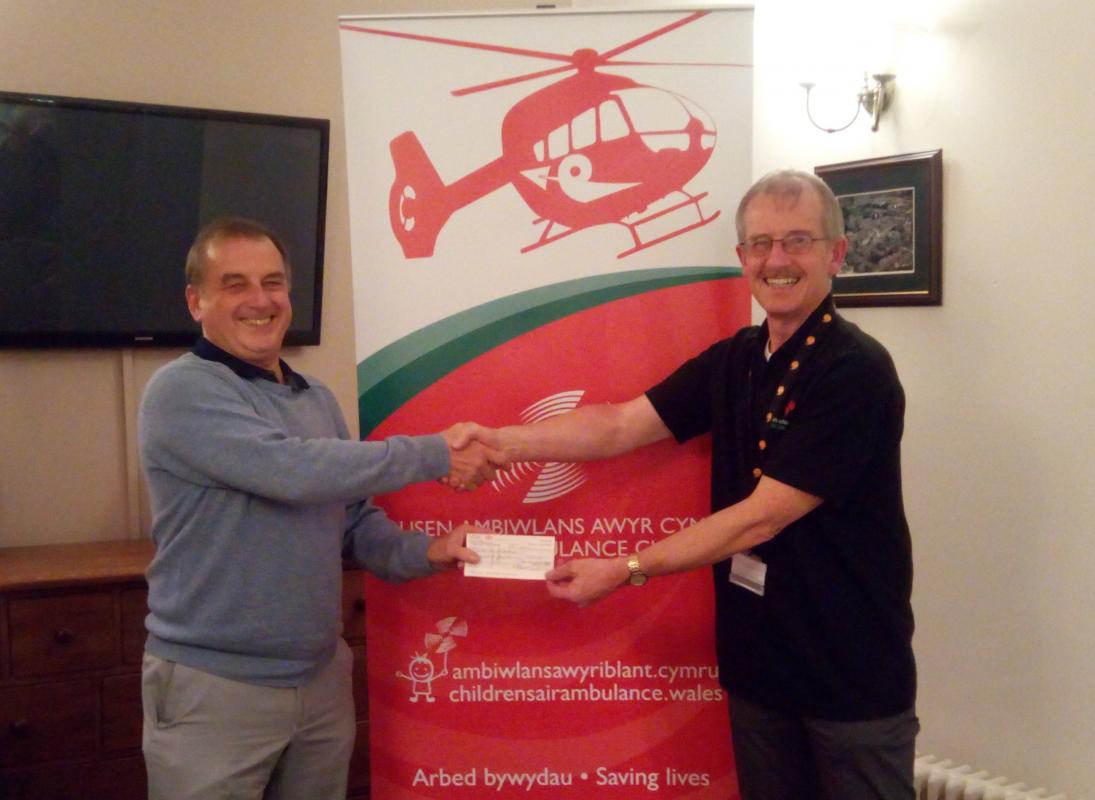 PREVIOUS Events
The Bala Challenge walks raised thousands of pounds for good causes, above is the presentation to Wales Air Ambulance representative Alwyn Jones, of a cheque for £500.
***************************************************************************************************************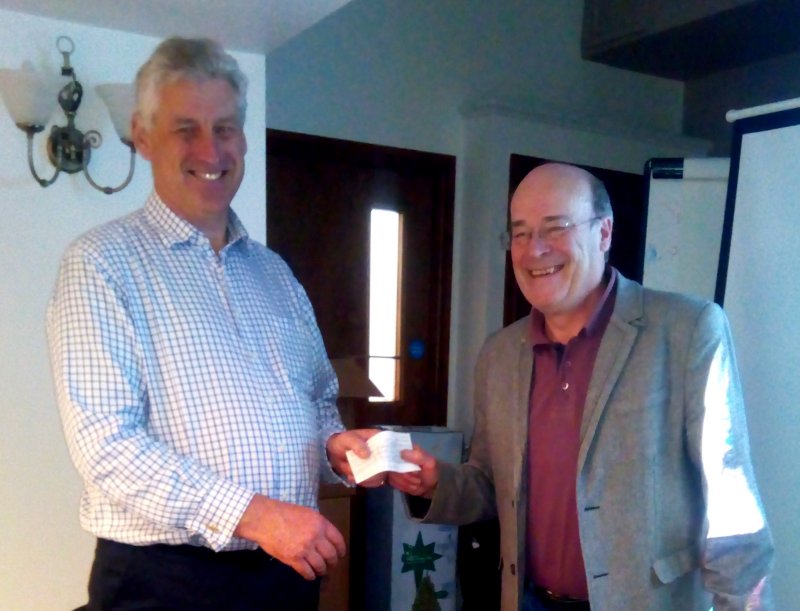 Bala and Penllyn Rotary club presenting a cheque to Julian Birley of the Bala Lake Railway Trust in support of the on-going project to build the new railway extension and town station to Heol Aran. The Rotary club is most happy to support a project which will bring a great deal of benefit to the local community and tourists alike. Paul Dale ( immediate past president) says "It is a win, win for everyone."
*******************************************************************************************************************
A collection to purchase a "SHELTERBOX" was held at the Co-Op in Bala on Saturday 16th September. Hopefully a family hit by the horrendous hurricanes will find some shelter and emergency supplies useful.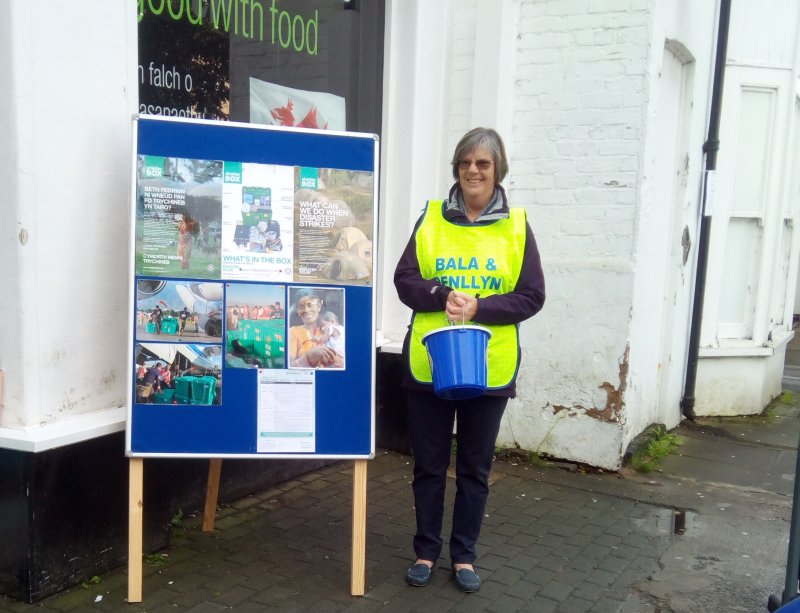 ********************************************************************************************************************
Donation to Cylch Meithrin Y Bala
Further to an application to Bala and Penllyn Rotary Club for "Sensory Equipment" for Cylch Meithrin Y Bala, a cheque of £200 was given recently to the Cylch to purchase all the equipment requested.
Cylch Meithrin Y Bala is a registered Charity and provides 20 hours of sessional day care for pre-school children. It is registered with Mudiad Meithrin and with Care and Services Inspectorate Wales. The Cylch is run by a Volunteer Management Committee and is an educational provider as a member of Gwynedd early development and childcare partnership. The Cylch is keen to develop the sensory awareness within the group of children and feeds into the two Primary schools in Bala.
Jane Roberts, the playgroup leader, affectionately known as "Aunty Jane" welcomed a Rotary member and his wife to a tour of the facility before accepting a cheque for £200.
The Cylch Meithrin is holding an Open Day on Wednesday, 3rd July.
Bala and Penllyn Rotary Club, part of the largest Global Charity, are proud to support the local community, in particular, its children, supporting local schools, the Youth club and other clubs. Rotary in Bala also supports the Hope House Hospice, Welsh Air Ambulance and many other organisations. It gives support to international disasters, and is a contributor to the enormous Rotary initiative of eradicating Polio in the world. This year Rotary in Bala has given £4,000.
O ganlyniad I gais oddiwrth Gylch Meithrin Y Bala am gymorth gan Glwb Rotari Y Bala a Phenllyn I brynu "Offer Synhwyrol" cyflwynwyd siec am £200 I gyfarfod a chost y cyfan o'r offer.
Mae Cylch Meithrin Y Bala yn elusen gofrestredig yn darparu 20 awr yr wythnos o ofal dydd I blant dan oed ysgol. Cofrestrir y Cylch dan y Mudiad Meithrin a chyda Arolygwyr Gofal a Gwasanaeth Cymru. Gweinyddir Y Cylch gan Bwyllgor Rheoli Gwirfoddol ac mae'n ddarparwr addysg fel aelod o Bartneriaeth Datblygiad Cynnar a Gofal Plant Gwynedd. Mae'r Cylch yn awyddus I ddatblygu ymwybyddiaeth o'r synhwyrau o fewn y grwp o blant dan eu gofal fydd yn trosglwyddo I ddwy ysgol gynradd tref y Bala.
Croesawodd Jane Roberts, arweinydd y Cylch, a adwaenir fel "Anti Jane" gan y plant, aelod o'r Clwb Rotari a'i briod a'u harwain o amgylch cyn derbyn y siec am £200.
Bydd y Cylch Meithrin yn cynnal diwrnod agored ar ddydd Mercher 3ydd Gorffennaf.
Mae Clwb Rotari y Bala a Phenllyn sy'n rhan o gyfundrefn elusennol fyd-eang yn falch o fedru cefnogi'r gymuned leol, yn arbennig ei phlant, trwy'r ysgolion, y Clwb Ieuenctid a chlybiau eraill. Mae Rotari hefyd yn cefnogi Hosbis Plant Ty Gobaith, Ambiwlans Awyr Cymru a nifer o gyfundrefnau dyngarol eraill. Mae'r Clwb yn cyfrannu'n rhyngwladol tuag at leddfu trychinebau ac wedi cyfrannu'n gyson tuag at yr ymgyrch fyd-eang I ddileu polio. Eleni cyfrannodd Clwb Rotari Y Bala a Phenllyn gyfanswm o £4000 tuag at wahanol achosion da.
******************************************************************************************************************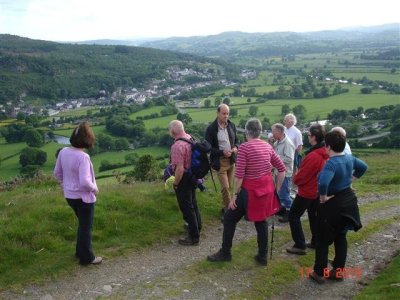 Walk to Caer Drewyn Hillfort
On Monday, 17th June 2014, some twenty members of the Club enjoyed a guided walk to Caer Drewyn Hillfort. Led by our own member Alun Price, Bala's resident expert on flora, fauna and Welsh history, this was a magical evening packed with information which made the past come alive for all. The route moved backwards through time, setting out along the old railway cutting left behind when the line closed in 1963, then turning onto the old drovers' road used by local farmers on their way to the market at Smithfield. Eventually we came out into the open as the route ascended towards the summit and the walls of the ancient hillfort. On a stunning summer evening the view from the top was magnificent as we felt ourselves transported to times long past. We could almost hear the clash of weapons and the cries of the armies as Alun described the importance of the site through centuries of Welsh history. Superb!!
**************************************************************************************************************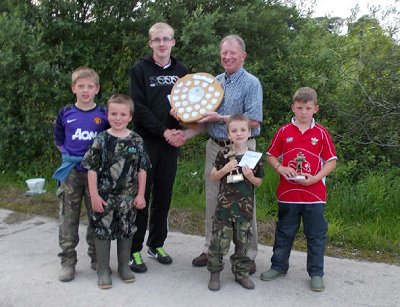 Bala Angling Association annual Junior Competition
Following Bala Rotary Club's donation to the Bala and District Angling Association,
President Lloyd Jones presented the prizes for the annual Junior competition.
Held on Saturday 6th July 2013 at Llyn Cwmni Gro, Sarnau, the youngsters competed for the Stephen Hollins shield (in memory of Stephen who was killed in an accident).
Even the fish seemed reluctant to eat after one of the hottest days of the year so catches were low,
however everyone, including the parents, seemed to enjoy themselves.
*******************************************************************************************************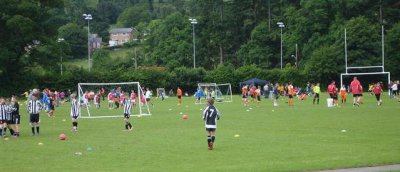 Bala Junior Football Club Tournament
Some of our Rotarians helped with the Bala Junior Football Tournament on Saturday 29th June, for the third year since its inception. Members helped by manning the main gate and selling tickets to the spectators.
The tournament consisted of 36 registered teams ranging from under 7s to under 13s.
Bala Rotary have performed this task as a service to the local community.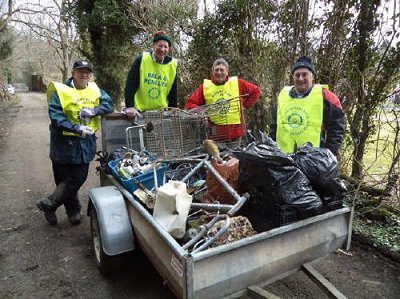 Spring Clean-up 2013
Members of Bala and Penllyn Rotary Club turned out on Saturday 23rd February 2013 for the start of the Spring Clean season this year and gathered plenty of discarded junk and litter from the woods near the Tryweryn and the approach lane, and from the Tryweryn river bank and adjoining fields behind Cysgod y Coleg and Blaenddol. Cans, plastic and glass bottles were recycled as were larger metal items such as the shopping trolley (without wheels) and bicycle frame."
"Further Spring Clean events are scheduled for Saturdays 23rd March and 20th April and the Rotary Club welcomes volunteers and suggestions about litter hot spots around Bala that would not normally be covered by the Council and by the faithful work of Mike Yates. Please contact Adrian Murray by email at adrianmurray@btinternet.com or by telephoning Bala 520344.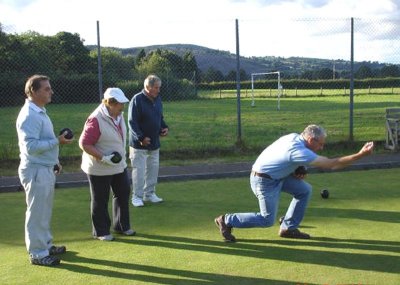 Visit to Llandrillo Crown Green Bowling club
On Monday 30th July the Bala Rotarians visited the Llandrillo Bowling club. The weather was sunny ( and a bit chilly!). The Llandrillo club members, led by Brian Williams and his wife, Maria ( re-christened Tea-a Maria by the Rotarians) looked after us with their usual generous hospitality We played doubles matches with Rotarians pairing with Llandrillo bowlers. Great fun was had all round! The bowling club members put up with us with patient smiles on their faces.
Following the games we adjourned to The Dudley Arms for a meal and refreshments.
A successful evening all round.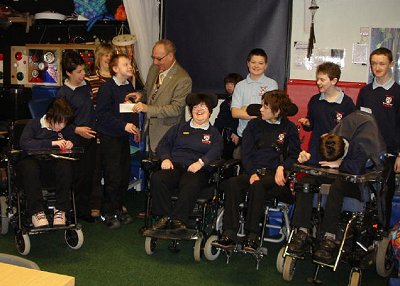 Ty Meirion presentation
President of the Bala and Penllyn Rotary club, Mike Gareh, was pleased to present Ty Meirion with a cheque to the value of £100 to help purchase musical instruments. This was at the request of a Bala mother who has a child in the unit.
Ty Meirion is situated at Ysgol y Gader Secondary School at Dolgellau. Currently there are 11 pupils with additional needs attending the Unit.
Ty Meirion offers education for pupils from all over Meirionnydd and beyond. All pupils integrate to the mainstream for registration, School Assembly and some pupils for various mainstream lessons. The pupils receive weekly horse-riding lessons at The Meirionnydd Riding for the Disabled Centre at Ty'n Sarn and regular swimming lessons at Bala Leisure Centre together with Music Therapy. We are aiming to compete in the Urdd Creative Music Competition this year. Money donated by the Bala Rotary will be invested in purchasing musical instruments.