Young Chef
.
2018/19 - Competition Suspended this year.
2017/18 Young Chef
Elgin Rotary Club supported the local heat of the Young Chef Competition, organised by Jacqui Taylor and hosted by Moray College UHI the competition aims to encourage creativity in young people.
The three contestants, Rhys Crossland (S2 Elgin Academy) Christy Lawrence (S3 Elgin Academy) and Lyndsay Thomson (S3 Elgin High) had to prepare and present a three-course meal within strict budget and time limits to be judged by an expert panel of Morag McKay, Head chef who also mentored the pupils, Martyn Woodward Moray College UHI lecturer and Elgin Rotary president elect George Duthie.
As well as demonstrating their culinary skills contestants must show an in-depth awareness of nutrition, organisation, food hygiene and time and kitchen management all whilst maintaining their ability to work under pressure and a tidy work area.
Each of the three contestants did exceptionally well and the judges were very impressed with the overall standard, and commended the three young chefs, however this years very worthy winner with a menu of Red pepper humous, Chicken garam Masala and tropical cheesecake was CHRISTY LAWRENCE of Elgin Academy, who went on to take part in the Area Final in Aberdeen on 20th January.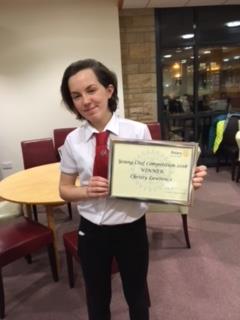 The Young chef Competition would not have been possible without the help and support of the Moray College UHI hospitality and tourism team.
2016/17 Young Chef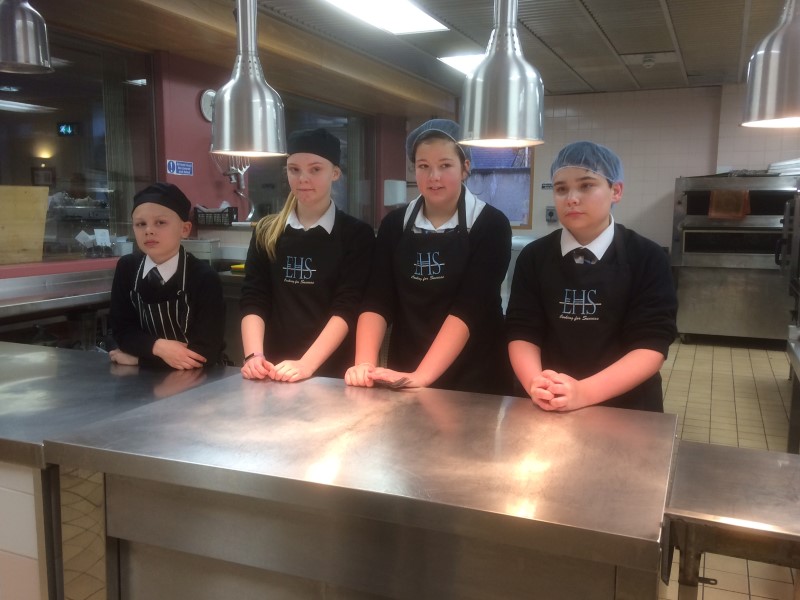 This years event took place and 4 students all from Elgin High School, Fenella Allan, Calvin Pirie, Eilidh MacDonald and Owen Merrin battled it out in the kitchens. All students had a budget of £15 and had to provide a healthy 3 course dinner, consisting of starter, main course and dessert. Competition was tough, however Fenella Allan was this years winner who progressed to compete in the next round in Aberdeen.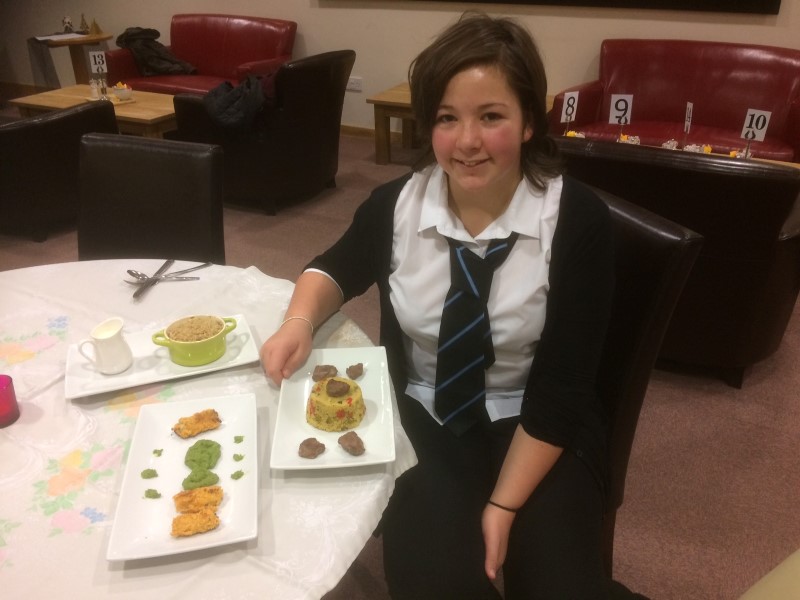 2016 Young Chef
The winner of the Young Chef competition was Emma Riddell from Lossie High with her meal of Sophisticated Salmon followed by Dreamy Delight. Runner up was Adam Green from Elgin High who did Salmon Wellington and Lemon Possett with fresh raspberries and popping candy. The other 2 entrants were Ellie Baird from Lossie High and Elildh MacDonald from Elgin High.
The competition was open to young pupils from Elgin High, Elgin Academy, Gordonstoun and Lossie High from S1 - 3. The young people had to produce a 2 course meal within 1 hour 30 minutes. Points were awarded following a range of criteria including: Healthy choice of dishes, range of skills used, table presentation, taste and neatness of work area.
Judges were Alistair Fowlie, Hospitality lecturer from Moray College UHI and Donald Miller, Elgin Rotary Club President. The pupils were supported in the kitchen by Darren Bate, hospitality Lecturer, Moray College UHI.
The Rotary young chef competition is a national competition aimed at young people in full time education between the ages of 11 - 17. This competition is part of a range of national Rotary competitions aimed at young people which also includes Young Photographer, Young Citizen and Young Writer which Elgin Rotary have run for a number of years.
This year is the first year, Elgin Rotary have run a Young Chef competition and for this initial one we decided to run our own local competition in partnership with Moray College UHI with a view to taking part in the national competition for 2017.
The judges were very impressed with the standard of the cooking, the ability to work methodically and produce some very creative dishes. The young people were also marked on their planning skills and they had to produce a step by step time plan of each stage of their dish prior to the competition.
Alistair Fowlie, Moray College Hospitality lecturer said: 'all the young people worked with exceptional professionalism, produced superb meals of a very high standard. It was very difficult to choose an overall winner as all the scores were very close '
Donald Miller, Elgin Rotary Club president, thanked the young people: ' at Elgin Rotary we are very proud to be able to run this exciting competition to support our young people to develop their skills and confidence in the kitchen. The standard was exceptional'.
NOTES:
The national Rotary Young Chef competition is one of 5 competition organised by Rotary International in Great Britain and Ireland and sponsored by Filippo Berio. There are 4 stages to the competition and the key aims include:
Encourage young people to:
Learn how to cook a healthy meal
Develop Food presentation skills
Consider Food Hygiene issues
Develop Organisational and planning skills
Develop an ability to cope in a demanding situation.