Our Club was delighted to be awarded the prestigious Gold Environment Award at a District Council Meeting and we are only the second club in our district to achieve this high standard.
This follows recent Silver and Bronze Environmental Awards gained in the previous three years.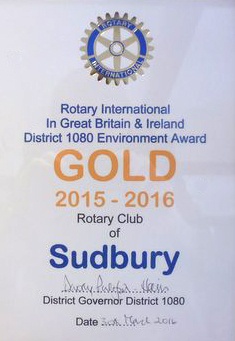 The application for the award took a lot of preparation as the criteria is extremely strict with only the best applications being given due consideration.

Our Award was based on the development of our extensive Schools' Nature and Environment Programme which sets out to inform and empower children on the wonders of the environment especially in this area of Suffolk that is so abundant with nature right on the doorstep, but that is so often under appreciated or used.

Our Environment programme also embraces the importance of recycling and litter with various litter picks that have taken place in cooperation with the town council and supermarkets. Trees have been planted along the perimeter of Eden-Rose Coppice and the recent Crucial Crew event included scenarios that focused on the environment.