Alan Day is our Speaker followed by Dinner - Host Graham McArthur
Wed 15th February 2017 at 6.30 pm - 8.00 pm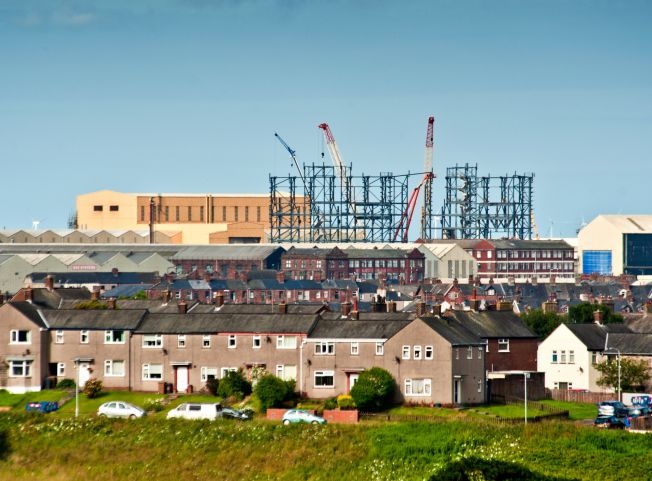 Alan Day from BAE came to update us on the £300 million development at the Barrow Yard. He last spoke to us about 18 months ago when the projects were just about to lift off.Now parts have been completed, on time and on budget despite finding toxic waste and having to clear land of slow worms before a sod could be lifted on the 28,000 sq m Strategic Store.

The Central Yard Complex needed 50km of piles installing before the building could be erected. Construction is in an advanced state and we saw slides of one of the 240 ton cranes being installed. Alan tols us that the steelwork (all British) was cut by computer direct from the designers CAD drawings and everything brought to site fitted perfectly. At the moment 350 people are working on the site, the majority being locals.
Adjacent to the CYC will be the £50m Paint Facility on Bridge Road, that will provide for the first time a state of the art environmentally controlled painting area.Ground work is currently in progress and several items of ordnance have been uncovered, ironically not from WW2 Luftwaffa raids, but mislaid British shells etc!
He told us about the DDH extension which in addition to workshops will also provide office accomodation for 200.
Finally, the cladding of the DDH, which is now deteriorating will be replaced to match the new build.
During questions Alan talked about car parking which is a problem they are trying to deal with, they do not condone illegal parking and fully support the County Council issuing penalty notices.When the project started 75% of the 8000 staff came in their own cars, they provided 4800 car parking spaces, today 54% come in their own vehicles and are encouraged to car share, cycle and soon they will introduce bus transport schemes. Incidentally, he told us, Barrow Island is one of the CC most lucrative sites, yielding £100,000 per annum in fines !
But he said that they encourage workers to use the bus, trains and cycle (he cycles a couple of times a week to the office). They also minimise vehicle deliveries to their sites and have had concrete, steel etc delivered by sea.