Club News 2016 -2017
Reports on Speakers at Club Meetings and Events
CLUB NEWS 2016 - 2017
District Young Chef Competition held at Cowbridge School on March the 4th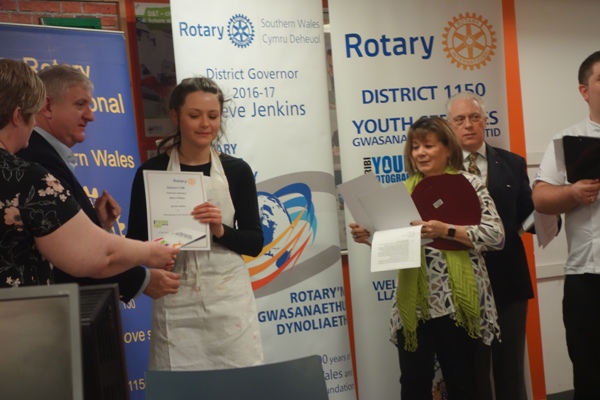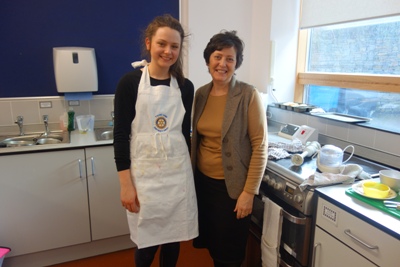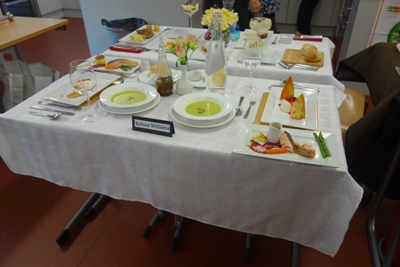 Llandeilo Rotary were represented by Rebeca Williams from Ysgol Bro Dinefwr. Rebeca had previousy won the Area1 Young Chef competition and was representing the Area in the District Final . Unfortunately, Rebeca was unsuccessful in the District competition but did get a mention from the judges as regards her fondant potatoes
Details of Rebeca's meal is given below:-
Starter - Pea and Mint Soup served with a mini loaf of bread
Main Course - Salmon with a lemon butter sauce served with a fondant potato , glazed carrots, asparagus and beetroot puree
Dessert- Vanilla Panna Cotta served with tuile biscuits and a raspberry coulis
The pictures above show Rebeca's eye watering food , Rebeca with her teacher Doreen Martin who puts a lot of effort in getting the best out of her students for this competition . One of the pictures shows Rebeca receiving her certificate for participating in the District competition
Rotary meeting 16th March - Speaker Andy Gray
On Thursday, 16th March Llandeilo Rotary Club hosted two special guests to an audience of 25 Rotarians,wives, guests and Ladies of Inner Wheel.
Following dinner the evening started with a raffle that raised £114 for Wales Air Ambulance. The club then welcomed Rotarian Dilwyn Williams who returned after a period of illness. Dilwyn then presented two plaques to Club President Rob Donaldson and to Past President Richard Hughes who had visited Dilwyn at home and at Glangwili Hospital during his illness.In return President Rob presented an Honorary Membership plaque to Dilwyn from the club.
It was then the turn of guest speaker Andy Gray who gave a courageous and down to earth account of his serious traffic accident that occurred on 22nd July, 2016
when Andy was returning home from Llandeilo Andy recalled that he had no recollection of the accident but paid particular tributes to a passing couple who provided both comfort and First Aid prior to the Emergency Services arrival. The Wales Air Ambulance transported Andy to Morrison Hospital where he remained in a coma for a week and in a critical position with multiple injuries.Following his recovery Andy made a special visit to the new HQ of Wales Air Ambulance in Llanelli to thank the staff.
There were a number of questions and Rotarian Alun Davies gave the audience some facts about Wales Air Ambulance that costs some £8 Million per annum to operate and in 2016 received 2,500 calls to its centres.
Past President David Owen ended the evening with the vote of thanks.
PHOTO-Left to right Past President Richard Hughes, Rotarian Dilwyn Williams and President Rob Donaldson
PHOTO- Left to right President Rob Donaldson, Past President Richard Hughes, Speaker Andy Gray and Rotarian Alun Davies
St David's Day was celebrated early by Llandeilo Rotary Club when Rotarians, their wives, Ladies of Inner Wheel and guests met at the White Hart Inn on Friday, 24th February.
Following a traditional dinner of cockles and laverbread and Welsh lamb the Mayor of Llandeilo Fawr Councillor Colin Jenkins was inducted as a Rotarian by President Rob Donaldson. Now as a Rotarian Colin Jenkins was invited to speak and chose to outline a brief history of the office of Mayor.As a special priviledge
Colin brought the original Council Chain dating from 1895 up to 1974 when there was a change in the council. Colin remarked that some chairmen then did a 5 year term of office.Wearing the current chain of office Colin informed his audience that there are two wards in Llandeilo Fawr, Tywi and Castle wards and there are 6 councilors, two for each ward. The Mayor is elected by members of the council and councilors meet twice a month with the Mayor's inaugeration taking place every May. Colin also remarked that the town council are shortly to take responsibility for two parks in the town, Penlan Park and Parc le Conquet following the County Council's rationalisation programme.
Apart from holding the title of Mayor, Colin is a sales representative for a catering company covering west and mid Wales and is a part time firefighter.
One of the guests of the club was Deputy Mayor Councillor Eifion Davies.
PHOTO-Left to right Deputy Mayor Councillor Eifion Davies, Rotary President Rob Donaldson and Mayor Councillor Colin Jenkins.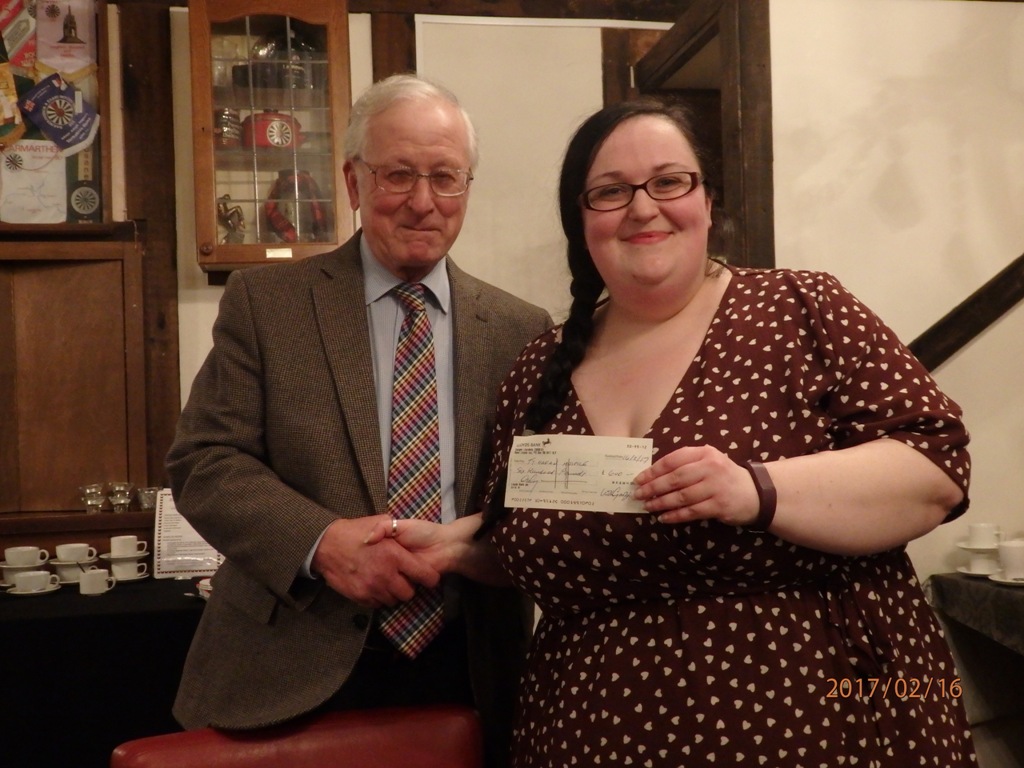 On Thursday,16th February Llandeilo Rotary Club welcomed guest speaker Shelley Kirkham the Regional Fund raising manager for Ty Hafan Children's Hospice.
Shelley who resides in Cydweli covers the counties of Carmarthenshire, Pembrokeshire and Ceredigion for Ty Hafan. She was invited to the club to speak by Immediate Past President Ken Griffiths as Ty Hafan was one of Ken's chosen charities during his year as President 2015/16.
Ken presented Shelley with a cheque for £600 following which Shelley gave a brief history of the charity. Rotarians were informed that the hospice Ty Hafan was opened in 1999 and its first patron was HRH Princess of Wales who persuaded world famous singer Luciano Pavarotti to perform in an opera in 1995. The funds from this performance enabled the hospice to become established and today it supports over 600 families in west Wales mainly south of Aberystwyth.
Based in Sully near Barry the hospice is situated near the waters edge and offers a range of facilities including a Hydrotherapy pool and a multi scenery room that has an interactive floor simulating Autumn leaves and butterflies and ladybirds to put children at ease. Shelley remarked that even mothers and fathers are catered for with Mums and Dads groups that give parents a chance to relax and meet families with children of similar needs.
Following the talk President Rob Donaldson gave the vote of thanks.
PHOTO Immediate Past President Ken Griffiths and Shelley Kirkham.
A YEAR IN LLANDEILO ROTARY CLUB
2016 started with President Ken Griffiths at the helm. The club's charitable giving started on the 7th January with Immediate Past President Kevin Sivyer presenting a cheque of £1000 to David Harris of Ty Cymorth one of Kevin's chosen charities during his term as President. The same evening saw Councillor Gordon Kilby, the then Mayor of Llandeilo Fawr Town Council, becoming a member of the club.
The club meets every Thursday evening at the White Hart, Llandeilo and alternates between having regular speakers, to discussing future events to having fellowship evenings all of which follow a meal.
Usually in February the club has a social evening at Pant Glas, Llanfynydd. This includes a meal and a relaxed game of snooker and is open to all.
Later that month, the guest speaker the most recent member of the club, Gordon Kilby. Gordon spoke of his life dedicated to his love of music and 41 years as a music examiner taking him too many parts of the world.
The end of the month saw the club celebrating St David's Day with an excellent attendance of Rotarians, wives and guests. Côr Meibion Dinefwr rounded off the evening by getting everyone to sing a mixture of Welsh and English language songs to celebrate our National Saint and to celebrate, earlier in the day, a win in the 6 Nations Rugby over France.
The rest of March saw a mix of Fellowship evenings which involves members chatting among themselves followed by a Scatter Evening which sees members visiting other local Rotary Clubs of Ammanford and Llandovery and enjoying the hospitality of the members and making new friends.
Into April and the club's AGM was held with a new President and Officers elected. Rob Donaldson from Salem became President from July onwards.
Towards the end of the month members spent part of their day at Nigel Williams Chemist in Llandeilo to encourage the public as part of the Stroke Awareness Day to have their blood pressure taken by the St John's Ambulance staff on duty. The last Thursday of the month saw the club discuss the Ploughman's Lunch the main fundraising event of the year held in June every year.
May started with Rotarian Dilwyn Williams of Nantgaredig giving a talk on his family company "Williams Bros". The following week a major fund raising event took place hosted by the Angel Inn, Salem. This was to raise funds for the charity "Shelterbox" the evening occasion was well attended, with a Shelterbox tent erected by Rotarians, assisted by staff of the Angel Inn and a focal point of the event. A buffet followed and several hundred pounds were raised for the charity.
June started with a warm up meeting for the Ploughman's Lunch which was held on 10th June. Again the venue was the Civic Hall in Llandeilo and preparations involved Rotarians, wives and Ladies of Inner Wheel. The day was a success with about 100 people attending including the Mayor Councillor Colin Jenkins and Lady Mayoress of Llandeilo Fawr and monies were raised from ticket sales, a tombola and bottle raffle. In all some £2000 was raised for the President's chosen charities. This is one of the highlights of the Rotary year and has been enjoyed by the people of Llandeilo and the surrounding area for the past 30 plus years.
The next event was the Handover Dinner on 24 June when Rob Donaldson of Salem became the President for 2016/17.
This new Rotary year was to herald a change in the running of the club as it was decided by club members that the Rotary Club would in future meet only twice a month instead of the usual 4 times per month. This change was to adapt to changing times and to attract new members by becoming more flexible. It was also decided that August was to be a meetings free month.
September started with a presentation of a cheque to Cancer Research Wales on the 13th, when Rotarians attended an evening by the charity at the Victoria Hall, Lampeter. Senior Vice President Richard Hughes presented a cheque for £600 on behalf of the club. The next event was a speaker on the 15th. Isabelle Williams and Carwen George were the guests. Isabelle talked about her trip to Machu Picchu, a trip partly sponsored by the club. In October the District Governor came to talk to club members about Rotary generally and the year ahead for Llandeilo Club.
In November once again the club visited Pant Glas in Llanfynydd, with Rotarians enjoying a meal and afterwards a mildly competitive game of snooker. Later in the month the annual Tripartite Dinner took place at the Plough Hotel, Rhosmaen. This is an annual fund raising evening with a guest speaker and is arranged jointly by Llandeilo Rotary Club, Round Table and the 41 Club. This year the host club was Llandeilo Rotary.
December saw the club meet for Christmas Dinner at the White Hart Inn. Following the meal Rotarians and their guests were entertained by Josh a talented soloist who sang many Welsh favourites with his audience joining him for the carols.
The Club also continued its support for young people to develop their potential, by sponsoring their attendance at a character building outdoor centre in the Brecon Beacons National Park, attending a NASA course in Florida and participating in a number of competitions, including the Mock Trials in New York and Young Chef and Young Musician competitions here in Wales. The Club also continued its support of the Carmarthen Autistic Society, by sponsoring swimming lessons at Pantglas.
Thus the Rotary year started by President Ken Griffiths finished with President Rob Donaldson at the helm. Significant changes, as outlined, have taken place in a relatively short period of time in the hope that will encourage new members to join and inject fresh ideas into the club. Llandeilo Rotary is always seeking new members, women or men and extends a warm welcome to all who are interested in raising money for many local charitable organisations and through the club meeting many fascinating people and making many new friends along the way. We meet usually twice a month every 1st and 3rd Thursday evening 7.00pm for 7.30pm unless special events are taking place. The Headquarters are the White Hart Inn, Llandeilo. For further information please contact Richard Hughes on 01558 685710 or
jhughes19@btinternet.com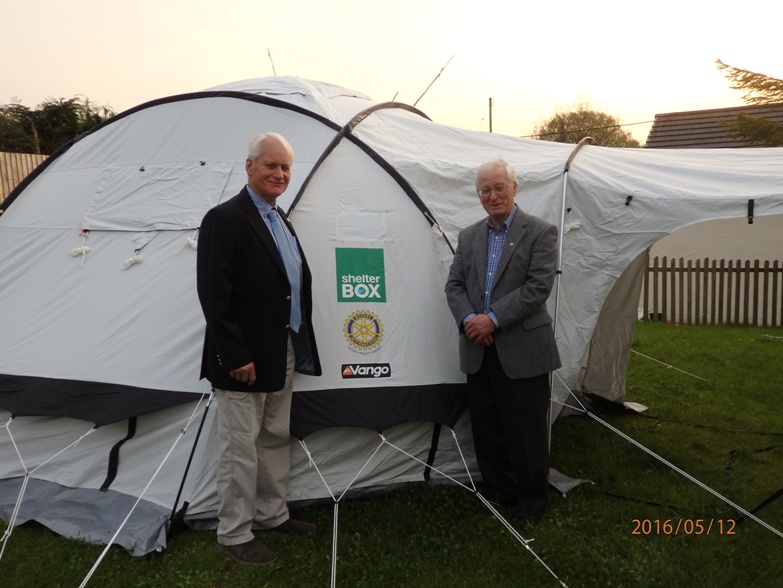 David Owen and Immediate Past President ken Griffiths
Subject: Local student treks to Machu Picchu


On Thursday evening 15 September Llandeilo Rotary Club were entertained by Isabelle Williams accompanied by her friend Carwen George. Isabelle a native of Gorslas now studying English at the University of Exeter was partly sponsored by Llandeilo Rotary Club which enabled her to join a group of 27 fellow students all based at the University of Exeter to journey to Peru to trek to the Inca City of Mahu Picchu a designated UNESCO World Heritage Site. Their aim was to raise monies for their sponsored charity Worldwide Cancer Research. Isabelle related that the journey of a lifetime got off to a bad start when her luggage was mislaid en route in Madrid.Fortunately she was wearing her walking boots but had to resort to buying the rest of her gear from local markets.It was late August when her party arrived in Lima and then Cusco. A period of acclimatisation was followed by many hours of walking over several days through rain forest and dramatic mountainous scenery with temperatures ranging from freezing to 30 C.
The group were accompanied by three tour guides who undertake the trek three times on average every year. Isabelle related that thankfully no one suffered from altitude sickness.On the final day to the peak her party rose at 4.00am to climb the 4,000 steps from the town of Aguas Calientes to the Lost City. This took 1.5 hours but she related that earlier 30 coaches full of tourists had already reached the Lost City! Isabelle had to raise £2,900 as an individual to qualify for the trip and her group raised a magnificent £25,000 for the cancer charity. The vote of thanks was delivered by Immedaite Past President John Walford.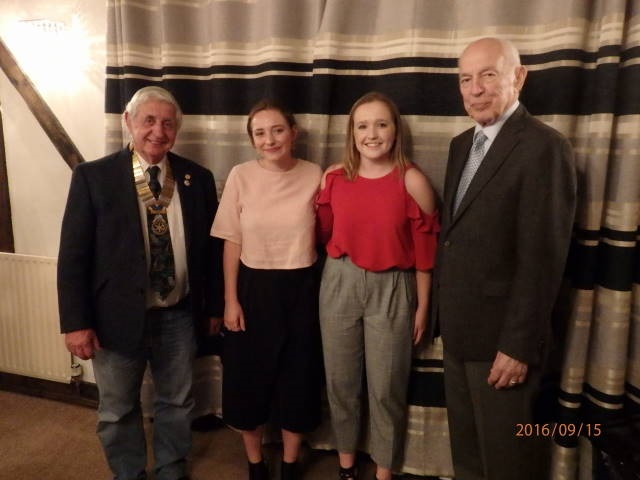 President Rob Donaldson, Isabelle Williams, Carwen George and Past President John Walford.
Subject: Rotary Club presents cheque to Cancer Research Wales


On Tuesday, 13 September Rotarians from Llandeilo were amongst many guests attending a Science Cafe evening undertaken by Cancer Research Wales. The night of Science and Discovery was held at the Victoria Hall in Lampeter. The evening was to welcome all those who had supported the charity enabling them to carry out their important work into combating the many cancers prevalent throughout Wales. A number of exhibitions were on display and staff were happy to discuss their work with their audience. The Charity was celebrating their 50th Anniversary 1966 to 2016 and their Charity Director Liz Andrews pointed out that all monies raised are spent in Wales. Liz said that every day there are 50 new cases of cancer diagnosed in Wales.She went on to say that an early diagnosis is the way to saving lives and the charity relied on the generosity of the public to continue the research into beating the many forms of cancer. This theme was echoed by her colleagues who outlined their various departments research into the disease that even effected dinosaurs several hundred million years ago.
The evening was very informal and at intervals cheques were presented to Cancer Research Wales by various organisations. Llandeilo Rotary Club presented a cheque for £600 to Liz Andrews their Charity Director. This was presented by Past President and Senior Vice President Richard Hughes on behalf of Immediate Past President Ken Griffith who last year nominated Cancer Research Wales as one of his chosen charities.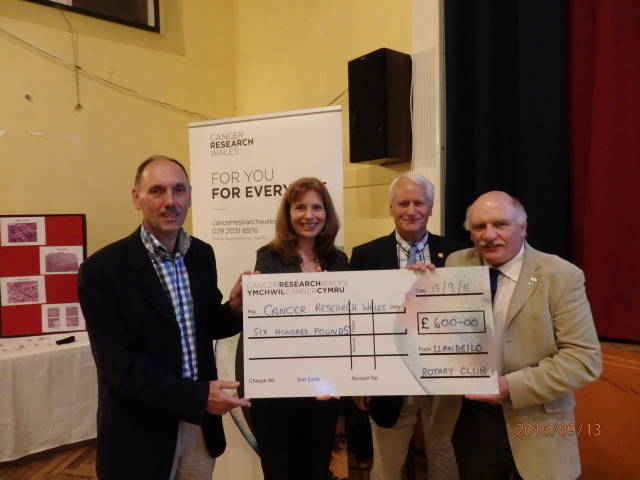 Junior Vice President Martin Peake, Liz Andrews of Cancer Research Wales, Past President David Owen and Senior Vice President Richard Hughes.
New President for Llandeilo Rotary Club

Friday, 24 June saw the installation of Rob Donaldson as the President of Llandeilo Rotary Club for 2016-2017 at the White Hart, Llandeilo. Rob who lives in Salem was also President of the club in 1997 to 1998.The evening was well attended with guests including the Mayor of Llandeilo Councillor Colin Jenkins, President of Ammanford Inner Wheel Karen Davies and her husband Councillor Alun Davies with ladies of Inner Wheel and Rotarians and their wives supporting the evening.
Earlier outgoing President Ken Griffiths summed up his year that he described as being both a fruitful and challenging 12 months.Ken then presented a Ladies Jewel to Biddy Donaldson and Biddy presented a bouquet of flowers to Marjut Griffiths.
President of Inner Wheel Karen Davies spoke fondly about Dr Elizabeth Jones a staunch and lifelong supporter of Inner Wheel who had recently passed away and recalled her recent visit to the new Wales Air Ambulance headquarters.President Rob announced his chosen charities for his year in office to include Shelter Cymru, Heart Foundation Wales and Wales Air Ambulance.The evening closed with a raffle in support of ShelterBox that raised £160 towards the organisation which together with a previous evening will result in a cheque for £605 being sent to the charity.A vote of thanks was then delivered by Junior Vice President Martin Peake.