Monday 21st August 2017
The photo of the V festival collection group when Barry Turner presented a £1500 cheque
to Charles Storer of Hope and Aid Direct - profits from Charity Golf Day in May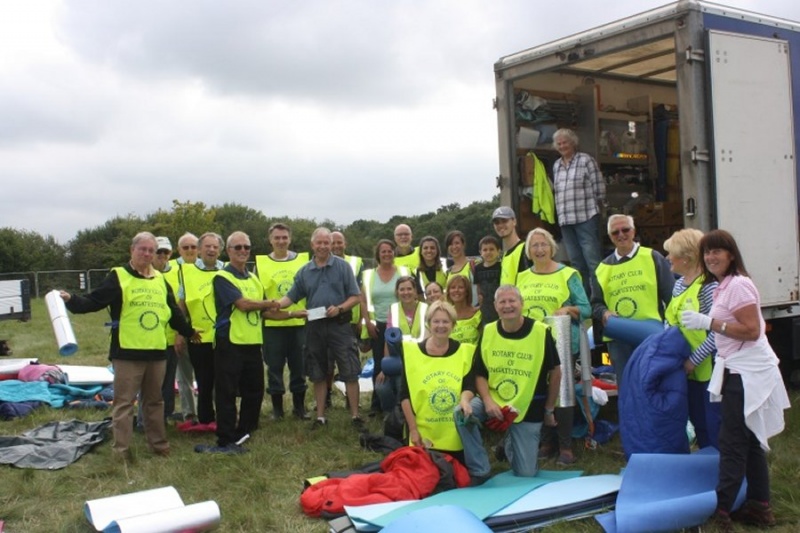 -----------------------------------------------------------
22nd August 2016 - 12 of us spent the afternoon collecting sleeping bags and bedrolls for Hope and Aid Direct

AFTER THE PARTY!
When the V Festival ends each year, an army of Essex Rotarians spend the next two days salvaging items such as tents, sleeping bags, chairs and various other items that might be of use to others less fortunate than most of us. These include the homeless, disaster areas, refugee camps and other third world countries.
Thanks go to our Honorary member, Liz Goodman; our WRINGS members - Sally Pudney and Marel Elliston; Friends of Ingatestone Rotary - Ron Went and Ron Elliston; to Paul Yarwood, a prospective member; and members of RCOI: Alan Pudney (and his truck), Helder Lemos, Barry Turner, Ian Churley, President John Metcalfe & Neil Macalister.
We were specifically collecting sleeping bags and bedrolls for Charles Storer of Hope and Aid Direct . The latter is a local Ingatestone charity that takes trucks loaded with food and supplies to Albania, Kosovo, Sri Lanka, Philippines and Greece to name a few. Its motto is 'We take Aid, not sides'. Having recently returned from a successful delivery to Greece refugee camps, Charles Storer MBE (Co-founder, Trustee & Head of Operations for Hope and Aid), and the Ingatestone members collected and packed over 200 sleeping mats and approximately 240 sleeping bags. These will be transported to Greece in the near future, when the truck will be filled with other vital items.
- This was an example of Rotary in action; just giving our time...not our money

Some of us came across canisters of laughing gas - all explained by http://bit.ly/2bLpY63