Latest update on world polio figures 2.9.16
These are the latest figures from End Polio Now.....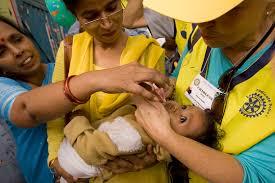 Wild Polio Virus - 1: There have been 23 cases since 1st January vs 37 cases at this time in 2015.
13 of these cases were in Pakistan vs 29 cases,

8 cases in Afghanistan vs 8.
There have been 2 cases confirmed in Nigeria, the first cases there since July 2014.
The 2 cases in Nigeria occurred in 2 children who had escaped from an area in the north controlled by the radical Islamist group Boko Haram. The children had been taken to a camp for displaced persons, where the disease was identified.
This area of Northern Nigeria has struggled with widespread insecurity for some time and there is restricted access to health services. While vaccination campaigns have been conducted and surveillance has been ongoing, the quality and comprehensiveness of these activities have been compromised. Nigeria has built a strong polio programme and was poised to react to the information of new cases. With support from the World Health Organization and other agencies, Nigerian health authorities have launched an aggressive response expected to terminate transmission successfully. Mass vaccination has started in Northern Nigeria and additional campaigns are planned in the neighbouring countries of Chad, Cameroon, Niger and Central African Republic. It is now estimated that 600,000 children in this area have not received the polio vaccine.
Wild Polio Virus - 3:
No cases since November 2012
Vaccine Derived Polio Virus - 1:
3 cases reported since 1st January 2016, all in Laos. There were 20 cases worldwide in 2015.
Vaccine Derived Polio Virus - 2:
No cases since 1st January. There were 12 cases worldwide in 2015.
Vaccine derived polio only occurs when the oral polio vaccine is used, more and more countries are now using the inactive polio vaccine which cannot cause vaccine derived polio.
End Polio Now Co-ordinator.