Year 1 pupils get planting at their school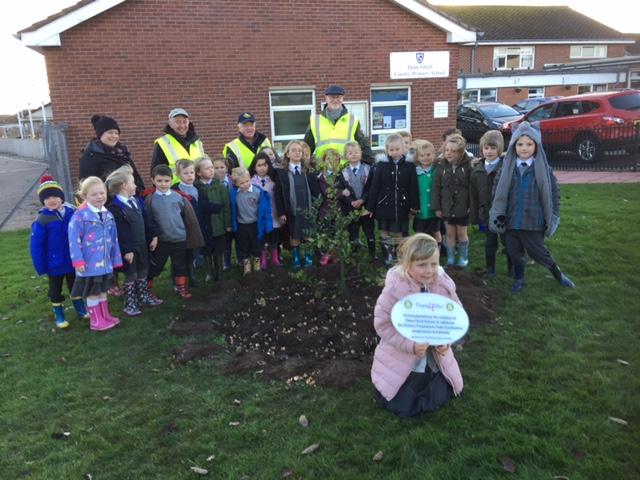 Dane Ghyll School with the Rotary Club of Furness Purple4Polio campaign
Planting of Crocus by Year One Pupils
Again Dane Ghyll School has come out tops by planting more Purple Crocus, this time at the School.
Year One pupils planted Crocus, ably assisted by Rotarians Frank Randall, Fred Winkfield and Colin Scraggs, as well as Louise Postlethwaite' garden assistant at the School and Paul Littlewood from The Woodland Trust, also their teacher Vicki Noble and Assistant Amanda Callow.
Purple4Polio is an initiative by Rotary Foundation International to eradicate Polio worldwide by 2019. £3 billion has to be raised over the next three years to completely rid the world of Polio.
Polio is a viral disease spread through sewage contamination of water and causes paralysis, mainly in children under five.
Vaccination against Polio is cheap at 40p per child and is given by drops into the mouth so is easy to administer. When the children are vaccinated, a finger is dipped in purple ink to identify them and that's where the Purple4Polio idea came from.
Purple Crocus are being planted all over the country (6 million crocus), sponsored by local Rotary Clubs to highlight the fundraising for this worthy cause.
The Rotary Club of Furness is pleased to sponsor Dane Ghyll School joining the Purple4Polio Campaign with the planting in How Tun Wood and at the School.