Youth Speaks 2017

Every year Rotary runs a national competition designed to encourage and support young people seeking to develop their skills in public speaking and running meetings. The Rotary Club of Llandudno was pleased to welcome a team from St David's College on 7 March 2017, and give a hearing to the all-male trio as they conducted a debate in front of an audience of 25 in the unfashionable topic of "Discrimination against Men". Each of the adjudicators (President Mike Clutton and Rotarians Mike Dean and Chris Drew) trod the fine line between showing enthusiastic support for the team's performance without espousing the case being made too enthusiastically. The team go on to represent the Club at the District Finals to be held in Wrexham on 3 March 2017, and then - we hope - on to National Finals in April.

The picture above shows President Mike Clutton and St David's teacher Ms Glenys Milner-Hughes prepping the team, which comprised (left to right) Jonathan Papp, David Johnson and Matthew Gillett
Youth Speaks 2013

Rotarian Alan Guin had attended the District Final at Mold. Although the team from St David's College did not win they gave a very good performance, which was only marked down for going over their alloted time. The Club invited the team, together with the teacher responsible, Glenys Milner-Hughes, and Rev Tim Hall to one of the Club's meetings.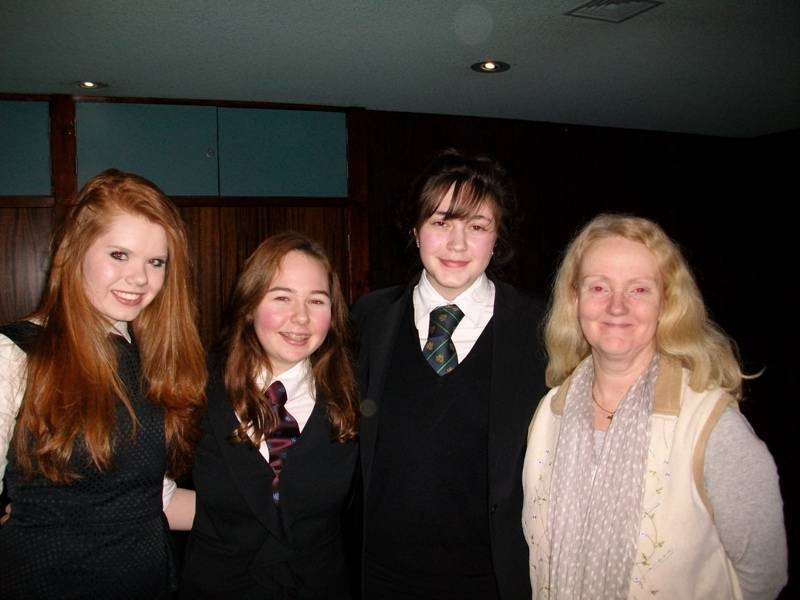 The piture above, taken by Rtn Mike Clutton, shows the 2013 team: Tabitha Sylvester-Kilroy, Cloela Bolt, Poppy Heneghan-Pickard, and teacher Glenys Milner-Hughes