For many years Llandudno Rotary has supported the annual visit to the town of children from Chernobyl, partnering with the North Wales branch of the Chernobyl Lifeline charity and local coordinator Gerrie Bailey. Although the nuclear accident at Chernobyl was some time ago, the children have come into the world affected by that event and the aftermath in terms of their health and longevitiy. Each year Llandudno Rotary organises a children's day out in Llandudno during their stay. Information about the various years' activities is shown below.

Chernobyl Children Visit 2017
Councillor Francis Davies was only inaugurated as Llandudno's Mayor in May of this year and so could be forgiven for thinking his Mayoralty was in jeopardy last week from an invasion of the Town Hall. Fortunately the "invasion" in question was the friendly visit from 14 children from Belarus and the Ukraine organised by the Rotary Club of Llandudno in association with Chernobyl Children's Lifeline North Wales.
As well as visiting the Mayor, the children's afternoon in Llandudno comprised a visit to Bonkerz, a tram-ride up the Great Orme, a visit to the copper mines and the Summit Complex, back down to the Promenade on the chairlift and then an afternoon tea at Adcote House.
Rotary thanks the Mayor, the proprietors of the venues and the volunteer helpers for making the afternoon such a success.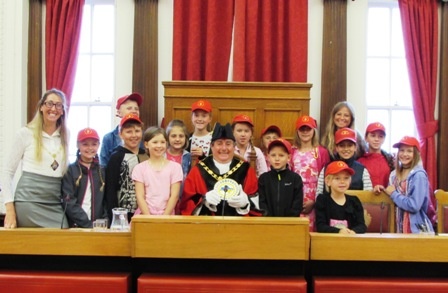 Chernobyl Children Visit 2016
Thanks to the good services of Rotarian Alan Guinn, the children from Chernobyl experienced the visit of a lifetime to Manchester United Football Club. Following a guided tour of the stadium and facilities, the children had a coaching session with club staff and were presented with a variety of souvenirs and equipment to take back with them. We are indebted to Manchester United for their support and assistance with the visit, which was the highlight of the children's stay.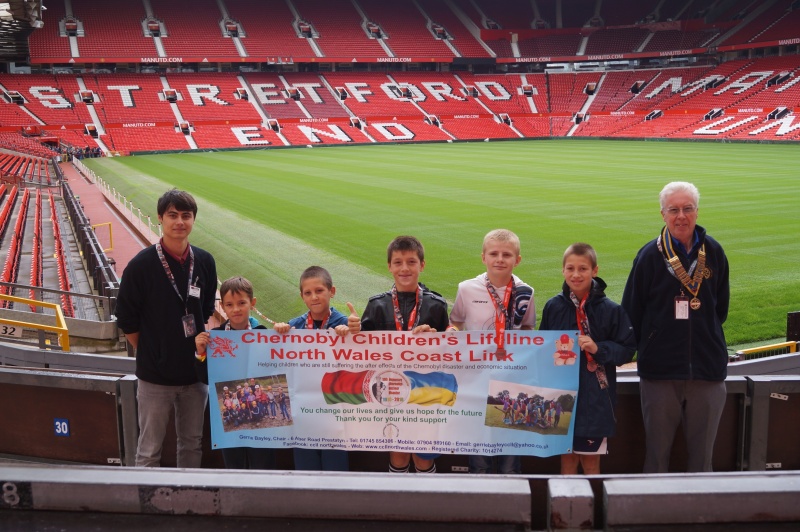 Chernobyl Children Visit 2013
The weather was particularly kind this year, and the day started with a visit to meet the Mayor of Llandudno, Cllr Roberts, and Miss Alice, Katie Thompson, at the Town Hall. No rabbit holes were found in the Mayor's Parlour...only mad hatters!

The children then went on to a series of fun activities organised by Llandudno Rotary and provided by local businesses and organisations, to whom we owe very special thanks. Our partners on the day included the Great Orme Tram, Great Orme Mine, Great Orme Summit Cafe, Orme Cablecar, Llandudno Superbowl and The Queen's Hotel.