The Shelter Boxes scheme is one of the best ways of giving support to those suffering as a result of the many natural disasters. Half a million boxes have now been sent to disaster areas around the world. The Rotary International in Great Britain and Ireland site tells the story.
The Rotary Club of Kew Gardens has funded several boxes but now the need for boxes is greater than ever!
Please support us so that we can support the Shelter Box Scheme!
The Richmond Borough Clubs displayed a Shelter box with its contents on our Rotary Awareness stall at Kew Fayre recently.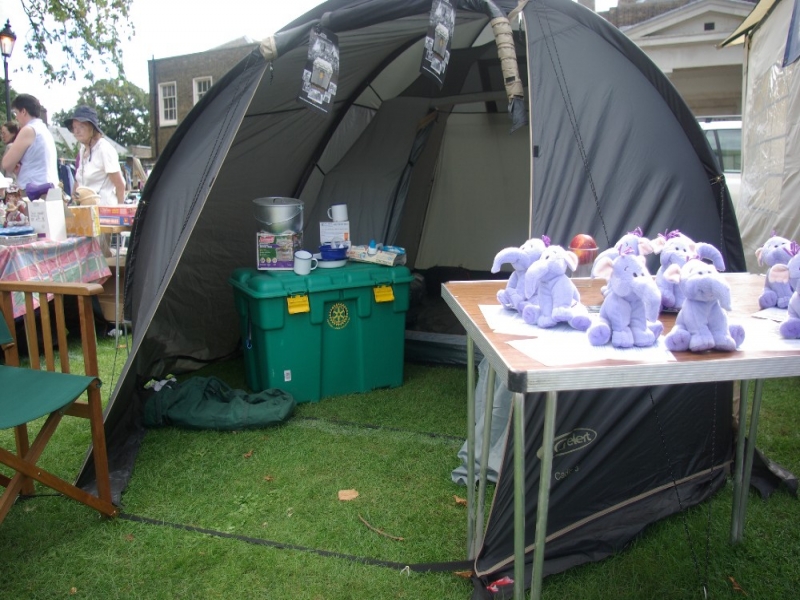 Iain Young, the Rotary GB&I Disaster Response Coordinator recently wrote to all the Rotary Clubs in Rotary GB&I:-
Dear All
We have seen a considerable rise in the reporting of natural disasters, as has been the case over the past few weeks. You are aware of the flooding in Nepal, Pakistan and India, Floods in Korea, the earthquake in Peru, Hurricane Dean which swept the Caribbean, the Yucatan Peninsula, and Mexico. Most recently, forest fires have been burning fiercely in Greece, it is thought due to wilful fire-raising, rather than natural causes. However, all have contributed to an unprecedented rise in disaster situations.
I have received a message from ShelterBox, reporting that at the time of writing they are EXTREMELY BUSY, and really stretched, dealing with deliveries of boxes to Pakistan, Nepal, Peru, and now a request from Northern Korea, which will be the first delivery into that country. Tom Henderson indicates that as always, they can only despatch what they have available from stock. Clubs in Rotary GB&I as always, continue to be extremely generous in their support, but ShelterBox, as with the other Box Projects, can only send what is available in stock. Without your continuing support that stock will deplete very swiftly, and when another disaster comes along, as surely will happen, there will be few boxes to send. Please please keep up the good work throughout the Districts, and support your chosen Box Project with donations. these donations are needed more than ever at this time. Thank you from all of the Box Projects, in anticipation of your continuing valued support - ShelterBox, Aquabox, Life-Box and Water-Survival Box.
Best Wishes
Iain R. Young