District 1200 Joint Project
"Making a difference" to 50,000 lives in UGANDA by Refurbishing 100 wells.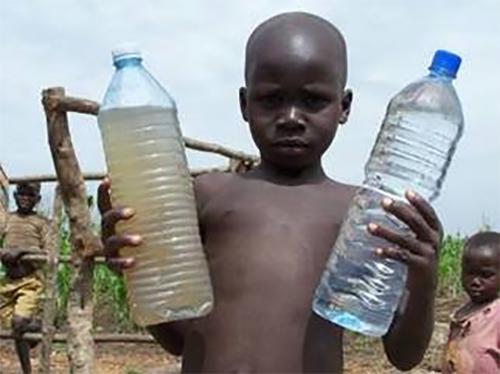 Background
District Governor elect Stewart Cursley asked the President Elects (PE) for 2017/18 for suggestions on what can be done during the year of the Club Presidents. It was suggested that a joint project by all the clubs being involved to celebrate the Foundation 100 years could be achieved. Two projects were submitted before all the PE's present at the District Forum break out session in March. These were Yeovil RC Rebuild Shree Saraswoti School Nepal and Yeo Vale RC "Making a difference" to 50,000 lives in UGANDA by Refurbishing 100 wells. It was agreed by all, that both projects should be taken forward. Unfortunately, there were only about half the PE's present, so many clubs will be unaware of the decision.
With this agreement in place, I have been in contact with The BUSOGA TRUST who are a trusted partner in the building, rehabilitating and maintenance of wells in UGANDA along with local villagers, and they are now working up a programme of work to refurbish 8 wells a month starting in July.
Please see the video that gives a good overview of who The BUSOGA TRUST are:
https://www.youtube.com/watch?v=gJN0Pfk9-j0
Busoga Trust is named after Uganda's kingdom of Busoga.
It is A UK charity in London and all the accounts are fully audited annually.
Registered Charity Number 288388
They work alongside rural communities in Uganda since 1983 to provide clean water
It then equips communities to maintain these sources for the long term
In 2013, Busoga Trust started a Rehabilitating Project repairing hand pumps
This project is taking on responsibility for handpumps initially constructed by other NGOs or the government, but which have since fallen into disrepair. Many of these were built with material such as galvanised steel that has now corroded. The Busoga Trust use Stainless Steel which lasts for many more years.
Fund-Raising
As a fund-raising idea, if every club member gives 5 smartie tubes to friends and family (one each) and returns full of 20p coins then with gift aid, it should raise enough money to complete the project. If 8 tubes per person is carried out, then Michael's project would also be completed. Boxes of 48 Smartie tubes can be bought from Amazon at £24 a box by the club, and then the money recouped when the boxes are returned to the treasurer of the club.
We do however need everyone to take part.
Obviously, other fund-raising activities can be carried out, but here in Yeo Vale we needed some urgent fund raising for "Kids Out" and within a couple of months we raised nearly a thousand pounds using the smartie tubes. So, it really does work.
Ideally, Michael and I, would like to get the fund-raising off the ground as soon as possible, so that our projects can be started at the beginning of July. Your help therefore will be invaluable in encouraging all the clubs to take part.