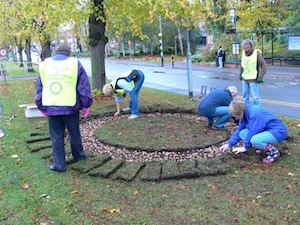 Rotary clubs all over Great Britain and Ireland are inviting schools, youth groups and the general public, to participate in a new initiative, Grow Your Own Crocus. The initiative is designed to educate youngsters about the devastating disease of polio and how Rotary is working to eradicate it from the world.
The purple crocus is the symbol or Rotary's worldwide campaign to eradicate polio and is the focus of this project, which was specially developed by the Rotary Crocus Campaign and the Youth Service Committee of Rotary International in Great Britain & Ireland (Rotary GB&I). So far, over a hundred Rotary clubs have signed up to sponsor the project and it is hoped that hundreds of schools and youth groups will take part.
Chelwood Bridge is again supporting the Purple 4 Polio campaign where donations for Polio Eradication are matched by The Bill and Melinda Gates Foundation 2-1.
We have ordered 5000 purple crocus corms for planting in your local community and schools. The crocus corns are supplied free of charge by Chelwood Bridge Rotary Club. Please contact Tony Quinn if you have ideas as to places to plant them.