Cider Notes for Beer festival 2017
Cider notes describing the Ciders that will be included in the Festival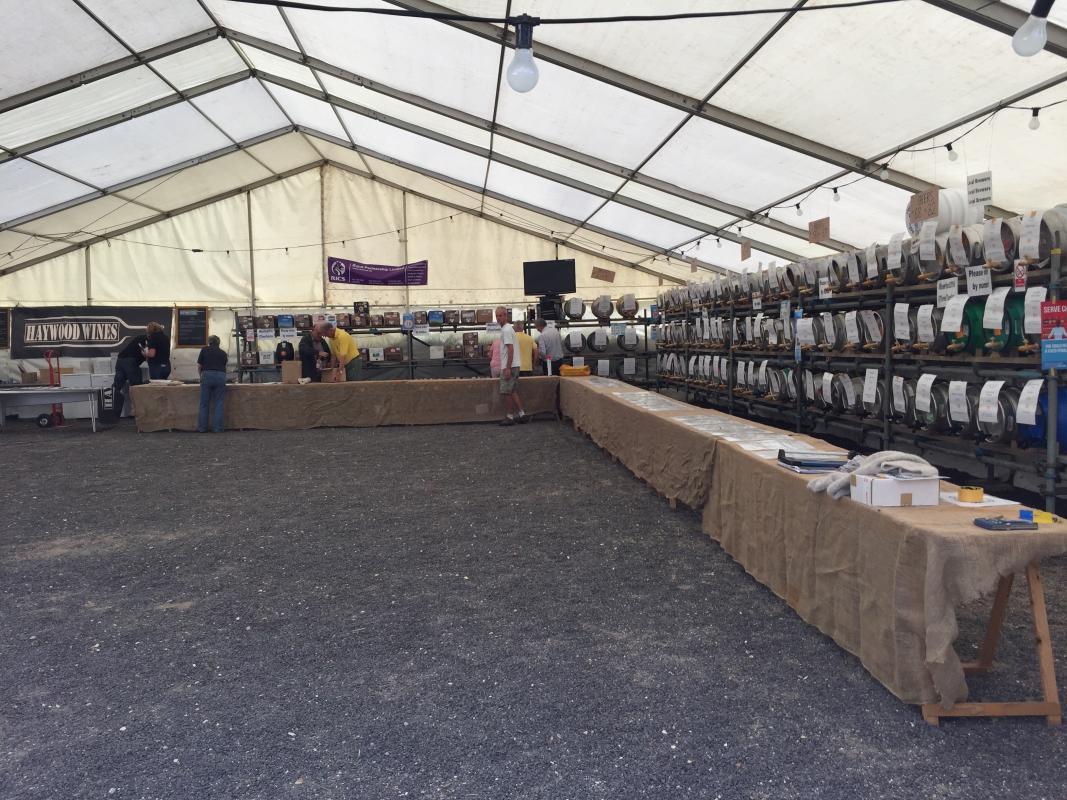 CIDER TASTING NOTES 2017
C1 Apple & Blackberry - 4% Brewery: Lilley's
A delicious lightly sparkled Apple and Blackberry cider, serve with any meal or enjoy on its own.
C2 Apple Mead – 4.0& Brewery: Lilley's
A cross between cider & wine in taste. It's smooth & sweet with both the honey & the apple flavours coming through.
C3 Apples & Pears – 5.2% Brewery: Lilley's
Made from 88% pear 12% apple sweet in flavour with a mouth watering almost exotic taste.
C4 Autumn Magic – 4.0% Brewery: Gwynt
Autumn Magic Cider & Blackberry bursts with a fruity aroma, reminiscent of enchanting autumn days.
Suitable for vegetarians, vegans and coeliacs.
C5 Bee Sting Still - 5.2% Brewery: Lilley's
Sweet but incredibly refreshing with a glorious fresh tasting pear flavour and wonderful pear aroma.
C6 Blackberry & Elder – 4.0% Brewery: Sheppys
Blackberry with the addition of elderflower, to create a fruity taste with a floral aroma.
C7 Boxing Boy – 7.5% Brewery: MW
Whitehead's makes this strong cider from apples with a high sugar content, including Worcester and Cox.
C8 Butcher's Dog – 5.5% Brewery: Circle
Sweet Cider. A full apple flavour balancing sweetness and acidity which go head to head to be the last flavour you can taste.
C9 Cheeky Pig – 7.5% Brewery: Lilleys
A medium dry blended Perry and Cider packed full of crisp refreshing flavour
C10 Colider – 4.0% Brewery: Lilley's
Blended Apple & Cola, Smooth, Caramel
C11 Crazy Goat – 6.8% Brewery: Lilleys
A medium sweet mix of perry and cider expertly blended giving it a mouth-watering juicy flavour.
C12 Cuckoo Penny – 4.0% Brewery: Celtic
A medium cider with a subtle tart of rhubarb juice.
C13 Darkcider – 7.5% Brewery: Lilleys
This mysterious cider has a completely unique character. Dark in colour it has woody & caramel
notes & has been carefully crafted to appeal more to ale drinkers than our other ciders. Medium dry.
C14 Dirty Harry's – 4.0% Brewery: Harry's
Refreshing Cider with Raspberry & Blackcurrant flavours.
C15 Elderflower – 4.0% Brewery: Thistly
Elderflower Cider packs a serious taste punch. blended with fresh elderflowers, colour is rich, golden caramel. With a fruity nose & dry on the palate. Refreshing, distinctive & zesty.
C16 Flash Harry's – 4.0% Brewery: Harry's
Mango and Lime, Tasty and fresh, with a citrus kick and Just the right amount of cider aftertaste.
C17 Fruit Bat – 4.0% Brewery: Snailsbank
Crisp apple cider blended with Strawberry, Raspberry and Blackcurrant.
C18 Gladiator – 8.4% Brewery: Lilleys
Gladiator cider, this strong rustic cider with its Roman flair has everything. Well rounded, fruity,
packed full of flavour and is intoxicatingly easy to drink for an 8.4% cider. Medium
C19 Honeyed Cider – 4.0% Brewery: Lilleys
A cloudy rustic cider which has been back sweetened with honey to create a smooth & silky cider. bursting with apple flavour.
C20 Lemon & Ginger – 4% Brewery: Lilleys
This unfiltered medium dry cider has been expertly blended to bring out the zing of the lemon
and ginger. Great served cold or warm, this cider is a great winter warmer.
C21 Lemon & Lime – 4% Brewery: Lilleys
Delicious blend of lemon and lime juice with Somerset apple cider.
C22 Mango – 4% Brewery: Lilleys
Smooth & sophisticated mango cider made with ample portions of mango juice & Somerset cider.
C23 Monkey Mango – 4.0% Brewery: Cockeyed
Sweet and tropical fruity cider, with a refreshing mango taste.
C24 Muscle Mary – 4.0% Brewery: Cotswold
A lush crystal fresh raspberry blush cider.
C25 Newtons Discovery – 8.0% Brewery: MW
A revival of a historical light and dry cider made for quaffing whilst you work.
C26 Old Rosie – 7.3% Brewery: Weston's
Full flavoured, apply, cloudy scrumpy, with a well balanced medium dry character.
C27 Pear & Raspberry – 4% Brewery: Lilleys
Pear and Raspberry cider a fruity delight with a sharp bite of raspberry. A refreshing drink whether rain or shine.
C28 Pear Light Perry – 3.8% Brewery: MW
Medium - sweet. The only perry that has water in, as it is a mixture of a 1st and 2nd pressing. The 2nd pressing has water added to re-hydrate the fruit, to assist pressing out the remaining colour, juice & flavours. Often cloudy, it has good flavours despite being lower strength. Varieties include Doyenne du comice, Thorn, Blakeney Red & Conference.
C29 Pickled Parrot- 4.0% Brewery: Lilley's
This traditional perry is naturally cloudy and full of flavour. It is of medium sweetness with just a hint of acidity
C30 Premium Perry – 7.5% Brewery: Bib
Pear cider, sweet to taste with a gorgeous aroma of pears.
C31 Rhubarb- 4.0% Brewery: Lilley's
Sweet & full of rhubarb flavour with a tart edge to it.
C32 Rosie's Pig – 4.8% Brewery: Weston's
Easy drinking cloudy cider with a fresh apple flavour with hints of citrus and spice.
C33 Rum Cider – 4.0% Brewery: Lilley's
A quality Somerset cider with a hint of rum, absolutely delicious.
C34 Somerset Med – 6.0% Brewery: Lilley's
Bittersweet cider apples, this is a very traditional unfiltered cider. perfect for those that like a medium Somerset cider.
C35 Strawberry – 4% Brewery: Lilleys
Easy drinking still strawberry cider made with a blend of apple cider and strawberry juice.
C36 Strawberry – 4.0% Brewery: Thistly
Real strawberries dominate the aroma, with a little zing from the apples; bittersweet soft fruit notes follow.
C37 Wild Dog – 7.5% Brewery: Lilley's
A vintage medium fermented rustic Cider.