WINSTON CHURCHILL PORTRAIT 1951
The portrait of Winston Churchill is a black and white photograph measuring approximately 75 x 100 centimetres. It was signed by the well-known photographer Vivienne in 1951.
Florence Vivienne Mellish (1889-1982) took up photography in 1934 was simply known as Vivienne. Her autobiography 'They Came to My Studio: Famous People of our Time' was published in 1956. She appeared as a castaway on BBC's Desert Island Discs in 1963. 208 of her works are housed at The National Portrait Gallery.
Vivienne photographed Churchill on numerous occasions and probably the portrait of him seated wearing a black formal jacket and a bow tie was reproduced many times as it is believed that it was displayed in Government buildings, Conservative Clubs etc.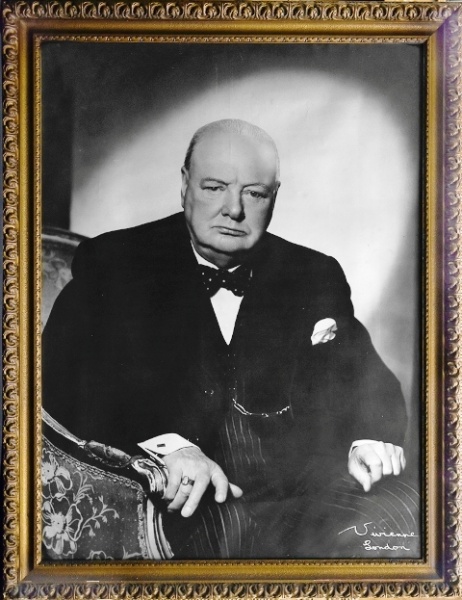 The Rotary Club of Beckenham had the good fortune to procure the photograph which was originally hung in the Hither Green Conservative Club until about 2009 when the premises were eventually sold following the closure of the Club. Ever since, the photograph remained in the possession of a former Club Member who decided that it needed a new home!
For several decades, The Rotary Club of Beckenham has enjoyed a happy association with The Rotary Club of Westerham which merged with The Rotary Club of Edenbridge in 2016. This is largely because each year a big party of Beckenham Club Members have always supported The Winston Churchill Commemoration Dinner which is now organised by The Rotary Club of Edenbridge and Westerham.
The Rotary Club of Beckenham recognised that the true home for the photograph should be with The Rotary Club of Edenbridge and Westerham, after all Churchill's own home at Chartwell falls within their area. Accordingly, The Rotary Club of Beckenham is planning to present the photograph to The Rotary Club of Edenbridge at the 54th Winston Churchill Commemoration Dinner on 21 November 2017.
Richard Shaw
___________________________________________________________
Grateful thanks to Rotarian Ken Peachey, whose skilled photography made this possible,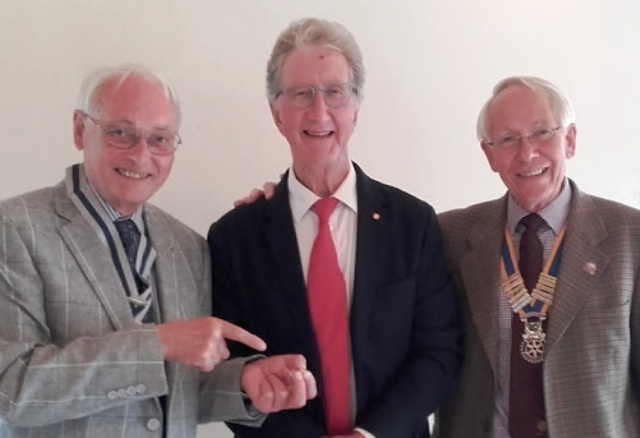 In this picture taken on the day of the Churchill portrait announcement, Ken is flanked by Hon Secretary David and by President Peter, belatedly receiving his Rotary badge.
____________________________________________________________________________
21st November 2017 - 54th Churchill Commemoration Dinner
A splendid dinner was held at the Park Wood Golf Club, at which Rotary Edenbridge and Westerham acknowledged their gratitude to Rotary Beckenham for the gift of the framed photograph of Sir Winston Churchill.
The speaker and guest of honour was Viscount De L'Isle, the Lord Lieutenant of Kent, who recalled chilhood memories of the great man on the occasion of one of their many visits to Penshurst Place from Chartwell.
________________________________________________________________