Our inaugural RotaKids Club at New Elgin Primary was launched in 2016 when George West and President Sandy Ritchie attended the upper school assembly to award certificates to the President and Vice President from each of the two P5 classes.
Also handed out was RotaKids wristbands to the 66 pupils that make up P5 and RotaKids. The pupils are very excited at being RotaKids and held their first event on Friday 7th October - a Red, White and Blue Day.
There are currently 192 schools in the UK registered to celebrate this day, supporting Army, Navy & Air Force Charities. Rotary have been asked to come along and support their day and display the work of Rotary to parents.

Elected by the pupils themselves to fill these roles were:-

Class P5W: President - Damian Pruvinovski, Vice President - Madi Hatch.
Class P5H: President - Bronagh Dallas, Vice President - Abigail Groves
December 2018
In November, New Elgin Primary School RotaKids helped to stage the school's fundraising event – a Yellow Theme Day – to raise money for SCCA, Scotland's Charity Air Ambulance. The children were asked to come to school dressed in something yellow, and were able to raise £520 from the day. They were given a talk on the benefits of getting injured people to hospital quickly by air by SCAA's Vice Chairman Mike Beale (back row, 3rd from left). The Charity flies a helicopter out of Inverness and has recently announced that their current fundraising will support an additional helicopter to be based at Aberdeen.
November 2018

5000 Crocus Corms have been planted locally with the permission of Springfield Properties. We look forward to a spring bloom of purple.

September 2018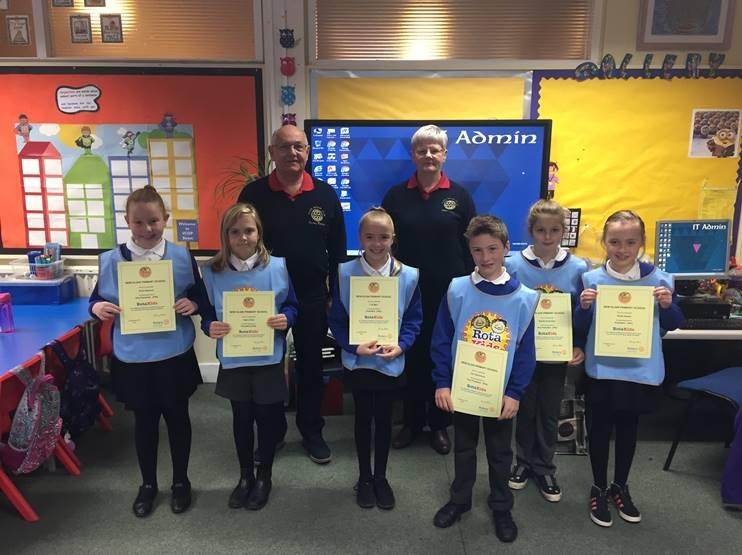 On September 24th, the RotaKids at New Elgin Primary School were presented with certificates for President & Vice President by Rotarian Kate Asher. This is now their 3rd year since the club was formed, and with each of the three P5 classes now involved, it means that there are now almost 100 RotaKids at the school.
Shoebox Appeal March 2017
Since their formation they have supported our Shoebox appeal filling 94 shoeboxes that will be sent on to Eastern Europe.
The whole school were involved in donating the contents for the boxes, but it was the P5 pupils from the newly formed New Elgin Primary School RotaKids Club who set about filling the boxes with items suitable for young children in poor or deprived areas of Eastern Europe.
Having filled the boxes, they then went on to decorate the outside of the boxes in the hope that they could give some additional happiness to those less fortunate children who will receive them.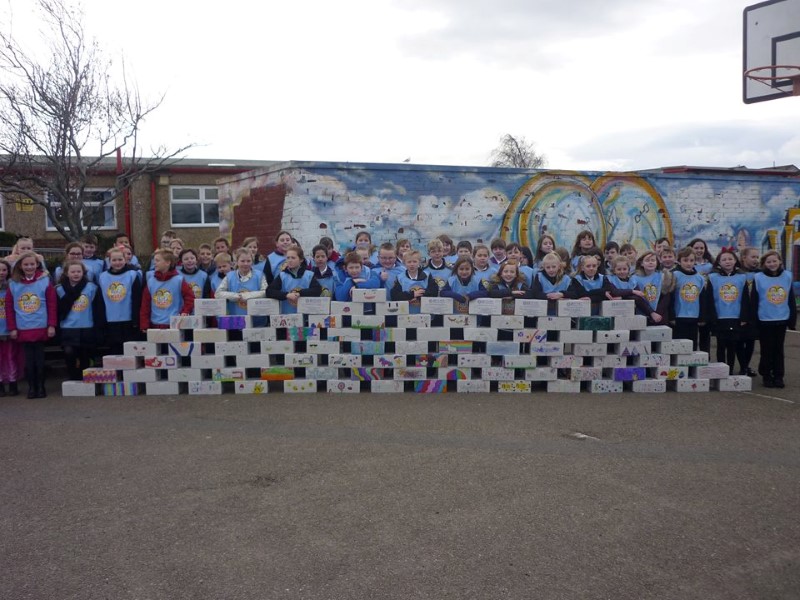 June 2018
New Elgin RotaKids receive a visit from District Governor Graeme Archibald and Elgin Rotary Sandy Ritchie whereupon they were presented with an Rotary GB&I Presidential Citation recognising their hard work in 2017/18 Making a Difference. Our congratulations to all involved at New Elgin Primary School.