Community/ Support of International Disasters
Bromley Rotary Club supports International Disaters with Shelter BOX and AQUABOX.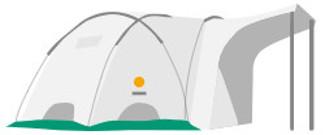 SHELTER BOX
Shelterbox provides emergency shelter and lifesaving supplies for families around the world who are affected by disasters, at the time when they need it the most.

It delivers the essentials a familiy needs to survive in the immediate aftermath of a disaster.



Each large, green Shelterbox is tailored to a disaster but typically contains a disaster relief tent for an extended family, blankets, water storage and filtration equipment, cooking utensils, a stove, a basic toolkit, a children's activity pack and other vital items.
Bromley Rotary Club has provided 15 Shelterboxes worldwide during the last 5 years.

AQUABOX
| | |
| --- | --- |
| | Disasters come in many forms - earthquake; cyclone; flood; refugee displacement - but all share a common factor. The most urgent single problem facing the relief agencies is the provision of a supply of safe drinkning water. |
In some cases, it may be possible for the relief agencies to supply water from outside the affected area. In others, there is cleraly a need for those suffering in the aftermath of a disaster to achieve an early, if temporary, self-sufficent in the supply of safe drinking-water.
The Solution is AQUABOX, a robust plastic tank with water purification tablets and packed with essentials welfare items for a disaster situation. Once the welfare contents have been removed, each AQUABOX can be used to purify up to 1100 litres of polluted water, making it safe and pleasant to drink. As an example, 1100 litres is equal to 5,000 cups - that is enough for a family of four people (drinking 10 cups per day) for about four months.


Bromley Rotary Club has provided 25 AQUABOXES worldwide during last 5 years.