Rotarians packed 50,000 meals for hungry people across globe
We packed 35,000 meals at Sharples School on Saturday 14th April 2018, with a further 15k in Wilmslow.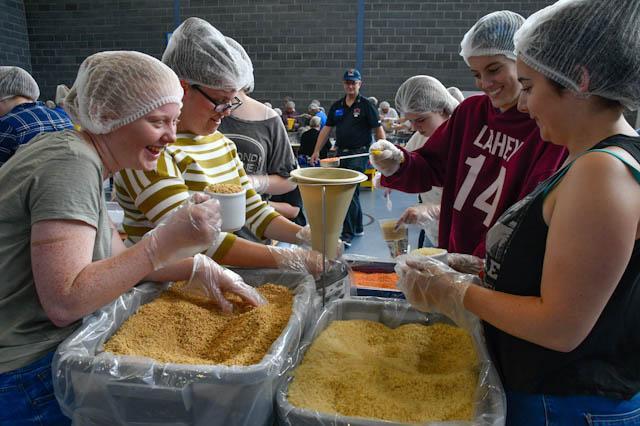 Rotarians and volunteers in Bolton joined forces with an international hunger relief organisation to pack 50,000 meals for people across the globe in urgent need of food.

The Rotary Club of Bolton Lever and the charity Rise Against Hunger partnered for "District 1285 Meal Pack" which took place at Sharples School in Bolton on Saturday, April 14, 2018.
Rise Against Hunger meal packing events are volunteer-based programmes that package highly nutritious dehydrated meals, comprising rice, soya, vegetables and 23 essential vitamins and minerals.
Rotary International – the organisation which aims to bring together business and professional leaders to provide humanitarian aid, goodwill and peace around the world – has made "Making a Difference" its theme for 2017/18.

President of Rotary Club of Bolton Lever, Dr Ravi Mene, said the Meal Pack would be the third such Rotary-sponsored Rise Against Hunger event in the North West.

"It builds upon the success of the previous meal packs in Warrington and at the Rotary in Great Britain and Ireland conference in Manchester," he said.

Rise Against Hunger gets food and life-saving aid to the world's most vulnerable people, and works to end global hunger. Established in 1998, it has provided more than 225 million meals in 73 countries.

In addition, each attendee were asked to bring a food item, for example tinned beans, tinned/packet soup, pasta etc, for distribution to local food banks within the district.
The club also welcomed involvement from many of the Rotary Clubs in the North West.

"This was an ideal team building event for local businesses, with employees who want to get involved in a hands-on humanitarian project," added Dr Mene.

The event was open to volunteers from church groups, youth organisations, community groups, clubs and service organisations. Individual volunteers and family groups werw also very welcome to join us. Children were welcome, (aged five and above) when accompanied by an adult.