The Youth Achievement Award Scheme, run by the Rotary Club of Horwich, is designed to foster the development of individual talent for young people, under the age of 19, who live or attend school in Horwich or Blackrod.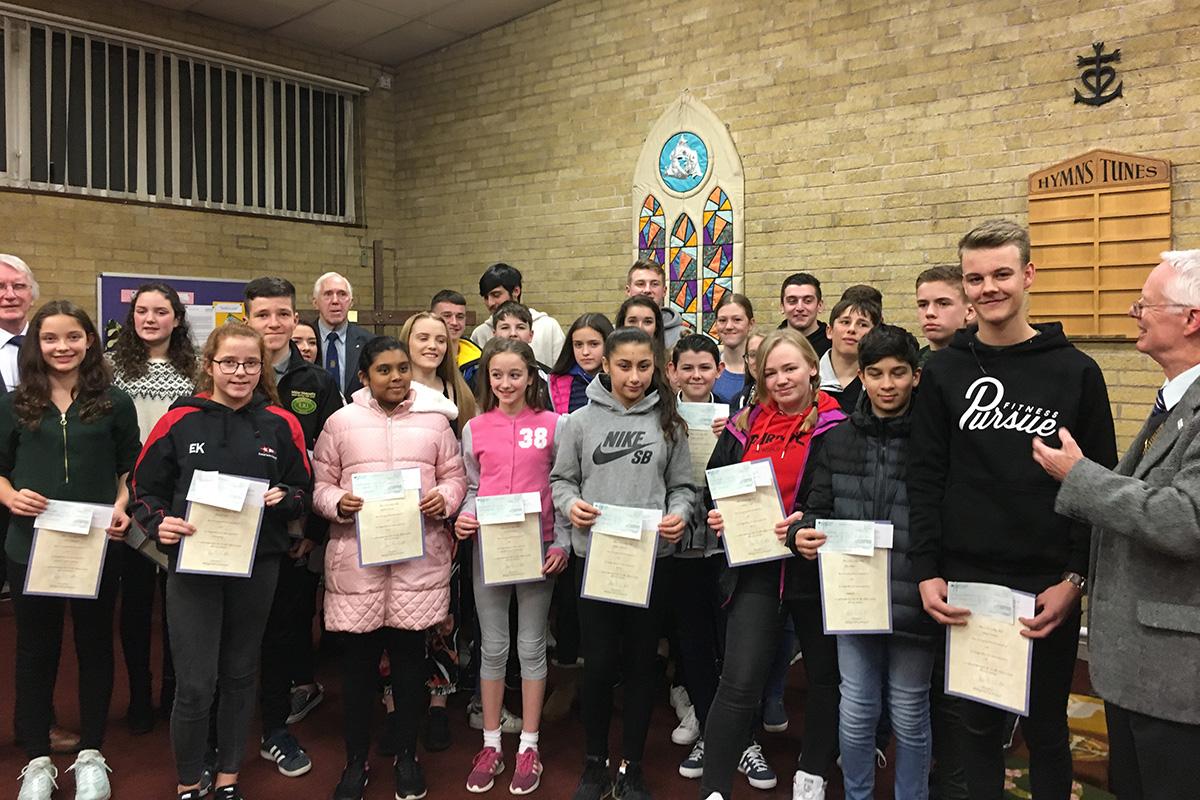 This year the scheme attracted a large number of quality applicants, who live, or go the school in, the Postal District of BL6. We are pleased to make the following awards:-
HIGHER ACHIEVEMENT AWARDS:-
HOLLIE ASQUITH – Artistic Roller Skating,
JACK BERRY – Handball
HOLLY CLARK – Trumpet Playing
NAT FIDLER – Fencing
CHARLES FLETCHER – Handball
NIAMH HOWARD – Synchronised Swimming
ELEANOR KAY – Swimming
JAMES KAY – Cornet Playing
LORCAN KNOWLES – Dinghy Sailing
ABBY NICHOLLS – Dance and Drama
ADEBOLA OBASOTO – Tennis
GRACE O'KEEFE – Drama
EVIE PENDLEBURY – Dance
ELLA SANDS – Taekwondo
KIEREN WATERS –Badminton
ACHIEVEMENT AWARDS:-
ADAM ASHRAF – Badminton
JACOB BARRON – Golf
EMMA COYLE – Dance
THOMAS CROOKSON – Golf
HELENA FLANAGAN –Netball
RICHARD FLANAGAN –Drums
ALEXANDER HARDMAN - Drums
NATASHA HOWARD – Synchronised Swimming
SALMA JOHNSON –Dance
JOSHUA NICHOLLS – Drama
DARCY PENDLEBURY – Dance
HARRY PHILLIPS – Handball
ADITHI PRASAD – Piano Playing
FREYA WHITTLE – Fell Running
MATTHEW WILLIAMS – Football
MORGAN YARDLEY - Football
A total of £4800.00 has been allocated, under this scheme, to help these talented young people with their future development. This money has been raised by members of the Rotary Club of Horwich, during the current Rotary Year. The Rotary Club of Horwich wishes to thank the people of Horwich and Blackrod for their generosity and feel that this scheme is an excellent way of investing in the talent of our young people.
W. B. Watkins (Vocational Services Committee – 28TH NOVEMBER 2017.)