--------------------------------------
December 2017
On Saturday 23rd December 2017, I must thank all those who gave up their time, being Rotarians, wife's and friends in raising the massive amount of £2,751.78 for Macmillan Cancer Support.
Last year we raised £2,183.00 so this was a considerable improvement thanks to the generosity of Sainsburys customers. This means that over the last 10 years (yes - it is our 10th year) we have now raised £23,174.00.
As a bonus at the end of the collection, Sainsburys kindly gave us over 150 bunches of flowers they couldn't sell due to sell by date. Alan and Sally took over 50 bunches to Broomfield Hospital and Sally said they were so pleased. Roger, Edna and I took the rest to Farleigh Hospice, Marillac Home (Warley), Weighbridge Court, Ongar (Care home) and The Beeches Care Home (Brentwood). Again a delight to see the faces of the Residents and staff and one lady in particular in Weighbridge Court, who was having no visitors over Christmas.
Let's hope we can do this in future years as certainly something with little effort that is greatly appreciated.

Thanks once again to all those who helped and all the best for the New Year and 2018 to you and your families.
Ian
------------------------------------------------------------
December 2016

With thanks to Sainsburys, Springfield store for the use of their foyer, the Rotary Club of Ingatestone were pleased to once again raise funds for Macmillan Cancer Support on Saturday 17th December.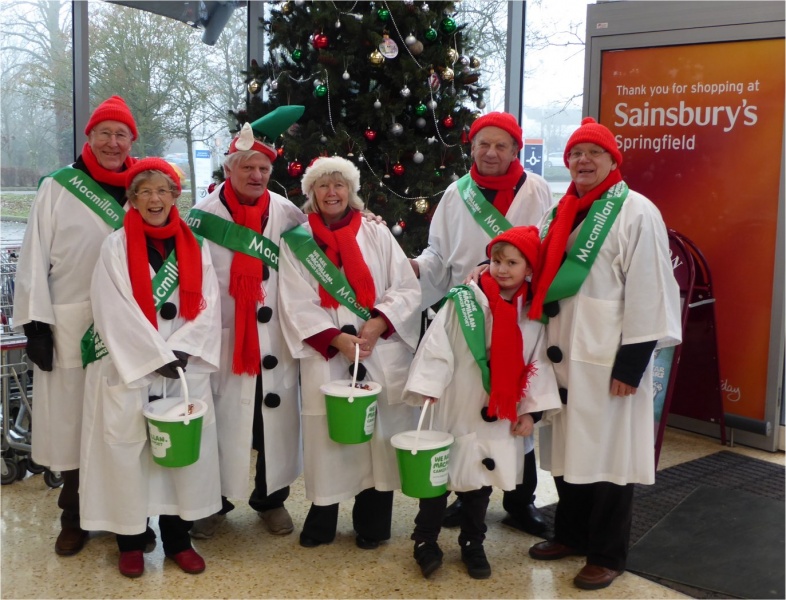 Despite an apparently lower footfall this year and with Santa unfortunately not able to make it as he was busy elsewhere, over the course of the day around 25 volunteers made up of Rotarians, Wrings and friends raised a total of £2,213.00; this makes a total of £20,452.00 over the 9 years the club has been doing this.
The club have asked Sainsburys to pass on their thanks to their generous customers for this great amount, which we are sure Macmillan will be pleased to receive