On Tuesday night the 18th of June Chelwood Bridge Rotary Club we're delighted to welcome Martin Robson as their guest Speaker. Martin a former Royal Marine Commando, began diving with the military in his late teens. He is now one of the best qualified Technical Diving Instructor Trainers in the world, teaching courses with
PADI
,
IANTD
and both of the major Cave Diver training agencies,
NACD
and
NSS-CDS
. Martin is also a renowned U/W explorer - expedition leader and author
His soon to be published book co written my Martin and Mark Cowan, "Between the Devil and the Deep" deals with an expedition that took place in Russia. And was the subject of his talk that evening.
Martin held his audience spell bound as he told the gruesome true story of the bends, seen through the eyes of a diver pitched into a natural hell; paralysed and trapped underwater with nowhere to go but sink back into the deep. For more information about his experience and for a way to be apart of this incredible journey
that brings this adventure to light, log onto
http://blog.catapooolt.com/crowdfunding-campaign-for-a-book-about-martin-robson-a-british-explorers-fateful-russian-expedition-goes-live/
PAUL HARRIS FELLOW
At the Presidents night dinner on Tuesday the 18th of June Douglas Nash outgoing President of Chelwood Bridge Rotary Club presented The Paul Harris Fellow Award to Mike Hedges. On presenting the award Douglas said that the commitment to Rotary is on a District and Local level unrivalled. To get a flavour of what that commitment looks like he read out the following positions that Mike had held
In District 1200
- Membership Chairman 2014/15
- Assistant Governor 2015/16 - 2016/17 - 2017/18
District Trainer - 2018/19

Leadership Development 2018/2019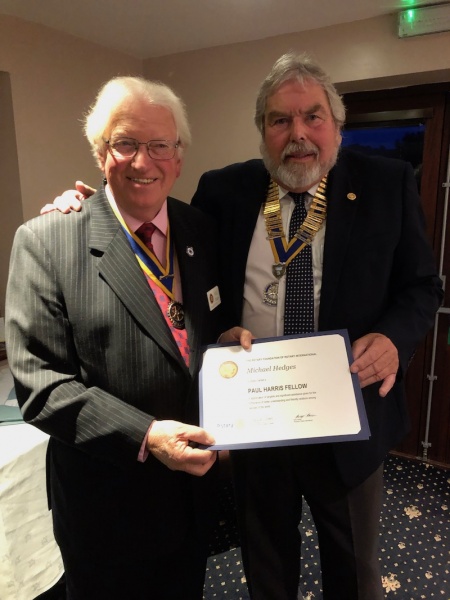 Douglas finished by saying "It is with great pleasure that on behalf of Chelwood Bridge Rotary Club I present this year's Paul Harris Fellow Award to Mike Hedges.