Solar for Sach has been set up to raise the money needed to buy and install a vital solar PV electricity supply to Sachibondu hospital in NW Zambia.

Solar4Sach




Whilst the Rorary Club of Verwood always puts the community of Verwood and the local areas first in its work and events to raise money for those in need of assistance it also commits through Rotary International to assist those communities in less privileged countries of the world who do not enjoy the facilities and lifestyle we experience here as a matter of fact.
The Verwood Rotary Club has over the years supported many overseas projects particularly in disaster areas. However at this time we are particularly trying to raise funds to assist in the purchase and installation of solar panels and equipment to provide sustainable electrical power to a new small hospital being built by locals and volunteers in a very remote area of Zambia (one of our commonwealth partners) where there is no permanent electrical supply. As you will see and read from the attached information sheet this hospital and maternity facility is very much needed.
Allan Wells who is a member of our club is also a trustee of the charity that has been formed to raise the money for the Solar Panels. Allan has close links with the other trustees and people involved and will have a hands on involvement in its development and installation that will be controlled here in the U.K. The total cost will be in the region of £70,000 and will be developed and built in three stages, the first costing £30,000 to get the maternity and operating theatre operational and then two further phases of £20,000 for all the other areas and wards etc.
The Rotary Club of Verwood has already pledged £2000 toward this initiative and is currently seeking further financial contributions from the Rotary District Fund and other local Rotary Clubs.
It would be a great help if any of the general public could assist us in raising the further funds required for this needy cause.
Your help will be greatly appreciated.
Any donations however large or small can be made atvirginmoneygiving.com or contact Allan Wells on 07896419486 you can also contact the Rotary Club via our website

8

th

April 2018
for further information about this project please click on the image below to open up the latest leaflet.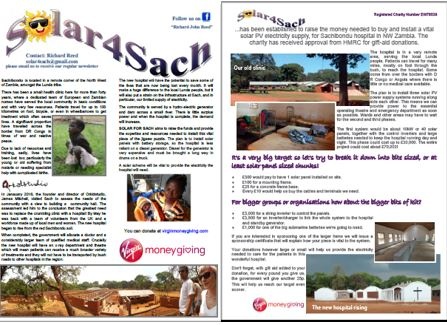 Update November 2020
The lights are now on!
Sachibondu hospital is finally up and running with S4S solar power!
The SunTech from Lusaka engineers got to site this morning with the replacement battery charge control unit. One of the engineers, Jacob has been very unwell with malaria since his last visit but thankfully is feeling better now.
We're very happy to report that the new battery and solar installation are now working fine.
What a challenge this has been!!!
Thank you everyone for your generosity and support.
This was made possible with £4K contribution from Verwood Rotary Club and a further £4K contribution from our Rotary District totalling £8k. Without this fantastic sum it would have taken at least another year to have raised such a sum, many lives will be saved including mother's and babies.
Check out some of the pictures below