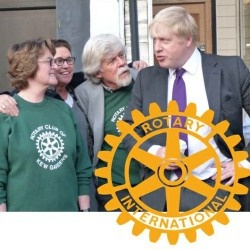 OUR HISTORY.
In the heady days of 1983, Twickenham-upon-Thames Rotarian Richard Ward got tired of commuting from his home in Kew to weekly Rotary meetings in Twickenham, and set out to establish a Rotary Club in Kew. With the blessing of the TuT Club he wrote to then Secretary of Richmond Rotary, Tod Raven-Hill on 5th. July to seek support. The Rotary Clubs of Barnes, Twickenham and Teddington and the Hamptons also agreed to co-sponsor. And the rest is history!

The nucleus for the new Club was drawn from the Kew Businessmens' lunch which Tod (who worked in the Kew branch of Dixon Ward solicitors) organised on a monthly basis.

With massive support from District 1140 Club extension Officer Peter Lawrence, regular meetings started, firstly at Richard's house at 286 Kew Road, on 4th. August 1983, then, as numbers increased, 22 prospective members met at the Kew Gardens Hotel on 17th. January 1984. The Rotary Club of Kew Gardens' Inaugural meeting took place, at the Richmond Hill Hotel on 23rd. May 1984 attended by 25 businessmen, partners, District Officers and guests. The first President was David Woolf, and Secretary Paul Gardner. Tod's son Paul was a founder member.

The formal Charter Evening took place on 12th. October 1984 at the Camellia Restaurant, Syon Park, with the Mayor of Richmond upon Thames and the Director of Kew Gardens attending alongside many senior Rotarians, families and friends.

The Club's first fund-raising Community event was a stall at the Kew Horticultural Society Show in August 1984 selling wine, and the proceeds funded a new bench at the bus-stop on Kew Green.

Some of our highlights have been: the first Club in the District to induct 2 lady members Nicky Wood and Joan Newell, in 1988. And nearly the first in Britain. Actually the very first lady member in the whole country lived in Kew, but was a member of the Isleworth Club. Founder member Peter King became District Governor; and in 2014 he was elected President of Rotary in GB and Ireland. Founder member Jim Onions was elected Governor of the new District 1145 in 2017. We have welcomed visitors and speakers from around the globe, run marathons, done sponsored swims, sung carols, planted commemorative trees, and bulbs, organised the 'Kew Quiz' every year since 1999, roasted chestnuts, run Pimms bars, sold plants, hauled Santa floats, hosted international students, travelled to International Conferences and Rotary Clubs and projects abroad, and visited many local businesses to understand how they work. We have maintained 5 scrap books, up to 2018, containing a pictorial history of our 35 years of fellowship, and service to the community at large.

Over the years our numbers have flunctuated between 18 and 30. People come and go and their circumstances change. Venues changed – we have previously met at the London Welsh Club, Roehampton Club, Kleftiko Restaurant Kew Green, the Kew Gardens Hotel, and our current venue at the Coach & Horses Hotel, Kew Green.

Local Authority and other regulations, Health & Safety, Risk Assessments, have all taken their toll on our ability to carry out effective fundraising and Service projects both at home and abroad. But we have adapted. And we have integrated into Community life over the years with representation on the Committees of community groups, and by acting as a catalyst for talks and discussions.

In the true tradition of Rotary we extend a warm welcome to anyone who would like to attend any of our weekly Wednesday evening meetings.