The Well Communities in Barrow
Wed 17th October 2018 at 6.30 pm - 8.00 pm
The Well give support to people recovering from drug and alcohol addiction through therapy, counselling, peer mentoring, employment training and social activities.
Club members please log in for more information.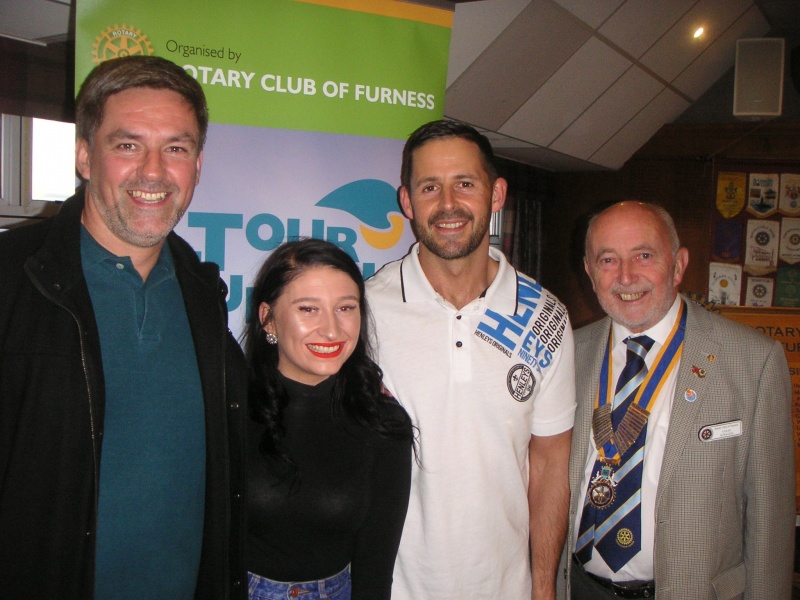 In the picture, L to R, Michael Bebb Project Manager, Shannon Stevens, Mark Murphy Senior Recovery Worker and President Colin.
Our speakers this week, Michael Bebb Project Manager, Mark Murphy Senior Recovery Worker and Shannon Stevens came from "The Well" Community which has its HQ in Dalton Road close to the Derby Pub. An ironical location since they believe in abstinence from all forms of drugs including alcohol!
Michael began by saying that each of them would take approximately 10-minute slots to tell us more of what the Well Community does and more importantly how they were involved with it. He then told us his personal story, he said that up to the age of 30 he had been a clean-living person until his daughter at 6 months old, suffered from horrific burns. During the time of her treatment, he found he could not cope and sought solace in drugs, cocaine! Inexorably, cocaine took over his life and plunged him into a life of crime. He went to prison, a 6-year sentence for armed robbery and 40 days after he got out his mother died. It was another trauma tipping him over the edge and soon after he was again in prison, this time for 9 years.
It was at this time he shared a cell with a much older man who had been in similar circumstances and he told him he had time to turn his life around otherwise he would end up like himself – with a life wasted! Michael told us he then saw the light and sought help and got it, moving onto a 12-step programme which would eventually see him being employed by Salford City Council - whilst still a prisoner - assisting others to kick their habit. He was released during the day to do his work and returned to the prison every night. He turned his life around, got married, now has a granddaughter and lives in Lancaster with his family. He works at "the Well" Monday to Thursday as the Project Manager. They operate a tough program which works.
Mark, a Senior Recovery Worker at "the Well" then told us his story.
He told us he came from a good family, with lots of love and support but despite being clever and successful, he always suffered from insecurities and feelings of inadequacy. At 13 or so he loved alcohol. When he drank he felt good, and that set the tone. He found substances which gave him confidence and reduced his inhibitions!
At 18 he found a partner, they had a child, and then his partner's health deteriorated. She became infertile and the downward spiral began! She pushed him away and developed serious psychological problems. In 2007 she took her own life and his world fell apart.
He became a junkie and spent time in prison, eventually asking for help and he got it! He took the 12-step programme and learned to live and be comfortable with himself. He had been to the gates of hell, he had been suicidal. He was in recovery - for the first time he had gone to visit his partner's grave. That knocked the stuffing out of him and he suffered a relapse.
It was prior to "the Well" being established, and there was little support then. He did manage to get back on track and is now involved, working for and with "the Well" community. He is now in a new relationship and is helping others to get out of the hell he was previously in.
We next heard from Shannon, who is currently in a recovery programme at "The Well". She freely admitted she is from a dysfunctional family in Birmingham. She began drinking in her early teens and at weekends would use cocaine. That spiralled out of control and she eventually had no life - she was completely broken. Seeking help, she was taken on by "The Well" in June, and she is getting things back together. She told us that now she has a future, now has real friends that want to help her and not to judge her.
We had heard that the Well Community believes that recovery is infectious, they value the benefits of one addict helping another and employ staff and volunteers who've have either overcome addiction themselves or have experienced it through a family member.
They concentrate on each person's abilities, skills and knowledge to build confidence and self-esteem. They provide support for as long as a person needs it, allowing their members to have the chance to build lasting friendships and be part of a supportive community, a vital element for achieving long-term recovery.
Last but not least, they also encourage members to get involved in their communities, to give them a sense of pride, and show that they're able to contribute and 'give back' to society.