Donna Stretton - Headteacher - Sandside Lodge School
Wed 6th February 2019 at 18.30 - 20.00
Sandside Lodge School is a highly inclusive and nurturing school with a strong sense of community.
Our speaker this week was Donna Stretton, headmistress of Sandside Lodge School. She came to talk to us about the school and also about their move to new premises later this year. The new school will be on its own 2 acre site and in a much more convenient location, enabling students to walk into town, for shopping, work experience etc.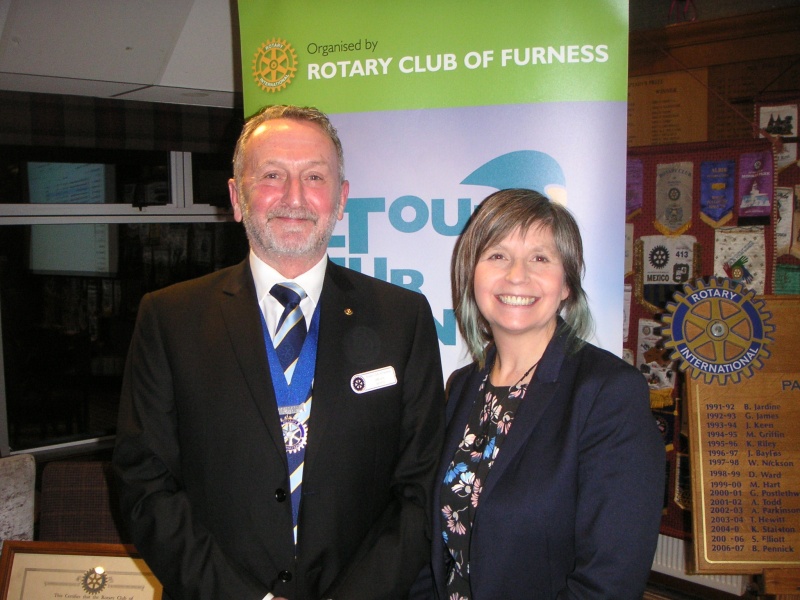 President Elect Brian Boyd with our speaker Donna Stretton

Donna began by telling us about the school and their pupils and of the great satisfaction she and her colleagues get from teaching them. She said that she is truly privileged doing her job and loves every minute of it, although it is not without its sad times as they had recently lost one of their year 11 pupils, a little boy who had not been expected to live much more than 12 months when born. He had several joyful years at the school but had recently become quite poorly. The school made a video for him with greetings from all of the students and they were heartened that he had been able to see it before he died. Donna said that he had been a wonderful little boy and brought a great deal of joy to them all.

The Proposed NEW School
Donna told us about the school curriculum and Ofsted reports and how they were working in premises well past their sell-by date and after 12 years of lobbying, the local authority had now provided them with new premises. That is great news, as they will also be moving into a more convenient part of town, adjacent to UVHS. But in times of budgetary belt tightening, they are getting just the premises and have to fundraise for the essential extras which will make their school great.
The shopping list is long and some items are very costly. A video made by the Friends of Sandside Lodge showed some of the features they hope to incorporate into the new build. The local authority are providing a hydrotherapy pool which they hope will be enhanced by an interactive system controlled from a floating switch which the pupils will be able to operate. This will enable a light show which will change the atmosphere completely, relaxing and inspiring, at a cost of about £10k.
A 3D Immersive sensory room at a cost of £45k will help promote the 7 senses, touch, sight, smell, hearing, taste, vestibular, and proprioceptive. Outdoor trampolines, good not just for fun and fitness, but helpful for the autistic, and keeping anxiety at bay, are also on the shopping list. Cost, inclusive of essential ground works out at £10k each.
Donna told us that Ulverston Rotary were very supportive and with help from the pupils had raised £1000 at the 2017 Dickensian Festival which was added to the School's appeal. After a host of questions, all ably answered by Donna, Martin McLeavy proposed the vote of thanks.
Frank Randall said that we had to catch up on 3 Foundation Draws, winners were Alan Coombs, Graham Postlethwaite and Mike Silver who all agreed to donate their prizes to the appeal. Every little helps!
Hopefully we will be able to help more, especially if we can collaborate with our neighbouring clubs and obtain some Rotary Foundation support as well.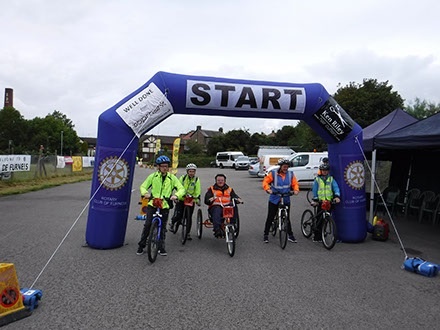 Sandside School Students in the Tour de Furness - they have entered a team for last 4 or 5 years