All at sea with Possy
Wed 20th February 2019 at 18.30 - 20.00
Past President and Web Editor Graham Postlethwaite told of a sailing adventure from 40 years ago! Surprised he could remember!
Some 40 or so years ago I was a member of Roa Island Boat Club. I had a leaky 20 foot centre board sloop - Hiatus, and my friend Alan had a Folk Boat.
In October my brother bought a 23 foot bilge keeler – NIMROD and I will be sailing with him this coming season. Hopefully I will have learned something.
Today I think most of us will agree H&S has gone mad – but the following is not what you should do if you wish to sail !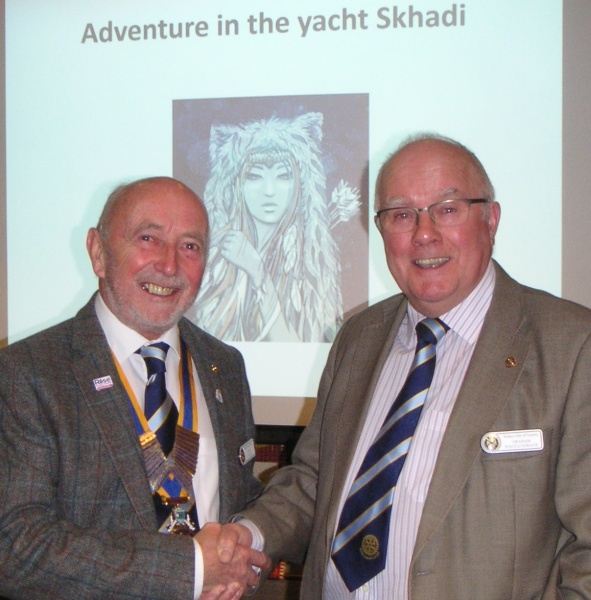 Skadhi was a Folk boat, a Norwegian design and named after a mythical Norse creature. 40 years ago we had no GPS , we navigated by what was called dead reckoning, plotting your course on a chart allowing for tidal streams and a primitive form of RDF – tuning a radio like this into Consul Line stations in Norway and Northern Ireland. You could estimate your position within 20 or so miles, and get rough directions by tuning in to the home service transmitter at Barrow or more reliably Radio Caroline.
At the start of this story, Skhadi was in Troon – at the end of a holiday in which I had spent a magical trip cruising around the Firth of Clyde. We then had to take her back to Roa Island.
The first leg was to Port Patrick, the original port from Scotland to Ireland and then we intended to go to Ramsey and then onto Barrow.
Fickle winds meant we had to sail for the west coast of the Isle of Man and then via the Calf Sound make our way to Port St Mary, and eventually to Barrow. Alas lumpy seas delayed our passage and so a short stay in Douglas harbour was called for.
Tides dictated a late start and night passage back to our home port. As we sailed, the wind strengthened and sail was shortened. When we judged we were about half way we looked for the loom of Walney Lighthouse, which has a distinct sequence of flashes. We saw a light directly ahead of us, but could not recognise the sequence. We continued to close and as daylight approached, the light rose higher and higher. It was St Bees, we were 30 miles or so north of our intended position!
We then had a long slog back to Barrow and in light winds we motor-sailed until our fuel ran out. By this time were abeam of Eskmeals Gun Range, and firing was in progress. We heard a boom to the east of us and then saw a splash to the west. It was OK, they were firing over us ! We had little option but to continue on our course sailing slowly, drifting at times. The firing carried on for some time, until someone spotted us drifting into their target zone. Shortly after we heard the thrum, thrum of a powerful engine and the Range Guard Boat came alongside. He wasn't very pleased with us and promptly towed us off to Selker Buoy, clear of the firing which started up again as soon as we were out of range!
We needed to get some more fuel and resolved to make our way to Bootle and then take the dinghy ashore and see if we could find a garage. On the map it looks just a step, but walking with an 5 gallon petrol can is not easy and when we filled the can it seemed even further. But we did eventually re-fuel the boat and got the engine started to continue on our journey to Barrow. As usual we got home in the dark, to find a visiting boat on our mooring. A quick holler woke him up and he vacated our mooring allowing us to put the boat "to bed". A 3 day journey had turned into almost a week. Thankfully we had understanding bosses and in Alan's case an understanding wife!
President Colin proposed the vote of thanks which was warmly received by those present.