Chelwood Bridge Rotary Club Presidents Night
Our Presidential Dinner which was held in Cameley Lodge was a very successful and enjoyable evening attended by Rotarians and members of Inner Wheel from seven different clubs including District Governor, Stewart Cursley from Wells and our guest speaker, local MP Jacob Rees Mogg from Midsommer Norton & Radstock.
His highly professional and entertaining talk focused on the excellent work that Rotary International performs throughout the world. He referred particularly to the projects and fund-raising events that Rotary Clubs undertake for their local communities and made special mention of our Water Survival Box Charity which has raised over £1.5m over the last 10 years. I am delighted to report that, after his talk, Jacob agreed to assist in a packing session within the near future.
He reminded us all just how influential Rotary is and his article, which was published in the Somerset Guardian after the event, is printed in full at the end of this report. On behalf of our Club I would like to thank Jacob for finding the time in his very busy schedule to come along and give us such an inspiring talk.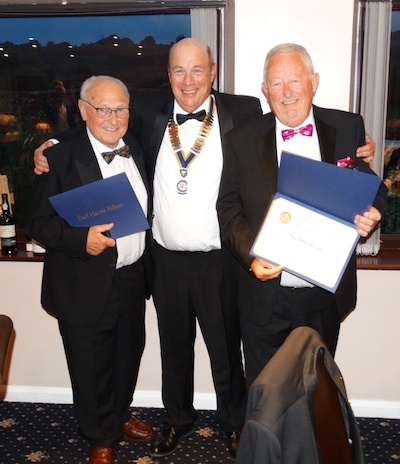 During the evening I also had the honour of presenting the Paul Harris Award to two outstanding Chelwoodians, Ray Lithgo and Barry Gillett. Both have given excellent service to Rotary and their communities for many years and richly deserve the award.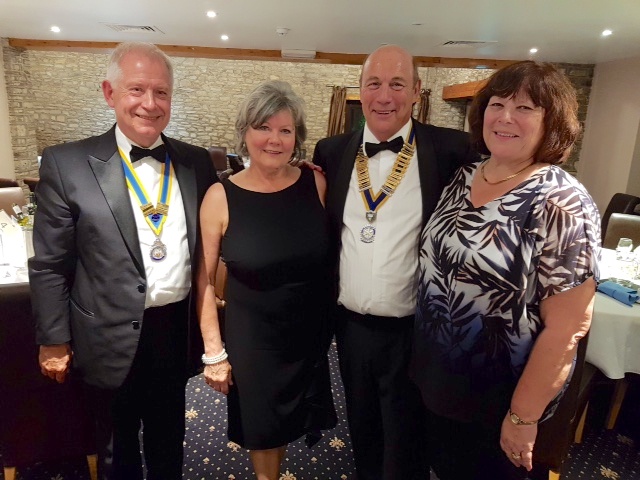 My wife Sandra and I were also delighted that two of our closest friends were also able to attend. Steve Gunnell is the President of Sidmouth Rotary Club and his wife Cathy is a member of Sidmouth Inner Wheel. Steve and I have been good friends since our school days together in the 1960s. Our Grammar School in North London was founded in 1641 by Sarah, Duchess of Somerset, and has a rousing school song "Foy pour devoir" which, to the relief of those present, we did not sing on this occasion.
I would like to thank everyone who attended, as well as the staff of Cameley Lodge, for making my President's night so memorable.
Finally, I also take this opportunity to thank all my colleagues in Chelwood Bridge for their support during these past 12 months and I also thank Simon and his team at The Carpenter's for their consistently excellent food and service.
A followup from Rotarian Jacob Rees-Mogg