The primary focus of our charitable donations is to fund specific projects for our chosen local charities. We do not, unless there are exceptional reasons, fund what would be considered as normal day to day running costs for the charity.

We are also looking to fund annually a young person to attend the Rotary Youth Leadership Award (RYLA). We believe this is a truly excellent opportunity for young persons (aged 18 - 26) to take a real step forward in their development and to help improve their career chances. We have sent candidates on the course for the past two years and we are delighted with their feedback and enthusiasm about the course. If you are an employer looking to train your staff or an individual seeking to make things happen in your life, please email wymrsg@gmail.com for further information.
From July 2023 the RSG has selected as our Charity of the Year Headway which covers Wymondham from its base in Norwich. Headway supports adults impacted by brain injury resulting from, but not limited to, stroke, road traffic accident, trips and falls. Their aim is to improve day-to-day life for every individual they work with; to improve their confidence, independence, empower them to access community assets, to socialise, enhance their well-being, provide them withtools and techniques to manage their symptoms and to support them in setting and achieving person centred goals. We are hoping to be able to assist specifically with the funding of specific courses and workshops..
We are always interested to learn of local charities that require funds for projects that will benefit the local community. Please email wymrsg@gmail.com if you would like to apply for funding.
Previous Charity of the Year
July 2022 - June 2023: Home Start
July 2021 - June 2022: Food Bank, Community Outreach Project, RC Church Wymondham
July 2020 - June 2021: Food Bank, Community Outreach Project, RC Church Wymondham
Wymondham Rotary Satellite Group 2020
– what we're really about!
There are lots of really good reasons to be a member of Wymondham Rotary Satellite Group but as members we would probably say the most worthwhile thing we do is raise money and donate it to local charities. Fundraising has been difficult in the last 12 months and many of our plans have been deferred to the eagerly awaited post lockdown world. However, we have nevertheless been delighted to help these local charities during difficult times….
Star Throwers received a grant to update their computers and another towards first aid training for their volunteers. Most recently we have been able to provide counsellor training which will allow some of their services to be provided via telephone.
Baby Bank Norfolk operate across Norfolk collecting baby clothes and equipment to distribute to families in urgent need. We were able to provide a grant which enabled them to organise their sorting and storage area and purchase some essential baby supplies.
Robert Kett Primary School urgently needed to provide computer equipment and computer access for children to home school, our donation of £500 enabled them to help more children who otherwise would not have been able to access the online classes.
Robert Kett Court needed water butts for the greenhouse which we helped them to purchase last year, and we were able to pay for these.
Roots Community Café at Wymondham Baptist Church needed to replace the oven in their kitchen another great project which RSG were able to pay for.
Norwich Foodbank have never had bigger demand for their help than in the last year and we sent them a grant of £1000 to help out.
And finally,
Wymondham Community Outreach Project was our selected 'charity of the year' for 2020 and again in 2021 and the focus for much of our support in last year. We were able to make a number of donations including a grant to purchase Christmas treats in 2022 for local families needing help and support.
Still so much to do!
If you know of a local charity who could benefit from our help of if you'd like to help us please contact us via the email below or through our Facebook page, join us at one of our Quiz evenings or maybe just purchase a 100-Club ticket for the remaining months of the year?
We look forward to hearing from you. wymrsg@gmail.com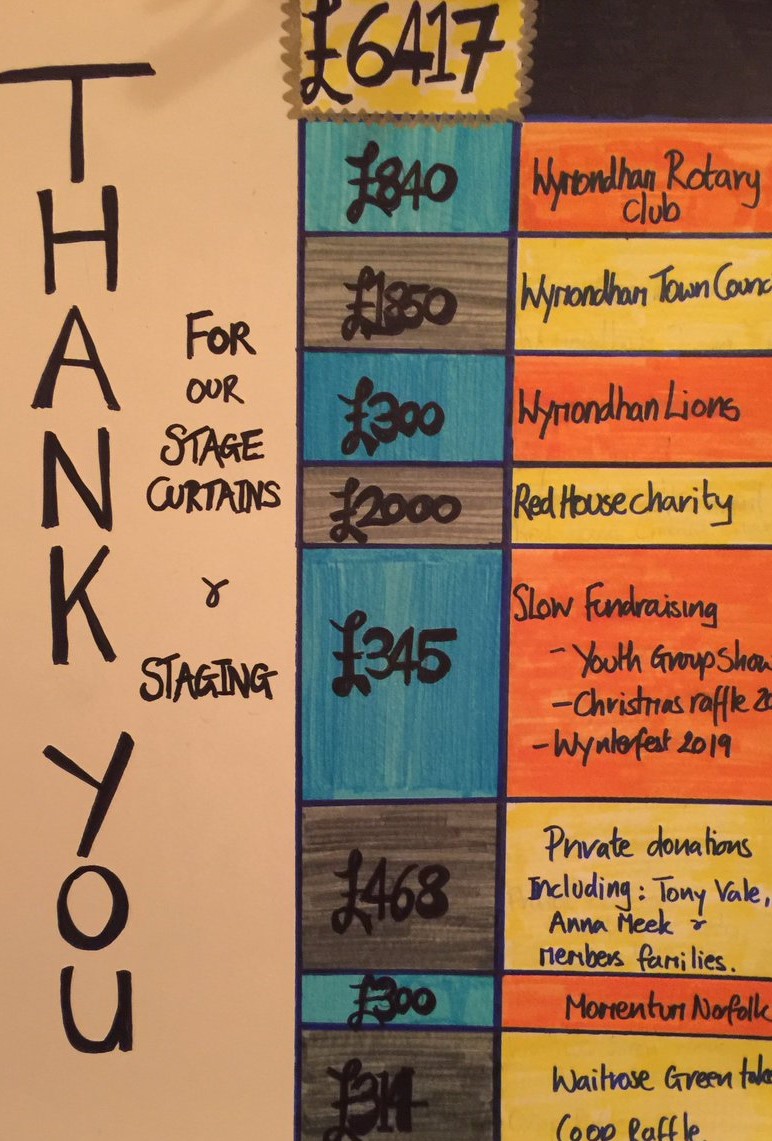 Please click on the hyperlinks below to find out how some of the money raised by Wymondham Rotary Satellite Group in the past has been used to support the important work of the listed charities.
Wymondham Dementia Support Group / Pabulum Cafe
EACH - East Anglia's Children's Hospices