Here are packed boxes ready for distribution.
During the morning session, the group of Rotarians produced 50,000.
THREE NEW MEMBERS

Left to right: Charlotte McCarthy, daughter of member Frank McCarthy, Mike Neal, neigbour of member Paul Almond, and Gloria Friend, wife of member Peter Friend, with President Colin.
BELOW
28TH February - We were pleased to welcome speaker Mahala McGuffie
Governor of Styal Prison


Below, Tuesday 14th March, Vice President Frank with speaker John Twigg, who gave a very comprehensive appraisal of current and future developments at Manchester International Airport.




Tuesday, 28th March - Mark Conway Project Director for the joint venture consortium, and Sue Stevenson representing the client - Stockport Council, below, with Vice President Frank, gave a very detailed update on the progress of the SEMMMS relief road, which will run from Manchester International Airport to the A6 in it's present form, and hopefully extending to the M60 in the future.


Swimming for Charity
Rotarian Reg Lord blows his whistle to start the swim.

Some of our swimmers with their certificates.
Some of the organising Rotary Team




CLUB VISIT TO MEDIA CITY AT SALFORD QUAYS.
Some pictures of the surrounding buildings


.
The BBC studio tour.

Many well known shows are set in this fully equipped studio.




Note the props for Blue Peter.

One of the audio control desks.

Mike Ramsden about to present the weather forecast.



A short break after an enjoyable tour, thanks to the BBC guides.
Dr. Roger Small, and Cllr David Pincombe gave a presentation of the Handforth District Plan.
2nd May, we hosted the District Annual Scholar's Dinner
Picture below L to R: Rotary Scholar William Von Schrader from the USA, District Governor Stan Bowes, President Colin Eggleton, and Rotary Peace Fellow Sasha Davis also from the USA
Both our guests gave a presentation depicting the international work they had undertaken during their studies. William recounted his experiences in Mongolia, and Sasha hers in Ethiopia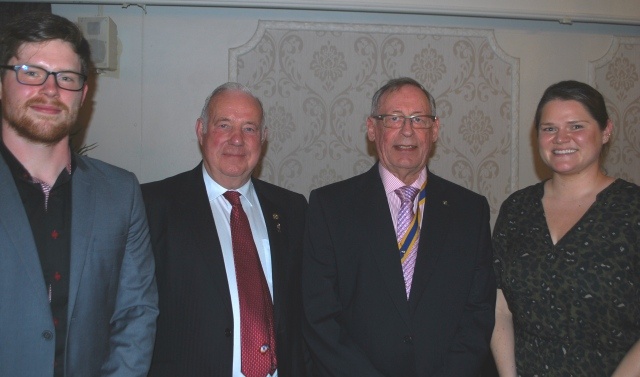 SPEAKER MEETING 16th MAY 2017
This evening we had an illustrated talk on the history of Boat Trains in the Northwest of England, from John Hooley, ably assisted by his wife.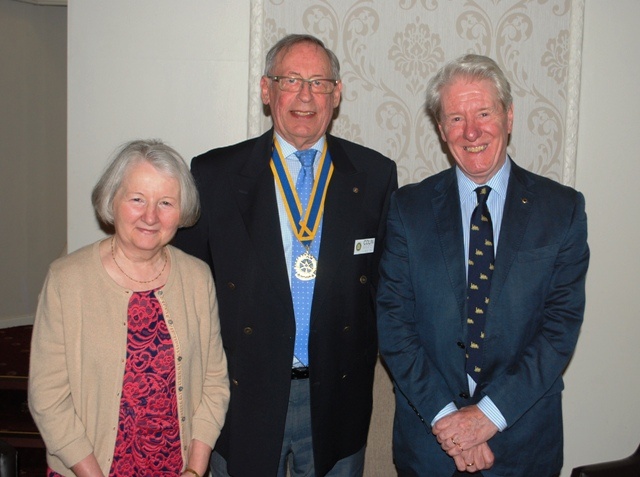 Final of Rotary Junior Youth Speaks Competition
Our club arranged and hosted this annual event, held at the Deanwater Hotel.
Winners: Marlborough School
Below, with the winners cup are Thomas Radnall, Erin Corcoran, Best Vote of Thanks, Isabelle D'Arcy, Best Speaker, with President Colin Eggleton and Headteacher Mrs Pollard.
This Year, we supported the Great Get Together, at our Garden Party held in Marianne's garden on a wonderful sunny summer day.