Christmas Tree Festival
Sudbury's annual Christmas Tree Festival filled St. Peter's Church for 5 days in December, attracting a regular stream of visitors and helped the Rotary Club to raise around £4,600 for various local and national charities including

a contribution to St. Peter's Church.
During the week, young and old flocked to the festival and without exception enjoyed the spectacle of 90 decorated trees in the superb setting of St Peter's. The festival was once again a focal point of Sudbury's Christmas festivities and a number of visitors commented that it was the best Christmas Tree Festival they had seen.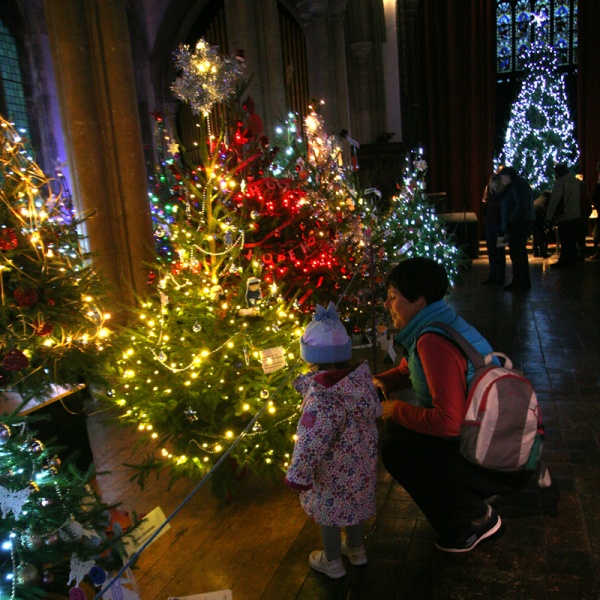 The breakdown of exhibitors demonstrates to what extent the town has taken the event to heart – 15 schools and playgroups, 20 businesses, 9 churches, 39 associations of amazing variety, from brownies to the visually impaired, from the Tourist Information Centre to groups devoted to supporting children with autism and learning difficulties. It's also a delight to find private individuals taking on a tree.
The Festival didn't finish on the Sunday – trees would have a new life in the homes, schools, businesses that paid for them. In addition, those which were not required by their owners were bought by various families, and 40 or so were sold on to Lamarsh church, who sold them on yet again to other homes.
We are very grateful to all of our sponsors, the musicians who provided live entertainment, Kettle & Fish for providing refreshments, and all those who helped with setting up, stewarding and clearing up after the festival, and especially all those exhibitors who took part.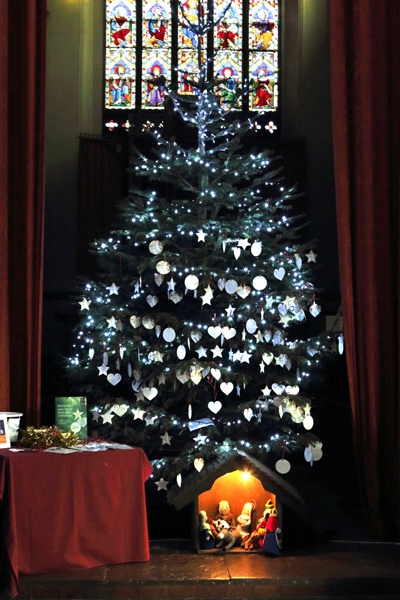 Tree of Memories
A tremendous number of dedications were hung on the Chancel 'Tree of Memories' during the week of the Tree Festival in St. Peter's and also during the following weeks up to the New Year. The East of England Co-operative Funeral Service offered an opportunity for donations to be made to EACH (the East of England Children's Hospice) and we are very grateful for the Co-op's sponsorship of the tree.

The dedications were collected when the tree was removed and given to the Co-operative Funeral Service office.

Santa's Grotto
Santa again visited Sudbury on the evening when the Sudbury Christmas Lights were switched on and over a number of days leading up to Christmas, albeit in a new 'home' courtesy of Sudbury Library. This year he was able to give a small gift to each child that visited his Grotto in the Library, which suggested that over 250 children paid him a visit. Donations from the Grotto visits, coupled with 'street' collections, raised over £870, which will be donated to causes considered appropriate by the Rotary Club in the near future.